After 8 months of struggle to mobilize resources and coordinate with civil contractors, our new campus is near ready. Ofcourse a lot a small work such as painting and landscaping is dragging but I am sure everything has to complete one day...this too shall be completed in a few days.
The new campus will also bring in a new intervention "Emergency shelter". This will be a safe facility for any victim who can access it 24x7. The campus will also have one of its kind Economic Rehabilitation Unit & a Employability Training Unit which will support 200 victims at any given point of time.
Most importantly the campus will ensure all Prajwala interventions are under one roof, so I guess monitoring all interventions is going to be more easier.
I bow my head with gratitude and appreciation for each one of you who have supported us in constructing this new campus. You have strengthened the mission by your unstinting support.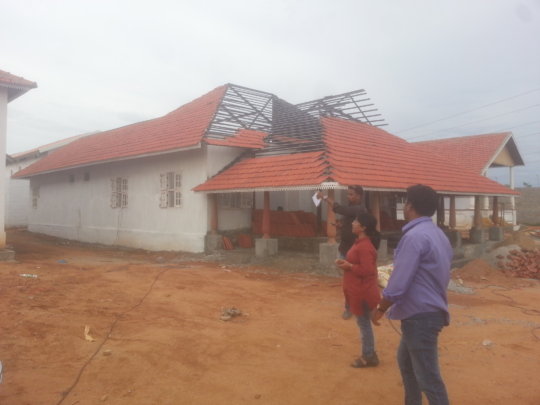 The last few months have been a series of great leaps & bounds for the cause and also perhaps the most challenging time in terms of the existance of the organization.
The construction of the new premises has considerably slowed down due to severe financial
crises. We are short of little over 200,000USD to complete the work. The pressure from the landlord who is trying to evict us is increasing by the time. When we asked him to give us a little more to shift he has without blinking an eyelid nearly doubled the rent!!! We were paying 2500USD now he wants 3500 USD!!! But once we cross this hurdle, the organization will be secure once and for all atleast physically!
One intervention that will be a game-changer in the prevention of human trafficking is going to 'Swaraksha' (self-protection) a unique community awakening caravan to counter human trafficking. Supported by US Consulate of Hyderabad & Catholic Relief Services, Swaraksha in its first phase is travelling over 13,000kms across the States of Andhra Pradesh, Telangana & Odisha covering 53 districts with 132 million population. The campaign one of its kind is huge success. Lead by survivors of trafficking the campaign addresses large public gathering to awaken the community on the dangers of trafficking. Right now the caravan has successfully crossed Telangana & Andhra Pradesh entering Odisha. 68 suspected cases of trafficking have been reported and many other Indian States have requested to replicate the campaign in their state.
A significant number of international rescues were also done in this period. Two women from Andhra Pradesh were rescued in Malaysia and 2 from Telangana from Oman. Four Nigerian girls were rescued and successfully repatriated to Nigeria. 7 girls from Bangladesh are awaiting to be repatriated. International rescue & repatriation involves a lot of coordination and collaboration with Ministry of Home Affairs, Ministry of External Affairs & various Indian and Foriegn Embassies.
Four people were arrested for impersonating as Prajwala staff and extorting money
...a challenge of this nature is first of its kind for the organization and was a big blow.
After 20 years of work, I was conferred by Government of India the 4th highest civilian honor 'Padmashree'. Finally our cause and mission was recognized!
Attachments:
A few more days and the year will come to an end! A few days back I met a family who sold a piece of their property to give Prajwala a donation. I do not think the family is aware how monumental the contribution is, it comes at a time when we are facing acute shortage in the last phase of the construction of the Emergency Shelter and the Economic Rehabilitation Unit. And once more I am amazed and zapped by GOD's plans. When we say universe conspires it truly conspires....to make things right.
And I look back at this year...a year filled with multiple challenges, attacks and accolades...flowers and brick-bats practically going hand in hand...
This year is also significant for landmark campaigns,landmark rulings and most importantly setting in motion a range of structural activities to 'SECURE' Prajwala.
Professionally I felt terribly let down by some friends in the legal fraternity, but personally I was rejuvenated by extraordinary friends who did not allow me to fail or crash....so most of the outside world never got to know the nightmare of 'mass staff resignations' out of fear for life!!! I want to acknowledge my friends Anna Wolf Geeta Sekhon and Rekha Abel who support me in all my writings be it policy papers or donor reports...I do not know how I could have accomplished so much this year without these three wonderful women who live in three different parts of the world...who have have given up so many of their nights to research and write for me just so that I can continue my ground work....
Rachana Reddy Bollu my young lawyer friend has been my life-saver for legal drafting...
The strength to my soul comes from my family especially my father Shri Raju Krishnan and my husband Rajesh...when my father gave his entire pension amount for my construction,I knew I can face any challenge anytime in my life...as his blessings is my greatest armor...Adding to this strength is the unconditional love of my friends Lavanya Ravulapalli Lalitha GollamudiSumana Rao Padma Cherukupalli, Kristen Daniels Wade Karen Mulhauser, Geeta Menon,Bhavana Chiranjay...there prayers,faith in my conviction and unstinting support is godsend.My backbone is my team who inspite of all odds stands by me...I salute them...
But today Prajwala sustains thanks to the unconditional and unstinting support of millions of friends from different parts of the world who through monitary contribution have ensured that the mission of Prajwala is unhindred. Facilitating support from wonderful organizations like Global Giving is much appreciated .
WARNING: Javascript is currently disabled or is not available in your browser. GlobalGiving makes extensive use of Javascript and will not function properly with Javascript disabled.
Please enable Javascript
and refresh this page.