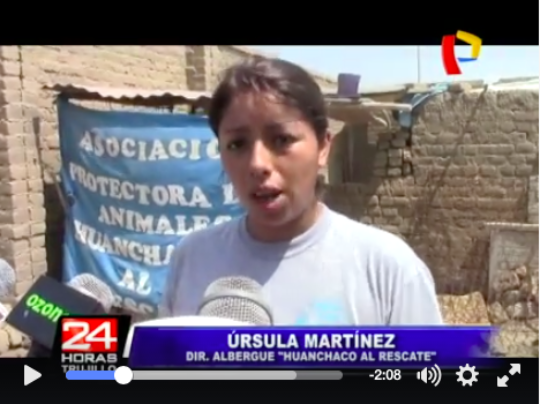 Spring is in the air and everything seems to be coming up roses for the Perros Project. We wanted to craft this quarter's update in terms of the fabulous relationships we have created over the years and the many ways in which these relationships continue to bear fruit.
Amigo Fiel & Huanchaco Al Rescate (our partner organizations on the ground in Peru):
The amazing people who run these organizations on less than a shoestring continue to offer hope to the street dogs of Huanchaco on a daily basis. They regularly feed dogs who have been abandoned, provide temporary shelter to those who are adoptable and work with local veterinarians to provide basic medical care such as rabies vaccines and anti-mange treatments. Below is an image of Ursula (Huanchaco Al Rescate) being interviewed by the local media regarding her efforts to improve the shelter. We at the Perros Project depend on relationships with community leaders like Ursula to keep our efforts going when we are not on the ground.
Senor Paul, owner of Hostal Huankarute
Ever since our first spay and neuter clinic in 2009 our team has stayed at Hostal Huankarute which offers an oasis of tranquility amidst a very hectic community and a grueling schedule. From the beginning Senor Paul went out of his way to help us and the dogs in our clinic. On more than one occasion, a dog who was still waking up from surgery found themselves in the courtyard area of Huankarute. In 2015, for most recent clinic, Paul generously offered the hotel's meeting spaces for the clinic. This was an incredible gift which not only allowed the clinic to be offered within Huanchaco town limits for the first time, but also reduced our travel expenses to and from a space in Trujillo. Last month, Senor Paul assured us that we could offer the 2017 clinic at Hostal Huankarute once again. Our relationship with Senor Paul is a priceless one.
Our team, present & future
As many of you know, while we always have new members of our team for each clinic, over the years three extraordinary women have returned to the project time and time again. Brenda, a veterinarian from the San Francisco area, has lead the clinical team since 2009 with a commitment to involving local veterinarians and improving the process every visit. Natalie, a veterinarian technician, has shared her skills and her Spanish proficiency to make sure things run as smoothly as possible. Kim, a Portland pet sitter and lawyer, has organized the recovery area since our first clinic, making sure that every animal is not only taking care of while recovering from surgery, but also given flea medicine and sometimes even a haircut! Our project would not have lasted this long without our relationships with these three amazing women.
With that said, we are always looking to make new relationships. If you know of anyone who would be interested in joining us for our 2017 trip, especially veterinarians and veterinarian technicians, please encourage them to drop us a line. We also take nonmedical folks, so if you think you might be interested in being a part of our team in 2017 let us know. We look forward to returning to Huanchaco, Peru and spending time with all of the wonderful folks who have made our project possible.