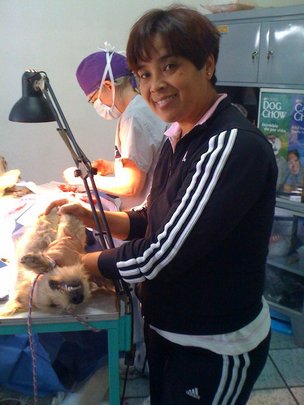 Dear Friends,
As we mentioned on our Facebook page earlier this week - it's time for a big announcement. Drumroll please.....the dates are set, the plan is in place, and the team is assembled. We're headed back to Huanchaco on July 28th for Perros Project 2011.

While we originally planned to do this event every two years. Our 2010 efforts made such a difference in the community that we were asked to return in 2011. As we did not have the capacity to recruit a large number of volunteers this year, Dr. Brenda Kennedy arranged to have Huanchaco be one of Remote Area Medical's (RAM) key project sites for this year. RAM has a long history of offering veterinary services in the developing world and we're extremely lucky to be working with them. As RAM specializes in large scale spay & neuter clinics, our efforts this trip will be solely focused on the medical side in order to provide as many procedures as possible.

What we'll be doing on the ground: The Perros Project has been working (via Skype, email and phone) with Brenda as well as our contacts in Huanchaco to secure good locations for the clinic. Once we arrive in Peru our focus will be:
Promotion of the spay & neuter clinic

Coordination with our local partners

Educating the community on the importance of pet sterilization

Assisting the RAM team

Working to change the general cultural outlook on animals and particularly dogs

Checking in on the shelter & assessing needs for 2012

Video recording our work for future outreach efforts
Can you help us make this happen?
We're currently raising funds in order to: help subsidize some of the travel costs for team members, on-the-ground basic support for the RAM team, promotional materials, and costs associated with renting the clinic location for the week.

Our goal is to raise $2,500 by July 25th. Please consider donating what you can.
As we hope we demonstrated during our last trip, we'll work hard to honor your donations and use your funds to make the biggest difference we can.

We cannot thank you enough for all you do to support our vision. It matters to us and it matters even more to the dogs of Huanchaco.
Matt & Courtney

PS - Please help us further by forwarding this email with a personal ask to your friends, family, and others who would see this as a worthy cause.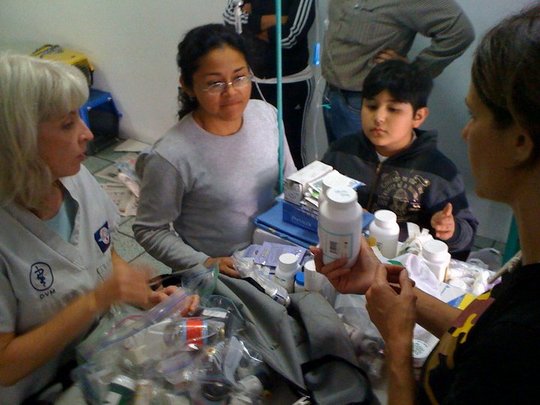 Links:
Hello Global Giving community,
Here's a little update on what has been going on behind the scenes and also on the ground with the Perros Project.
We set a date!!! July 30 through August 6, 2011. That's right, we're headed back down to Huanchaco along with some great volunteer vets from the Remote Area Medical (RAM) Team (

http://bit.ly/fuSt1r

). Brenda, our lead vet from the previous trip was simply amazing in helping to get RAM to sign on. We've still got tons to plan but just like last time there will be a teaming of American & Peruvian vets to conduct what will be a week long spay & neuter project along with an education effort for the local communities. We're so excited! More news to come on that as we begin to do some serious planning. If you want to learn more about the next round then please make sure to either follow our Facebook Page (

http://on.fb.me/cajTPe

) or sign-up for our E-newsletter (http://bit.ly/b8tzNj)


We been Skyping/emaiing with Global Giving volunteer Clarissa over the past few months as she will soon be on the ground in the Huanchaco/Trujillo region this month. We've arranged for Clarissa to be able to spend the day with our local contacts on the ground and getting to know the Perros Project first hand. It sounds like Clarissa will spend time with: 1) the woman behind the local shelter project Bertha Quezada 2) Javier Rosales Mendoza, our contact with the local municipality and street dog savior. We're excited to hear back from Clarissa about her time in the region and her time getting to see some of the work we're trying to do in the area.


We have been continuing our bi-monthly fund to Javier of $50 to continue his efforts of aiding the local street dog population and working poor community members unable to provide vet care for their animals. Here's a recent photo of Rex (http://on.fb.me/e7CC9s) that he sent us. When we say that Javier walks the streets helping dogs - we mean it!! Beyond his main job every day, Javier never walks past a situation with an animal where he doesn't try to help (We saw it first hand at our first spay/neuter clinic last summer).



As far as cultural change goes - here is another recent photo of

vet Fernando Armas Abril from the Ahren Clinic in Trujiilo seen in his Perros Project t-shirt at a recent adoption event that also had a focus on animal rights. One of our hopes for the Perros Project through continual spay/neuter projects and community building - is to assist with helping to change people's views when it comes to animal care and animal welfare.


Our shelter person on the ground, Bertha, is currently in the process of preparing a new location for the local dog shelter. This is both great and sad news. - It's sad as we spent a lot of time, resources, and sweat equity in building up the current shelter in Haunchaquito (just outside of town) last summer (photos http://bit.ly/gMOx50). They have been dealing with land dispute issues coupled with other issues for a while now.
- It's great in that we'll still be able to use all the materials from the previous improvements and the next location with likely be closer to town so that people can visit the shelter more easily and adopt out the dogs.


Lastly, donations for the project keep on trickling in with many from anonymous donors. Every time we get an email alerting us to another donation - it both blows our minds and fills our hearts with joy. We cannot thank you and your generosity enough!!
I think that's it for now? Please let us know if there is anything else we can let you know and we are happy to oblige. We're always an email away at perrosproject@gmail.com.
Thanks again so much for helping us promote this project.
In appreciation,
Matt & Courtney
perrosproject.org
Links:
Hey there Global Giving folks,
Having never done a report/update for you all - we're not sure how to best tell what has been going on so we'll give it a try. So here is what has been going on recently.
We recently had a phone conversation with Brenda who was our head veterinarian on the past project. Brenda has helped us to secure the commitment from Remote Area Medical (http://bit.ly/fuSt1r) to have Huanchaco be one of their chosen projects this upcoming summer. This is great news, as this will help us to have a continuing presence in Huanchaco as we prepare for our more extensive return trip/project.
We have been continuing talks with our main contact at the Huanchaco Municipality - Javier Rosales Mendoza who has been working to gain the endorsement of the local mayor.
We have recently begun a bi-monthly fund to Javier of $50 to continue his efforts of aiding the local street dog population and working poor community members unable to provide vet care for their animals.
One of the vet technicians from our trip to Huanchaco last June has been able to secure us donated medications from her practice in Los Angeles. One goal is to send the supplies to our vet contacts in the neighboring town of Trujillo to be used at their practice and to help more with the public image of the Perros Project within the local community.
We have maintained our relations with the local non-profit we worked closely with last summer in order to find ways to keep improving the local shelter space until our next visit.
We updated our website to reflect the past work and upcoming project. (http://perrosproject.org/)
Tabled at local Whole Foods in SE Portland to raise awareness (http://on.fb.me/hQiKMy)
We cannot thank you enough for the help you have provided thus far. Please let us know if there is anything else we can let you know and we are happy to oblige.
Thanks again so much for helping us promote this project.
In appreciation,
Matt & Courtney
perrosproject.org
WARNING: Javascript is currently disabled or is not available in your browser. GlobalGiving makes extensive use of Javascript and will not function properly with Javascript disabled.
Please enable Javascript
and refresh this page.