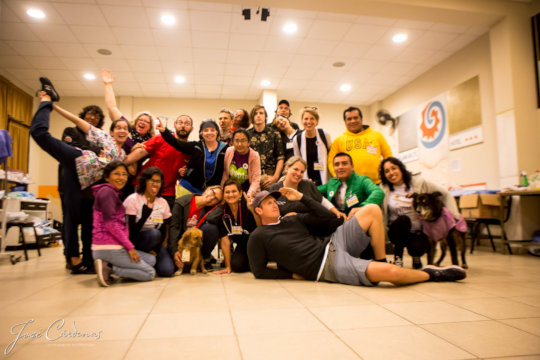 Hola amigos! Less than 2 weeks ago we were in Huanchaco, with the clinic in full swing. We have so many great things to report on and are so very happy to have had your support.
Our visit was off to an auspicious start when we ran into an archaeological team from Vanderbilt University who members were staying at Hostal Huankarute. The team lead relayed that they had just unearthed a 6000-year-old dog with evidence that humans had tried to mend his/her broken legs. How amazing it was to recognize that the Perros Project was continuing a VERY long legacy of animal care in the area.
The clinic
We spayed or neutered 138 animals in 4 days, having the most successful first day ever and most productive daily totals. This was in large part due to our fabulous team members who worked so well together. Several new team members added efficiencies in intake, sedation practices and recovery. One of the most amazing advancement was the anesthesia protocols which allowed all the vets to use injectable anesthesia, a much less cumbersome practice in these MASH types of clinics. In addition, we were able to offer greater pain management which is something we are always striving to maximize.
The team
This year we had 6 veterinarians, 4 from the US, 1 from Ecuador and Dr. Ingrid, our stalwart Peruvian vet who has participated in all 6 clinics. One of the nice improvements this year was consistently having Mary, a 3x member, do the exams on animals as they came in and Kathleen, a new member, monitor the animals closely in recovery. We also had a wonderful support staff, both from the United States and from Peru with folks doing everything from helping dogs wake up after surgery to doing coffee runs to keep the vet team WIDE awake.
Hostal Huankarute
As always, the fine folks at Hostal Huankarute provided our team not only with an excellent hotel experience, but also with a wonderful place to conduct our clinic. From fixing blown fuses to providing hot water for hot water bottles needed in recovery, they were a vital part of our success. Their turtle, Florencia, was also the Perros Project mascot : ).
The town
While Huanchaco is still a sleepy beach town in many ways, it has really seen a lot of improvements since we were there last. In addition to new restaurants and storefronts, there are also a lot of social campaigns going on including beach clean ups, safe driving messages and even aid stations for the street dogs. Most citizens seem happy with the new mayor who has put a lot of energy behind making Huanchaco a great place to visit and live.
Our partners
Amigo Fiel continues to prosper under the direction of Bertha and the shelter is now mostly in a home (with a roof!). The group offers their own spay & neuter clinics when they can, as well as vaccine clinics. They are particularly interested in working to eradicate TVT, a sexually transmitted cancer that is quite easily spread among street dogs. Amigo Fiel provided 70 patients for our clinic on Monday and Tuesday.
Huanchaco al Rescate recently moved their shelter within walking distance of town and Ursula has done a lot to provide shade with tarps and some bedding for the 12-15 dogs there. She would like to focus on setting up a vet clinic for poor residents of the town, many of whom look after the street dogs. Huanchaco al Rescate provided 68 patients for our clinic on Thursday and Friday.
Outside of the regular clinic
On Wednesday, the free day for the team, many of the volunteers agreed to visit a primary school in a very poor part of Trujillo, Peru. The visit was arranged by Dr. Fernando who has supported our work from the beginning. The team spoke to two classes about the importance of not only spaying and neutering animals, but treating pets like family. In addition, we met with both community partners to discuss their long-range visions and how we might be of help. Finally, several vets offered their services for special cases which were brought to the hotel for diagnosis and treatment
So . . . besides several bouts of stomach viruses and weather that had much more of a winter chill, Perros Project 2019 was a tremendous success, a wonderful tribute to our 10 years in the region. Thanks once again to all of our cheerleaders and supporters. We hope we made you proud!