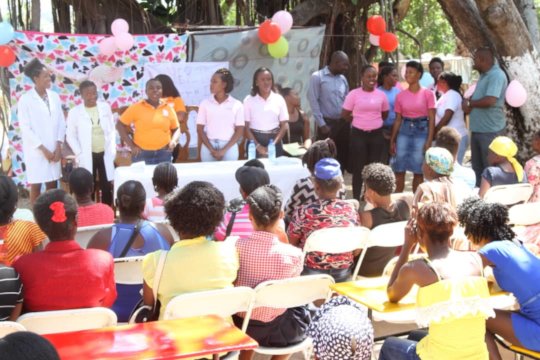 We have treated over 280 patients with breast cancer in 2019! In all of 2018, we treated 275 patients with breast cancer. This is a testament to the growth of the program.
Haiti has had significant political problems in the last two months, with barricades being placed on the streets several days a week. Our dedicated staff has made sure that we stayed open all but three days in the last two months. While not all the patients can make it in on time for their treatment, we must be there for them if they are able to. Last week, we treated 50 patients despite the problems. We also held an awareness event for Breast Cancer Awareness Month that was attended by nearly 100 women. We always ask them to educate three women in their inner circles as well. So hundreds of women have more knowledge than they did this time last week!
We are here for our patients and want to thank you for being there for us during these difficult times.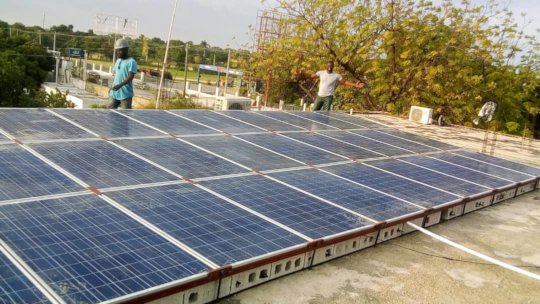 Friends
We were able to connect the solar panels to our existing batteries! The program is running on solar power for about 30% of our needs and we are grateful for your support. This means that we have power during the day when we have gas shortages in Haiti or when the generator requires maintenance. Last week, we relied solely on the solar panels for the daily operations of the program when the generator required routine maintenance.
In the near future, we hope to be using the solar panels for 60% of our power needs. We need to purchase 30 new batteries to store the energy for this to become a reality.
Not only are we Haiti's largest cancer screening and treatment program, we are making every effort to use technology to help those we serve. The solar power is one small way that we can help Haiti's environment while also treating those most in need.
Many thanks!
Hi all
We have now installed 30 solar panels on the roof of the cancer center! The labor and panels were paid for with your hard-earned donations and we are truly grateful.
We are still looking for funds to buy the batteries and inverter, the most important parts. The inverter helps to switch between power sources like the generator and city power and solar panels. The batteries are $400 each, but they are big and strong and durable. This will set us up with electricity for five years!
The operating room is open as well thanks to your previous generosity. We have already performed over 30 life-saving cases in the operating room!
Please help us to get past the finish line and go green in Haiti! The country and the planet needs it.
Vince
Attachments:
WARNING: Javascript is currently disabled or is not available in your browser. GlobalGiving makes extensive use of Javascript and will not function properly with Javascript disabled.
Please enable Javascript
and refresh this page.