Since our last report was submitted in May, we've been working hard to contact and interview every veteran on our waiting list. The people we support are extremely unlikely to answer the phone unless they know exactly who is calling and why, so it requires multiple attempts and forms of communication to actually talk with them on the phone. Even when we've been able to chat about the program, answer questions and schedule an interview, applicants may not be able to attend. Sometimes the VA makes appointments that conflict, and those always have to take priority for veterans because they are so hard to arrange. In other cases, regardless of how badly they want to come, a bad night can lead to panic attacks that make it impossible for applicants to leave the safety of their homes. In spite of these challenges, we have been able to interview and accept 14 veteran clients since May 1st, and we have 3 more appointments scheduled.
Whenever we accept a new client s/he starts training immediately. In some cases, the right dog to help with the handler's specific injuries has not been rescued yet, so Mary must contact and visit shelters to find the perfect animal for that client. In the meantime, clients who haven't been matched attend training so they can get to know staff and become comfortable at the OFP Center. We keep the dogs under the care of OFP staff at the Center until we are sure the match is right, and we know the clients is committed to the program. The dogs learn very quickly who their new handlers are, and their excitement when they see them before a training session is pure joy. The corresponding smiles on the veterans' faces when they see their dogs is our first indication that they are beginning to heal. Within a few weeks, when the bonds between dogs and handlers are solid and we're sure of the commitment, we ask if the client is ready to take the dog home. The resounding "YES" is often accompanied by happy tears and big hugs. We know there will be ups and downs over the next months, but we will be on hand to help every team succeed, thanks to the generosity of donors like you.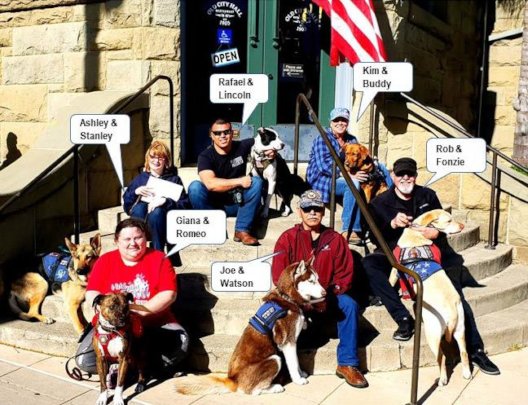 Our tag line is "Four Paws, Two Feet, One Team". This quarter we've tested and certified six service dog teams who have fulfilled the terms of their contracts, signed on the day they were accepted into the program. It has not been an easy journey for any of these disabled men and women, but their dogs have helped them in ways thay could not imagine on that first day. In this particular group, there are 3 veterans from different eras and branches of the military, 2 non-veteran adults and 1 teenager. Their reasons for needing service dogs are as different as their dogs. But tthere are common threads, too. Each of them is a better communicator and a more empowered self-advocate than at the beginning of training. They are all stronger and more capable of coping with the challenges their disabilities present. They have all learned to pay attention to their dogs' alerts to help them manage their medical issues before they reach a critical level. At the other end of the leash, their dogs have learned to focus on that one person, and refined their ability to scent changes in their handlers' body chemistry. Tthanks to the support we receive from our donors, these teams have benefitted from a program that has allowed them to achieve goals and realize dreams that seemed out of reach. They will continue to participate in training to keep their skills sharp and stay in contact with their "OFP Family", but they have achieved the independence we all hoped for on that first day. Thank you for helping them!!
Links:
In the three months since this latest Global Giving project was created, Operation Freedom Paws has interviewed and accepted seven veteran applicants to our service dog program. One is a Vietnam vet, three served during Desert Storm, and three were stationed in Iraq/Afghanistan. One is a woman. They served in the Army, Navy, Marines and Air Force. Despite these differences, they are united by their experiences in the military, its after-effects, and their desire to find a different way to manage their injuries. All have been diagnosed with Post-Traumatic Stress (PTS). All struggle in crowds, avoid gatherings of family and friends, find it difficult to communicate, and have nightmares. All have contemplated suicide.
Immediately after being accepted into the program, each veteran was matched with a pre-screened dog chosen for that person. The dogs are as individual as the humans, and making the match is the beginning of building trust in the dog and in our program.
The first of this group of veterans, interviewed just before Christmas, was facing additional challenges. Fred (not his real name) and his family had been living in Paradise, California before last fall's devastating wildfires destroyed their entire town and left him, his parents and his fiancée homeless. They considered themselves lucky to all be living together in a camper in a parking lot. Matching Fred with his dog and getting him into classes gave him a glimmer of hope.
In the intervening seven weeks, Fred has started to smile. He and his dog are already incredibly bonded. She has helped him cope with the difficulties of finding a place for his parents. He takes tremendous pride in her ability to keep him calm. He tells us about their triumphs between class sessions, and looks forward to training.
This is just one example of how your investment in these service dog teams is changing (and saving) lives.
WARNING: Javascript is currently disabled or is not available in your browser. GlobalGiving makes extensive use of Javascript and will not function properly with Javascript disabled.
Please enable Javascript
and refresh this page.