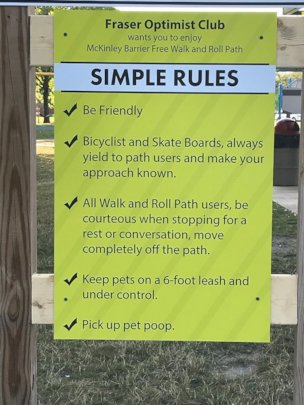 It's been a very busy summer at the park! Here are some of the highlights:
The customized engraved bricks were installed for the "walk of fame" pathway. They look absolutely beautiful, and the Fraser First Booster Club will continue to accept customized bricks to be installed in the future.
The Fraser Parks & Recreation Department had a very successful Star Gazing Night at the park on August 13th. It was a free event for the public, and volunteers from a local Astronomical Society came out to share their knowledge, telescopes, and stories. It was a perfect night and everyone was able to see the moon, Saturn and Jupiter up close! There were even meteorites on display and a virtual reality program for the kids to use. The McKinley Barrier-Free Park was a perfect location for this event with the comfort station, open area, and parking. It is an event that is being discussed to do a few times a year at the park.
The sponsorship signs for Phase 2 were installed at the comfort station, along with the park etiquette sign. It is very important to the Fraser First Booster Club to have the sponsors on display for all to see.
Fraser First Booster Club also raised $10,000 for the Sensory Garden! We hope this will be installed in the fall. It's another step towards completing Phase 3.
The community took park in a large tree planting effort put on by the Fraser Parks and Recreation Department through Green Macomb. We were able to plant roughly 30 trees around the Walk & Roll path to provide shade for future generations.
The Fraser First Booster Club is still actively working on finishing Phase 3. We hope to raise funds for the outdoor, barrier-free exercise equipment, and climbers soon!