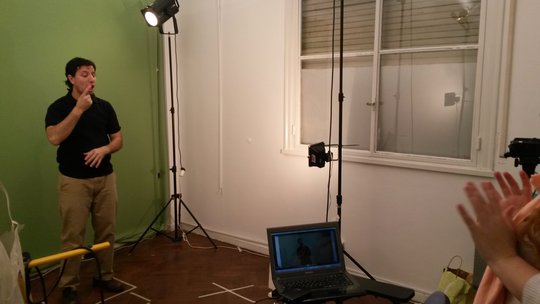 We launched the third collection of Videobooks included in our site www.videolibroslsa.org.ar, this time aimed at readers 10 and older. A new step towards access to reading of deaf people and a new opportunity for deaf and hearing to share a common activity.
The website had so far two collections of books: Modern and Classic. This new series will include stories written by authors such as Maria Teresa Andruetto, Elsa Bornemann, O. Henry, Liliana Cinetto and Yolanda Reyes. The digital stories will be uploaded to the website one by one throughout the month of October.
As in all the videos we make, these Videobooks are read by a deaf person and have voiceover as we seek to bring together deaf and hearing in a common activity: reading. Over 90% of parents of deaf children are hearing people who do not know how to communicate with them and how to read them a story. This project opens opportunities for both parents and children to interact through literature.
The team that works in this first stage is composed by five deaf readers: Mariano Matut, Rodrigo Alfonso, Julia Valmarosa and Juan López Maccio, one coordinator Paul Baldrich and the counseling of three deaf leaders: Julia Valmarosa, Juan López Maccio and Mercedes Pandullo .
One of the challenges we face in the new edition is that the voice that accompanies the reading will have to be based on the written text and not in the translation of the LSA. The complexity that these texts presents in comparison with the former stories for children, forced us to make some adaptations in order to be respectful of both languages: written Spanish and Argentine Sign Language (LSA). LSA condenses in a short time a lot of information that require an extended amount of time when the reader reads the text in Spanish.
In this first stage, we will upload 5 stories, but with YOUR HELP we could finish 6 other stories that are now in process!
Enjoy the first book of this new series: "El árbol de Lilas".
VIDEOBOOKS is a project that allows deaf people to approach literature from a young age.