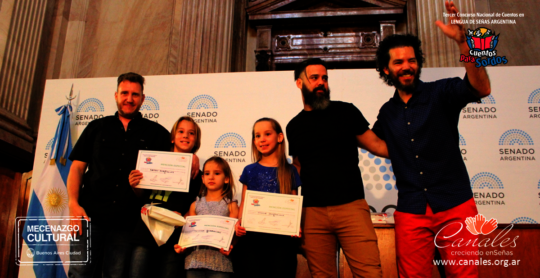 Continuing with our mission of promoting reading and access to literature for deaf children we organized the Third National Storytelling Contest in Argentine Sign Language. We encourage through this contest that deaf children and young people approach literature, investigate different authors, create their own stories and expose them to other people, illustrate and become artists. Likewise, we aspire to promote potential participants in their full development in a framework of respect for their linguistic and cultural identity.
The competition was targeted to deaf people from all jurisdictions in the country for them to prepare unpublished or known stories, organized in five age groups categories.
Deaf children and adults presented 154 stories video recorded in Sign Language, that were sent to Canales to be evaluated by a jury composed of three deaf people and three LSA interpreters. The jury selected two stories per category (first and second prizes) that will be edited with drawings and voiceovers in a video that will serve as educational material for schools across the country. The stories will be uploaded to an Internet platform - www.cuentoslsa.org.ar - with free and open access.
The award ceremony was held at the National Congress and was attended by more than 250 deaf children and adults from all over Argentina. Directors and teachers of deaf schools, the Vice minister of education, politicians from The Ministry of culture and representatives of UNICEF were also present at the ceremony.
Fort the first prize, the contestants received a notebook and the second prize obtained a tablet. Fifteen participants received also a special recognition.
Both the Contest and the elaboration of the video of stories try to revert the exclusion of cultural promotion programs to which this community is subjected, through a space of participation open to children, adolescents and the deaf community at large.
We are sharing with you some of the pictures that show the enthusiasm of deaf children at the ceremony. Enjoy!