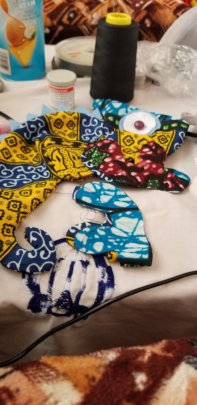 African Mission Trip – August 2019
It was such a joy to be a part of this mission to Uganda and to see the development in the Rubuguri area.
A new project being brought to our women by Danielle, our volunteer, is the production of stuffed animals. She's teaching them to sew plush toys in the shapes of chameleons, elephants, and gorillas to sell in the market and to put into local lodges to be purchased by tourists who come to the area for gorilla trekking. This is a new product that has never been seen in this area, and we're confident that these stuffed animals will be easy for the women to make as well as becoming a huge hit in the lodges and markets!
The second half of our trip was even more amazing than the first. The women of Kashija learned how to sew the stuffed chameleons, which looked fantastic, and we've already gotten a large order from one of the local lodges for the chameleons to be placed in their gift shop! We've also placed several the women's woven baskets into two different local lodges, and some of them have sold already!
Our bakery project began the first week of the trip and we took samples of our cupcakes and donuts to the market to give the locals a taste of what's to come. The response was overwhelmingly positive; our bakery products were a huge hit! Many people wanted to know when and where they'll be able to purchase these baked goods. We returned to the market with more samples and even with some products for purchase. We're confident that the village's word-of-mouth communication system will have our bakery business up and running in no time! Danielle also taught the women in our program how to make the cakes and donuts so that once she leaves the bakery project will be another self-sustaining program. This additional source of income will be enough to help the local women buy food and clothing for their children.
The last Thursday of our month-long trip, we rode our bodas (motorcycles) up into the mountains to the village of Rushaga, where we participated in teaching the weekly English classes to about 50 women. It was exam day, so we helped administer the English exams, and then we had conversations with the women in English. We were extremely impressed with the progress they've made since we were last here in 2017; a lot of the women in the advanced class could speak to us fluently, and the women in the lower levels had also made a lot of progress and were even helping to tutor other women! It's amazing to see just how much lives are being changed for the better in this community. Knowing English will enable these women to sell more of their products to tourists as well as help their children with their schoolwork, which is all in English.
The last week of our trip, we had the privilege of meeting with two groups in Nombe, a village in the mountains outside of Rubuguri. The first group is called Bwindi Rafiki Project, and it is a group that was started for the elderly citizens of Nombe A to help them fight malnutrition and neglect. They are hoping that we can assist them with creating an agriculture project that will help provide nutritious food and an income for this group's elderly members. We also met with the Nombe Poverty Eradication Group in Nombe B. This is a group of over 50 women who have come together to grow crops and to help each other provide for their children. However, they remain stunted economically and are asking us for a hand up, not a handout, to help them build up their projects in order to afford food for their children, more suitable housing, and school fees. Our hope is that we can bring programs like the ones we have in Kashija and Rushaga to this new area in order to continue the growth and development of the Rubuguri area.