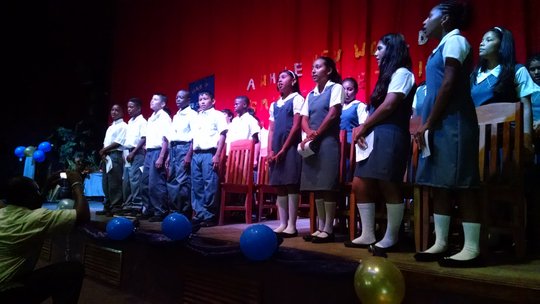 Greetings!!
I know it has been awhile since I have posted a report -- my apologies. However, we have been very busy with continued planning for our Phase 3 solar project, having made two site visits since the last report -- I just returned from the latest one a couple of days ago, and wanted to wait to post this report until I returned.
The first visit was conducted March 23-27. As part of that visit, I took care to review the funcationality of our two existing 5KW solar arrays that you have so graciously made possible. It turned out that our software reporting systems were down on both arrays, meaning that we could not get current power production statistics. One "Envoy" was offline due to a rat that had eaten through an internet cable, and that was fixed shortly after my return. Back online, this system is reporting full functionality on the newer array --- noting that the reporting systems only monitor power production and do not affect it if they go offline. So, there has been no service interruption on the newer array. The older "Envoy" system had gone down as well, but due to power variability in the wall outlet. This was fixed by finding a more stable source of power -- it is now showing that we have at least one bad microinverter on the older system - so most likely one panel out of the 20 in this array is not providing the power it should.
Upon my return from the first site visit I met with Baker Renewable Energy to discuss strategy to provide for more efficient ways to troubleshoot and repair problems when we are not at the school. We decided that when BRE makes their next visit to finalize the design for Phase 3, they would bring a set of microinverter spares to have on hand. I also contacted a local supplier that is willing to act as a liaison and volunteer his time to do troubleshooting as well as get trained by Baker to make repairs if and when needed. So I think we have a solid plan to improve our ability to respond to issues with the system.
The Baker meetings were excellent. They are going to get back on site in September and finish their engineering design for Phase 3 (more on this below).
This past week I returned to the site to participate in school graduation (8th grade) and our annual Board meeting.The first picture attached shows part of our 30+ students that graduated. Only one student could not graduate due to failing the national exam -- all others passed! The first picture below is from the graduation ceremony.
The Board is focused on long range strategic planning and have engaged the mayor and other local officials as part of the process. We are currently looking at -- most likely --- doubling the size of the school over the next five years to include the addition of more grade school classrooms, a vocational high school, and a chapel/rectory. The second picture shows board members in the school library discussing our long-range expansion plans. Clearly, this will require substantially more renewable energy as we strive to hold operating costs as low as possible. Further, this may end up requiring a mix of solar and wind with some storage (battery) capacity and perhaps a mix of on-grid net-metering and off-grid components.
The next picture shows the current development of a new 50-student classroom -- which will be complete in time for the start of the new school year. Demand for primary education continues to grow as people move in looking for work and a better life -- and sometimes not being able to find either. Though the San Mateo community has "improved" somewhat over the last five years - especially with the addition of more reliable electricity -- the roadway system was constructed without any thought to proper drainage between the tidal marsh and the community itself -- cutting off much standing water from the adjacent bay. This is leading to much higher bacteria levels and breeding mosquitos -- which were not a problem in the past. Clearly, the continuing lack of ANY sanitary sewage in San Mateo remains a huge concern for the majority of our students that reside there.
This past week I also did a pictorial survey for Baker of various breaker boxes --- now at capacity -- as well as meters. The last set of pictures attached here shows those. Components of Phase 3 will include (1) a wiring assessment to detect and correct any faulty wiring that might be contributing to unstable power and/or over-consumption, such as crossing hot and ground wires; (2) meter and breaker assessment, to determine how to best connect our Phase 3 array. It is likely that both a new meter and breaker will be needed as overall school demand for power continues to rise; (3) location and configuration of the next set of solar panels.
So -- while much work remains before Phase 3 plans are finalized, progress is being made. Our liason on the ground is going to proceed with the wiring assessment and ensuring that he gets trained to do troubleshooting and repairs; BRE will be making a site visit in September to finalize Phase 3 engineering plans; and last but not least -- WE must finish raising the funds needed to sign our Phase 3 contract with BRE this fall. Please recall that BRE donates all of their technical time -- including travel --- as well as sells us all panel and array components at cost. Thank you Baker Renewable Energy.
In that light -- I urge you to consider making one or more special gifts this summer that would help make a significant dent in the $16K that we need to finish raising to make Phase 3 happen. We thank you for all you have done and will do for the children of Holy Cross through our renewable energy project. Let's go do it for Phase 3!
John