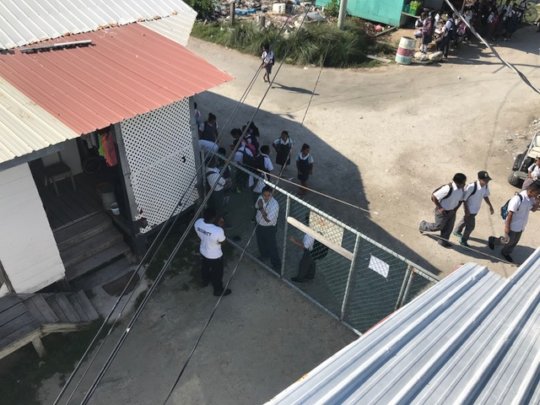 Dear Supporters,
The installation of our new, Phase 3 solar array at Holy Cross Anglican School has been completed and the new, 5.5KW (at peak production) array is now producing power!! I am thrilled to report that the schedule we envisioned at last report was fully executed thanks to all parties involved. By the time I arrived the week of April 2nd, the 20 new panels and peripheral gear had been shipped and were being stored -- gratis -- by our partners at Harmouch hardware in San Pedro.Thank you Harmouch!
Along with myself, the two technicians from Baker Renewable rendevous'ed with the lead technical expert from Solar Energy Solutions Belize (SESB). As planned, we conducted an inventory of the equipment and found nothing awry. SESB also completed its final site survey in preparation for their technical team coming back in a few weeks to do the actual install.
In the meantime, the BRE folks removed the Phase 1 array from the office-complex roof and inspected each of the original panels for defects or damage incurred over the last five years. They found seven that were in "near perfect" condition, while another 12 had suffered some degradation but were still in usable condition. Five others were deemed unusable due to defects that have been been traced to problems with the original manufacturer. The BRE technicians located the seven best panels on an adjacent roof, while, in parallel, my work team removed and replaced the office complex roof. We then applied white, reflective coat paint, leaving a pristine surface onto which the new Phase 3 array would be installed.
In early May, the SESB team returned to HCAS and assembled the Phase 3 panels, fixing them to the newly painted roof. In addition, the 12 older panels were also re-mounted onto a third string of panels on that same south facing roof (pictures attached). At first, the combination of the older seven and the newer 20 were turned on so that power production in relation to power demand could be monitored. After about a month of gathering data, it was clear that demand was still outpacing production enough that the additional 12 could also be turned on without risking much overproduction.
The "egauge" monitoring has proven invaluable. It lets us get a daily, realtime view of demand versus production on both the combined Phase 1/Phase 3 (Office complex) system and the Phase 2 (classroom/cafeteria) system. When these monitors are not available online, it alerts us to the possibility of either an internet problem or some other issue that needs attention. This makes troubleshooting very much easier. If you are interested, the egauge URL for System 1/3 is http://egauge31746.egaug.es/57A4C/ ; the URL for System 2 is: http://egauge31747.egaug.es/57A4C/
The data show that on near-cloudless days, System 2 is peaking at just under 4KW, whereas our peak demand is often near 8KW. Conversely, the newly combined Phase 1/3 System is now peaking at just over 7KW, and we have seen demand as high as 17KW! Clearly, there is plenty of "spare room" for adding more power under the current demand load. Further, with the projected addition of a new multipurpose building, there is no doubt that further solar production will be needed. We also have to remember that these PV panels are sensitive to heat and do not produce as much power in tropical climates as they would in more temperate climates where the panel ambient temperatures are cooler. This impact can cost up to 20% of peak theoretical production, and, indeed, we are seeing that in our monitoring data.
We continue to watch several transient issues that may -- or may not -- need further attention,and I will update you on their outcome as well as "next steps" for continuing to grow our PV capacity upon my next report.
Thanks so very very much to all YOU, for making possible the reduction in operating costs at a school that -- because of its service to the poor and disadvantaged children of San Mateo, cannot yet afford to fully pay its monthly electric bills. Thank you, thank you, and even more -- thank you!!
Warmly,
John