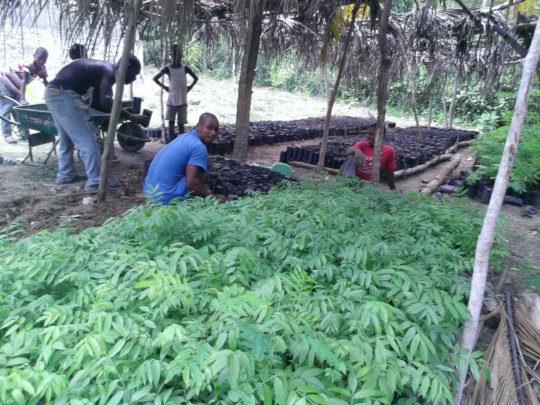 The contribution to longterm rebuilding in Haiti, after the eartquake, was ccentered on building shelter, provide water, feeding people who were under tents. Unfortunately there are still a few thousands of person who are still living under a tent. What was a temporary situation has become a permanent one. A s we work mostly in agriculture, food security and skills development, we are very aware that the environment namely reforrestation in Haiti is a priority indeed. Surviving to rebuild longterm means that the environment that support our food production, our shelter from the natural elements is a major priority as we assess haiti's level of erosion, draining of the soil must be addressed to aarrive at the goalof long term rebuilding and rekindle hope among the most affected people by the devastating earthquake.
Towards this goal, the Lambi fund has been involved in reforresting in partnership with rural farmers whose lives continue to be impacted and whose vision is longterm rebuilding. In 2018 the hope is invested in the planting of 406,000 of trees. Here is a profile of each of our partners and their set goals. As we move through the midyear, we are on target having seeded 65% of our goal for 2018.
Organizations Type of project Schedule production Production to date
AFTA Credit 20,000 15, 397
COPADET Oxplow-credit fund 20,000 11,321
SADN Reforestation 40,000 26,000
KOKAP Coffee and Cacao 120,000 60,000
APTK Reforestation 60,000 40,000
KPM Reforestation 60,000 65,000
OPDERGM Credit Fund 20,000 16,020
OPGDSC Mango Production 66,000 30,725
TOTAL 406,000 264,463
Without a healthier environment there is no hope for food security in Haiti, The partnership between rural farmers and the Lambi Fund envision a remedy in the conditions of the environment to make a difference as we move toward long term building in Haiti.
We could not complete these nurseries without your support. Thank you so much for your commitment and your generous giving,
Links: