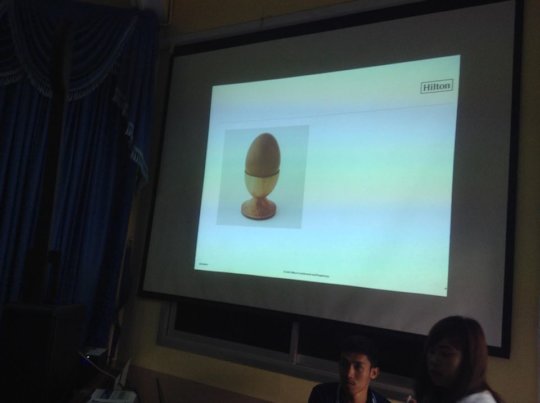 For the first few months of 2019 we have continued to work hard building the Vocational Opportunities Through English Programme at Kamala School in Phuket in readiness for bringing on board a volunteer Vocational Opportunities Through English (VOTE) Advisor. A goal which is almost reached thanks to your support.
We have continued the successful Hotel Business English sessions for senior school students. We have also included upper primary students in these sessions as requested by the students and Thai teachers. The invited speakers for these sessions are from local hotels such as the Hilton and they continue to encourage students to understand the importance of English for their future employment. The invited speakers also help the students to see that the vocabulary needed for employment is often additional to that they are learning in their English classes, where the curriculum is set for passing their Thai school exams. The outside speakers can therefore help encourage the children to look at extracurricular vocational studies. The visitors also talk to students about professionalism and positive attitudes towards work and study. Speakers share their own life experiences in the hope to inspire the children to strive to be the best they can possibly be. We believe these sessions are truly helping our students to plan for their future careers.
We have also started a twice weekly afterschool English Club at Kamala School where senior school children aged 14 to 18 can 'drop in'. The club is held in a coffee shop on the school grounds, away from the formal classroom environment. The students have been involved in setting up the venue and the format for these sessions so they feel they are 'theirs'. Students use this time to ask our teachers and volunteers about any school work they are finding hard, seek support with their homework and share worries about exams. They also talk about their life choices, future career options etc.. The children are encouraged to open up and share their hopes for the future and talk about how they can strive to reach their goals.
Thanks to our kind donors we are closer to employing a VOTE Advisor to ensure this work continues and expands. We look forward to being able to expand the programme to invite more outside speakers from different organisations around Phuket where the students will one day be employed. We wish to run career focused workshops and organize site visits to local hotels and businesses who will be employing our students in a few short years.
Thanks to your continued support we have made great progress already in 2019. We look forward to providing you with further reports on our progress over the coming year.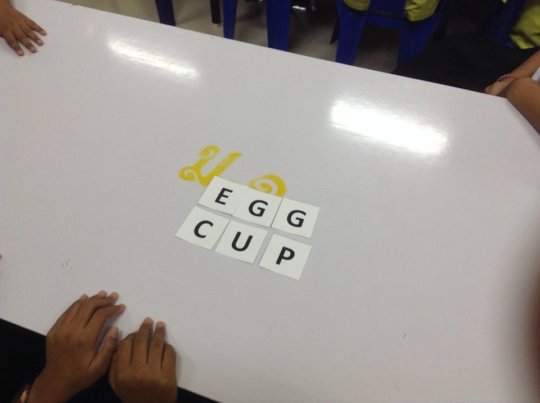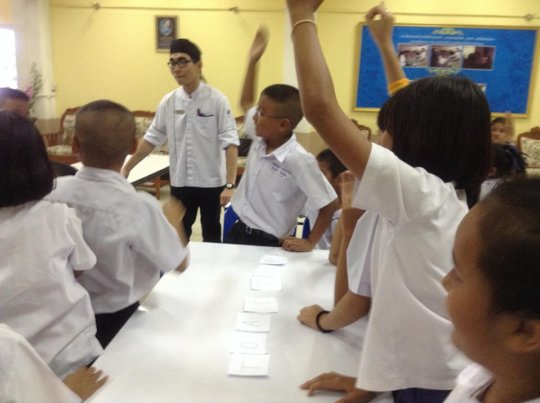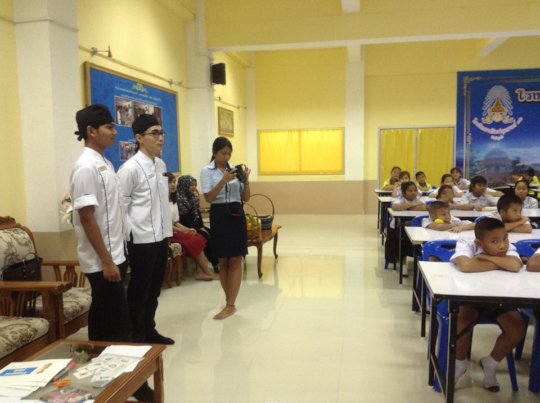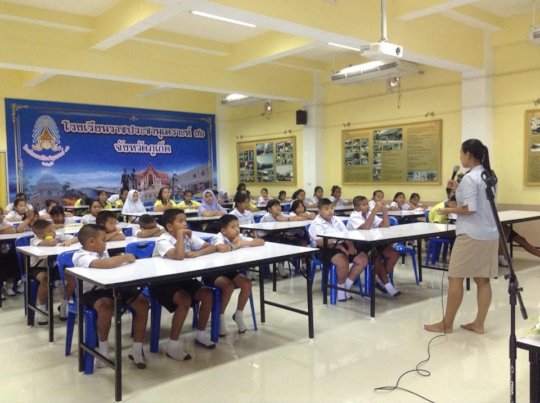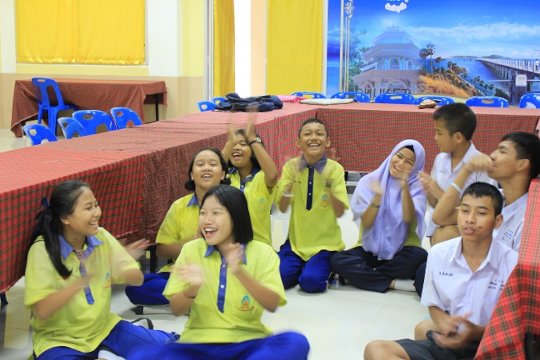 Since our last report, we have made even more progress towards our financial target. Whilst fundraising for the facility to employ a VOTE Advisor, we have kept up with our Hotel Business English classes, which continue to encourage positive concepts of employability in our students. Hotel Business English has been both boosting and inspiring to our students and we believe that the VOTE Advisor will not only enhance this; but also make a difference to our students' ability to identify the value of their English education. We are also confident that we will see how our students will grow up to build new and exciting opportunities for themselves.
In anticipation of our new VOTE Advisor who will begin at the start of the next academic year (May 2019), we have kept up with our Hotel Business English class. The aim of the class is to provide and teach students the conversational, written and comprehension skills needed in a professional workplace. Since we last reported to you, we have had more mentors who have been invited to take part in our programme from various establishments on the island. These mentors have given presentations about their line of work and have instilled in our students the importance of knowing a second language.
Of particular note, the class has been a huge success with our middle-school students that we have also opened it up to the upper primary-level students per their request. Our teacher who has been tirelessly working on the programme stated, "It is great to see how much difference a well-organised programme can have on our students' attitude towards schooling and education. When I heard that the some of the primary school students wanted to join the class, I immediate worked towards making this possible. Our older students who will soon graduate in a few years have so much to benefit from the programme, but it gives me great pleasure to know that the Hotel Business English class will give more preparation and inspiration to the younger students. It makes me hopeful to think how much difference our programme has made in just a few months despite being led by a teacher. I cannot imagine the realm of growth possibilities once the VOTE Advisor takes over and expands the programme to include more workshops, presentations, counselor guidance and socio-emotional support."
We are very excited of our progress thus far, all thanks to your continued support. I look forward to providing you with further reports on our progress in the new year. Have a happy holidays!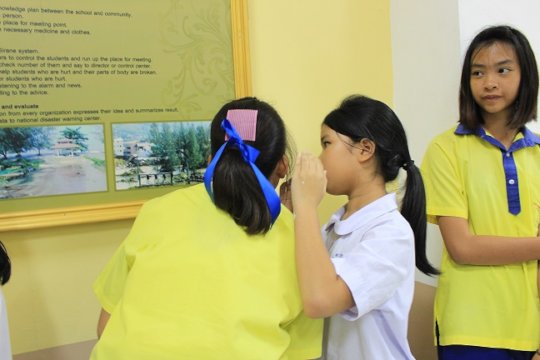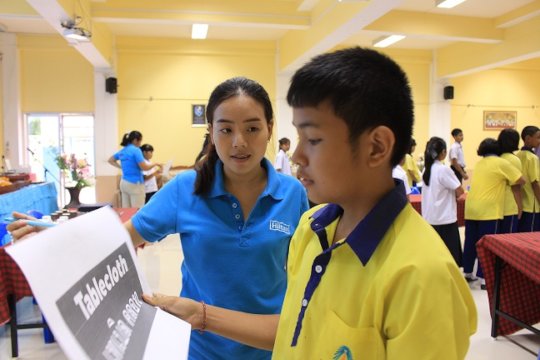 We have made great strides towards reaching our fundraising target thanks to you. You, the donor, has brought us much closer to being able to employ a Vocational Opportunities Through English (VOTE) Advisor. The VOTE Advisor will work to improve the economic chances of our disadvantaged children by providing personal and career guidance. The Advisor will also organize workshops that the students can partake in to put their English Language skills to use in a practical real-life scenario.
We are still in the process of interviewing the right candidate for the position as we believe that the VOTE Advisor will be integral to the success of us achieving our mission: improving the economic and life chances of young people. However, we have made significant progress in laying down a strong foundation on which our VOTE Advisor can build on. In our Kamala school, we have integrated a "Hotel Business English" class which is currently run by our Volunteer Teacher. Hotel Business English is a class which builds on the academic English taught by our teachers and expands it into practical life and employability skills. For example, a few weeks ago we invited local staff in management positions in a global hotel to run a workshop with our students. They begin by giving a seminar explaining the importance of English and how that skill alone along with determination and hard work can increase their economic opportunities. It was then followed by an interactive workshop with the students role playing various scenarios common in the hospitality industry. Our students learned that English is vital when it comes to hospitality and other vocational opportunities. Our vision is to integrate more classes like the Hotel Business Class, with other vocational oppotrunities.
We hope that with your continued support, we are able to strengthen this programme by employing a VOTE Advisor who will be able to build on our Hotel Business English Class and implement other useful and necessary vocational workshops. Our VOTE Advisor will also be invaluable in providing career guidance to our students- something that our current teachers providing the English lessons are unable to do due to their considerable workload teaching over 900 students. Your support has already come a long way in laying down a strong foundation on which we can build on and we hope to continue building. Thank you and I look forward to providing you with more reports soon.
WARNING: Javascript is currently disabled or is not available in your browser. GlobalGiving makes extensive use of Javascript and will not function properly with Javascript disabled.
Please enable Javascript
and refresh this page.