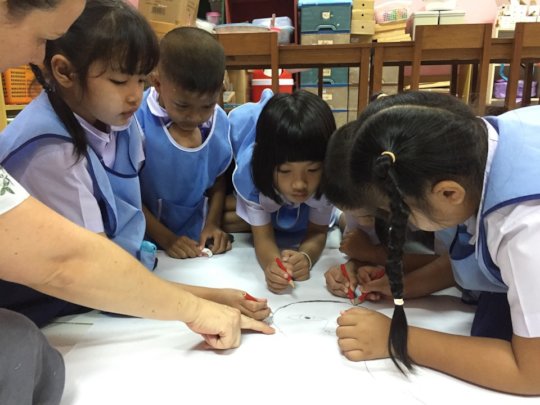 Well, the first semester of the Thai 2019-2020 school year has come to an end and the students excelled more than ever before! We are thrilled to share with you some of the many success stories that have come from the school we support in Kamala, Phuket.
The Kindergarten class was comprised of excited 4-6 year olds who kept Teacher Jes on her toes! They entered the classroom each day with enthusiasm and excellent retention of vocabulary. In addition to vocabulary and introductory English phrases, they mastered their ABC's. Knowing the letters and phonetic sounds of the English alphabet are the most important building blocks of becoming fluent in English and we are proud to have helped these young learners get that much closer to future opportunities.
Two of our newest and youngest students in Primary 1, EQ and Nit, quickly rose to the top of their class. EQ is one of those students who only needs explaining once and then he becomes independent, finishing his work on time and with very few mistakes. He is also one of the most polite students, making sure to use manners when interacting with teachers and fellow students. And he always pays attention to what is going on in class, which can be hard for the wandering mind of a 6-year old boy! Nit is another Primary 1 student who demonstrated outstanding effort to learn in the classroom. She was one of the smartest students in class, often finishing work first and then helping slower students understand the assignment. So thoughtful!
Students in Primary 4 showed extraordinary initiative, asking for additional tutoring during their lunch breaks. Our teachers were so inspired by the students' eagerness to learn, they sacrificed their lunch breaks to open up their classrooms to all interested students. As seen in the photos, the students asked to focus on Math taught in English as they felt that area needed the most improvement.
We also had one of our former English teachers, Teacher Mac, return to school with some of his univeristy students. They related to our students, having come from disadvantaged backgrounds, and motivated them to continue learning English to improve their economic stability in the future. With English, scholarship and grant opportunities for higher education become available, paving the way to a more sustainable life.
Thank you for reading a few of the success stories from this semester. If you're interested in reading more, please sign up for our newsletter or follow us on Facebook!