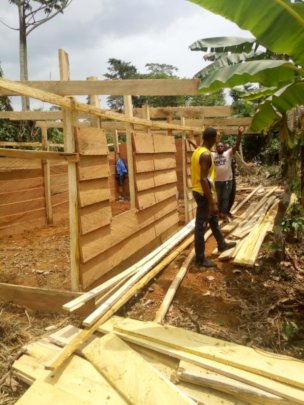 Despite the fact that we have been on the run from our villages in the North West Region in Cameroon, we have not allowed this challenge from preventing us from continuing our mission which is aimed at providing a lifelong sustainable opportunity to all women and girls in different facets of life within the nation of Cameroon. We continue to focus on our goals, objectives and mission to develop our women and girls to become all that they can become in life.
We are very grateful for the support that we have received to include room and board and some basic needs such as medical supplies, etc., however, the need is great and we are in need of upgrades to our current situation.
While we have been on the run, we have continued our weekly education and training session to enhance our skills in preparation for developing self-reliant communities and villages by partnering with philanthropic organization and institutions which provides reliable training environments and tools that guarantees growth and change from the kitchen to ownership of our own business and working skill jobs in education, health facilities and business environment such as banks.
We were able to obtain a piece of proprety in our new home environment and we cleared this land of brush in order to begin laying the foundation for constructing low income houses for for displaced families from the NW and SW areas in Cameroon, Africa. Upon the completion of this project we hope to have space for our organizational headquarters, emergency care center, computer center that will house our school program so that our students who have not been in school for the past four years will again be able to continue their education in a modern educational learning environment.
We pride ourselves in engaging in humanitarian projects which will benefit people from the rural environments in Cameroon to the Urban centers that will provide educational as well as recreational development projects that will contribute to the wholesome development of our youths, especially our girls.
Cameroon started a national dialogue Monday, September 30, 2019 in an effort to solve the separatist conflict that has killed thousands in the country's English-speaking region (NW/SW) in the past two years. Cameroon President Paul Biya announced the dialogue earlier in September when he called on all separaratist in the South East and North East English-speaking regions to surrender and be forgiven. More than 500,000 people were forced from their homes due to the violence.