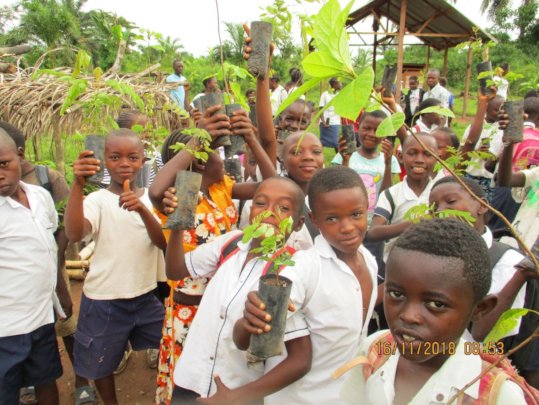 Community involvement in an essential part of conservation. Agroforesty programs aid in giving the local communities the opportunity to increase their crop yields while protecting the rainforest. Farmers in our agrofrorestry program are located in and around the Okapi Wildlife Reserve, but there are five villages where OCP grows trees and stores seed crops: Epulu, Mambasa, Biakato, Niania, and Wamba. The primary focus for each area is the growing and distribution of seedlings from nurseries. The Wamba nursery was completed in 2018 and was the newest nursery to be added.
In 2018, there were almost 70,000 tree seedlings distributed to over 2,000 people. These seedlings included nitrogen-fixing, fruit, and other various types of trees. Additionally, the agroforesty program assisted over 1,200 farmers and distributed over 2,300 kg of rice, 1,100 kg of peanuts and 1,200 kg of beans for planting. Various tools like machetes and hoes were also provided to new farmers in the program. Agronomes also allocated various vegetable seeds including cabbage, carrot, and cucumber seeds to the 85 community vegetable gardens.
A 'refresher course' was provided in Epulu for five agronomists and two technician to revisit and share the very successful agroforestry techniques and what has worked in each of the five villages. The refresher course provided training on the importance of community conservation, nursery maintenance, tree planting, select tree species for the agroforestry program, the Okapi Wildlife Reserve and how to use a GPS.
International Tree Day was also celebrated in November in Mambasa, Biakato, Niania, and Wamba. In each area there was one selected school that had the students and teachers plant trees at their respective schools. A total of 545 trees were planted with 450 children participating in the activity.
The agroforestry program enables local people in various communities to participate in sustainable practices in conservation. These techniques aid in keeping critical okapi habitat from being destroyed. This is all possible by the funding from donors like you. We highly appreciate and thank you for your generous and continued support!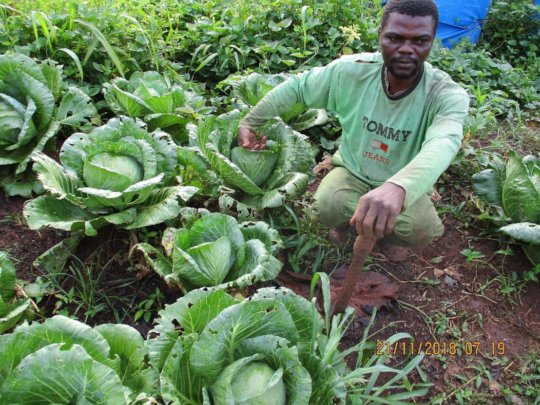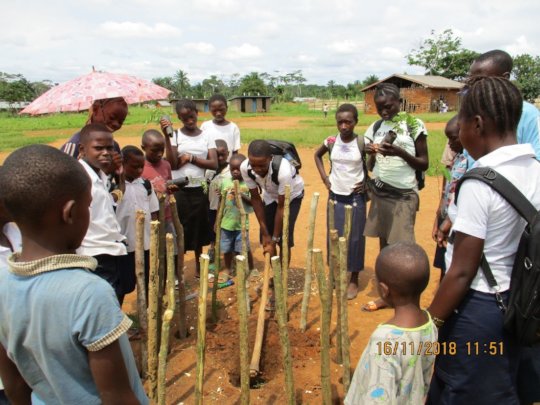 Links: