The Alliance partners with twelve village schools in the Ouelessebougou region and last year 2, 042 children attended those schools. 43% of those students were GIRLS! Since the inception of the Alliance and its education programs the percentage of girls attending school has steadily increased.
Girls in villages face many obstacles when trying to receive an education. Girls are expected to stay home and help their mothers cook, clean and care for younger siblings. In addition, extreme poverty and even child labor is often a factor. The Alliance works in partnership with village chiefs to break down these barriers facing young girls and educate the villages on the importaqnce of girls receiving an education. The Alliance provides testbooks, school supplies and bench desks in order to provide a strong and successful learning environment. The schools are all maintained and have long term sustainability.
Education helps break the cycle of poverty. Education provides a foundation for growth and success through empowerment. When a girl is educated she is more likely to educate her children. When a girl is educated she will make it a priority to stay healthy, she will make it a priority to keep her children healthy she becomes empowered with knowledge about her enviornment and how to change it. An educated girl will be more likely to start a business and change her community and change her future for her family and future generations. When a girl has the opportunity to receive an education it changes everything, it changes the world.
Mali continues to face tremendous challenges due to wide spread poverty, instability and conflict. Our motivation is grounded in the belief that building "human capital"—the potential of individuals—is the most important long term investment we can make for the villagers' future prosperity and quality of life.
Families, villagers and the communities we serve have many health risks. Not all of them have access to clean water and electricity. Many children die from simple causes such as diarrhea, measles and pneumonia. Having accessibility to vaccinations and proper health care training can change everything for a young child. The Alliance provides vaccinations for nine life threatening illnesses to children under the age of five and to expectant mothers. Women wait for long hours and sometimes even days to make sure their children are vaccinated. The Alliance partners with the local government to provide nine vaccinations which include: polio, yellow fever, measles, tuberculosis, diphtheria, hepatitis A, hepatitis B, the flu, and tetanus.
The Alliance also provides health training through Health Matrons & Agents in Ouelessebougou and its surrounding 24 villages. Education about disease prevention is key to enhancing the quality of life. One of our Health Matrons stated, "Since the village of Farani started receiving vaccinations they have only had one infant death in several years."
Last year, 48 village Health Matrons and apprentices received training. Twenty out 25 villages have active Village Health councils. Last year 12,952 children 0-5 were vaccinated and 2,619 expectant mothers received maternal immunizations which is an increase of 83% from 2017/2018. Vaccinations continue to save live in Ouelessebougou and give villagers hope for a healthier future for their children. Thank you for your donation to our vaccination program, it makes a direct impact in the lives of many families in Ouelessebougou.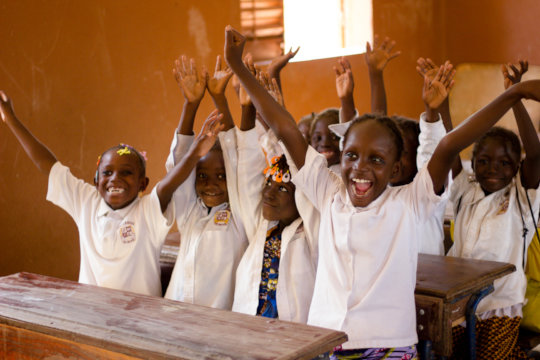 By the beginning of October the rainy season is coming to an end and the children in Ouelessebouguo are getting ready to return to the classroom. Here at the Ouelessebougou Alliance we are busy preparing for another successful back to school year. One of our primary focuses continues to be the education of girls. Unfortunately, girls in Mali face many barriers when it comes to education. Most face and suffer from household poverty and are expected to stay home with their mothers to help work and look after younger sibilings. Child labor is very common and many young girls work in the mines to help supplement and support family income. Gender inequality is prevelant and girls marry as young as 12 and 13 years of age. In addition, the lack of menstrual care solutions are all factors that contribute to girls not staying in school and the high drop-out rate of girls in village schools.
Whether or not a girl stays in school has a profound effect on not only her quality of life, but on her future family's life as well. When a Malian girl has the opportunity to receive an education and stay in school, she is more likely to stay healthy, save money, marry later in life and most importantly educate her children. When a girl receives an education it breaks the poverty cycle in one generation.
Our goal in 2019/2020 school year is for even more girls in Ouelessebougou to receive a quality education and experence success. Our local Mali staff partners with the schools, Education Councils and village Health workers to educate village leaders and parents on the importance of girls' education and keeping girls in school. We teach girls gardening, nutrition and financial literacy which improves life skills and future income opportunities. We provide menstration education and distribute Days for Girls feminine hygeine kits to allow girls to attend school year round.
Last year 43% of village students were girls. We want to see that number continue to rise. Thank you for your donation and helping us reach our goals for girls in Ouelessebougou!
WARNING: Javascript is currently disabled or is not available in your browser. GlobalGiving makes extensive use of Javascript and will not function properly with Javascript disabled.
Please enable Javascript
and refresh this page.