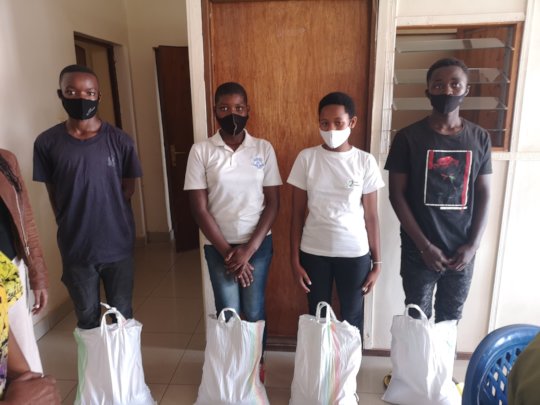 Dear partner,
Your support to Aspire programs is still invaluable to us, thank you again.
This report outlines the actions taken by Aspire Rwanda during this quater to respond to the challenges which resulted from the COVID-19 pandemic crisis, and discusses the post-lockdown crisis response plan.
Beginning January 5th , Aspire Rwanda requested movement clearance and introduced a series of Home visits for families on COVID-19, and enforced preventive measures of constant hand washing and Safe Greetings at the center. Based on many Corona Virus cases were reported in Kigali-Rwanda on January 18th, the Rwandan government ordered a total lockdown in Kigali city. This is normally a tough time but was even more difficult for many families during the lockdown.
The lockdown was extremely difficult for families in our community who live from hand to mouth, earning little money to get by, including many of the mothers who sell vegetables and clothes in the street to earn a living to feed their children. Aspire Rwanda staff distributed food supplies to the families.
We have registered more than two hundred people who are members of families who are supported by Aspire Rwanda to seek support to be able to get back on their feet in this post-lockdown crisis.
It is extremely difficult for a family of 6 to live on $ 0.31 per day.
It would help if these families get support through empowering the mothers, income generating skills development, and peer counseling.
Income generating skills development: smallGroups of mothers can learn how to start and manage a small business. After their completion, each mother will have a choice to start their independent small businesses or working through the cooperative. The small start up capital can be given to each woman.
Peer counseling: Mothers can come together after training to discuss the experiences they are going through in their homes, and to learn the best practices in parenting, and other domestic challenges from each other. Experts can visit the groups at the center twice a month to facilitate and offer necessary emotional and mental support.
To support us and learn more about this program please visit our fundraising page "Help 100 families impacted by COVID 19". We encourage you to donate monthly here. Even a few dollars a month will go a long way. Please also share this with your contacts and invite them to consider supporting this ongoing project.
Thank you.