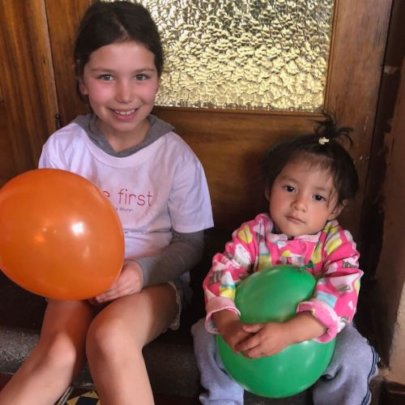 This past month, my family and I travelled to Guatemala to visit the Acorn Childcare Center with two other families. It was a profoundly moving experience for all of us. As always, we were touched by the warmth, openess and friendship of the children and families at the Center.
One of the children, Millie, aged 9, who went on the trip with her family gave this beautiful report on her return. I thought our community of supporters would like to hear about her experience.
From Millie:
"We did so many amazing things in Guatemala. We saw tall volcanoes and steep cliffs and deep lakes. We saw how to turn little red berries into hot cups of coffee, how to turn bitter cocoa beans into rich, sweet chocolate, and how to turn cotton on a tree into a colorful scarf. But the most amazing thing we saw were the children at the child care center, and the people who take care of them.
I made friends at the center, especially two little girls named Valeska and Monce. They are so cute and so happy, which is kind of amazing because they are also very poor. Often the children's whole families live in a home that is half the size of my room. Some of the children, like Valeska, have no one to care for them. All of the families live on less than three dollars per day.
But the teachers at the child care center play with the children and feed the children and teach the children and love the children and support their parents and families too. It really changes their lives.
And it changed our lives too. Because now we want to do everything we can to help Valeska and Monce and all the children at that center......and I hope you will too."

Thank-you for all the love and support you give!

With love and thanks,

Rachael Rhude, Founder