Our team puts a lot of time and thought into how we can improve public health in rural Honduras and particularly Valle Arriba. We decided on providing water filters to this area because it is relatively affordable and because public health experts note that filters can make a significant difference in improving GI health for those who normally would not have access to clean water.

After disseminating filters in Valle Arriba in 2018 (and some additional nearby communities in 2019), we knew that we had to determine whether the filters were working - that the people using the filters were healthier than those who were not. We collected and analzyed a ton of data and were able to present our results at a conference (Ohio Association of Economists and Political Scientists) at the end of September. To put it mildly, the results are incredibly positive!

To start off, we wanted to see if the filters could reduce GI symptoms. Our results say "yes": those using the filters were 39% less likely to complain of diarrhea and stomach aches, and 70% less likely to have recently vomited.

Of course, tracking symptoms are only one part of a medical brigade - our patients get to see a doctor as well. Another way we can determine if filters are working is by seeing if they reduce various parasitic and infectious diseases. Across all patients, those using the filter saw their likelihood of receiving such a diagnosis drop by 48%. For children, that likelihood dropped by 87%!

So thank you to all who have supported us in bringing clean water to Valle Arriba. It's working! The people of the village rave about their "crystal clear water" and are a bit healthier because of the filters. We're not done providing clean water, though. There are more people in nearby villages that lack clean water and our goal is to help them out in May. Stay tuned for our next report!
Hey All,
Since our last update, all of us from John Carroll University have returned to the U.S. This year's immersion experience was one of the most eye opening. We were in Tegucigalpa, the nation's capital, during a peaceful protest orchestrated by the teachers and doctors. The civil unrest reminded us why we started on our mission to provide rural Hondurans with access to clean water. We continue to pray for our Honduran brothers and sisters for the Lord to grant them peace.
Now that we have had time to analyze the data gathered on our immersion, we have assessed the effectiveness of the Filter of Hope water filters in lowering the prevalence of various symptoms in Valle Arriba. Of the Hondurans who have gone through our training and received a Filter of Hope water filter, we have found that a majority have reported having fewer GI symptoms including stomach aches, diarrhea, and vomiting. In fact, 39% report they are less likely to have stomach aches and diarrhea. 70% report they are less likely to vomit as a result of the introduction of these incredible filters. These numbers demonstrate the efficacy of the new filters.
Thank you for your support in allowing us to provide access to clean water to rural Hondurans.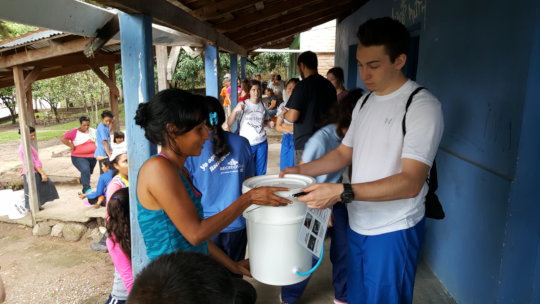 Hello Friends!
We are currently in Honduras, working hard to train rural communities on how to use water filters. We will have more statistics and information in our next report, but here are some highlights from Valle Arriba and some other nearby villages.
In Valle Arriba, we asked people if the filters made them feel healthier. 98 percent of people using the filters responded by saying yes. In Suyatillo, this positive response was even higher: every person (17, which covered over half of homes in the community) enthusiastically said they felt healthier after using the filters for the past three months. These numbers are exciting!
After checking in with our friends in Valle Arriba and Suyatillo, we were able to bring filters to three new villages: Lomas Limpias, Flor Azul, and La Lima. Providing one-on-one training, our local interpreters were able to thoroughly train the villagers on how to use the filters (see attached photo). In all, we distributed 300 water filters, which means over 1,500 people now have access to clean water!
WARNING: Javascript is currently disabled or is not available in your browser. GlobalGiving makes extensive use of Javascript and will not function properly with Javascript disabled.
Please enable Javascript
and refresh this page.