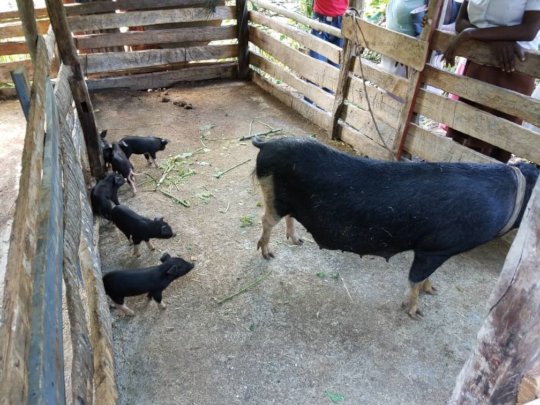 We're proud to tell you that, with your support, we've helped hundred more community residents to "Leve Kanpe" (to get back on their feet), regain their footing and take solid steps towards self-sufficiency again.
We have a story to tell you. In 2016, we had just finished a strategic plan that followed a regional planning proces designed to develop a three-year plan for the Haiti Community Foundation. Hurricane Matthew which was unusually strong and devastating, destroyed the Grand'Anse crops, killed most of its farm animals and damaged about 90% of its housing. Over a thousand people died or were missing. It's hard to describe to you how we all felt (pain, anger, agony). It affected not just the Grand'Anse, but also Haiti in terms of food insecurity. It was so terribly painful to watch and experience..
Our Network of Community Leaders mobilized itself despite our own personal losses. For the past two years, we've helped over 15,000 community residents of the Grand'Anse through various initiatives including Leve Kanpe. Aid doesn't get everywhere. We focused on the hard to reach communities and the most vulnerable people (elderly, pregnant women, widows, single mothers, the disabled). #HaitiansHelpingHaitians. Solidarity. Support dealing with tragedy and adversity.
Our focus was to help our people regain a decent level of self-sufficency. Your support helped us to do that. What it has meant, was reconstructed houses, replanted gardens and fields, farm animals that are key for the payment of school tuitions, weddings, funerals and health emergencies.
In this second phase we worked with four community groups to help the most at risk communities. They've gotten stronger too. What's next?: Helping our people reach out for their dreams, because survival is simply not enough. Thank you so much for your support. It really makes a difference for our communities.
Warmly,
ESPWA and the Haiti Community Foundation Network.