Starfish Women's Self-Defense Update
Our trainer Margarita created a safe and comfortable space during the February class. The techniques she showed and taught, were very basic and clear, understandable for everyone, and easy to explain by the three translators into Farsi, French and Arabic. Doing the exercises together taught the women that we are much stronger than we thought.
We noticed during our February courses that women need safe women-only spaces in order to feel relaxed, to laugh. And laugh they did. Everybody left the place with a huge smile, hugging each other, taking pictures together on their mobile phones, and thanking us over and over again for offering this course.
We plan to proceed with these classes, especially now that we understand the importance of them. It would be great to offer them on a weekly basis, but unless we have local female trainers, this has a high cost. We will organise a training week for female trainers in May of this year, so that we will have our own instructors in the future.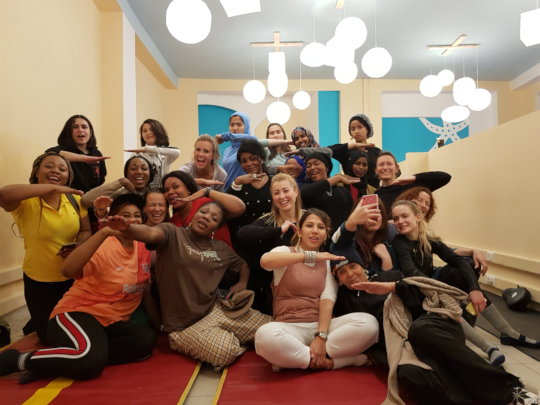 On the 16th and 17th of February Starfish Foundation held a self-defense weekend course for refugee women living on the island of Lesvos, Greece. The instructor was Margarita Founariotaki from Athens who specializes in self-defense for women. 57 women participated, 44 refugee women and 13 women were volunteers from all over the world.
It was amazing to see how eager everyone who attended our February course was to learn how to say no, how happy they were to participate in a class with women from different cultures. They became sisters in a few hours. The refugee women shared that they never feel safe, especially at night when they hide in their tents, while the men drink and become aggressive.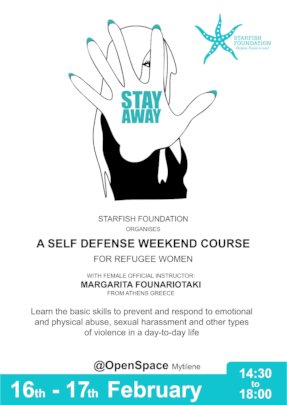 We are pleased to announce that a self-defense weekend for refugee women is taking place in Mytilene town on the island of Lesvos, on the 16th and 17th of February 2019
Margarita Founariotaki from Athens, Greece who is an official International Krav Maga Federation instructor, will be our special guest and teacher.
Women living in refugee camps are enormously vulnerable, because they are a minority surrounded by men with insecure futures : this often causes stress and frustration that is expressed in agression. For this reason Starfish Foundation organises self-defense courses for women only.
During the course the women will learn how to say NO in a clear way, how to be aware of their surroundings and to prevent and respond to specific threats, including emotional, physical and sexual harassment.
WARNING: Javascript is currently disabled or is not available in your browser. GlobalGiving makes extensive use of Javascript and will not function properly with Javascript disabled.
Please enable Javascript
and refresh this page.