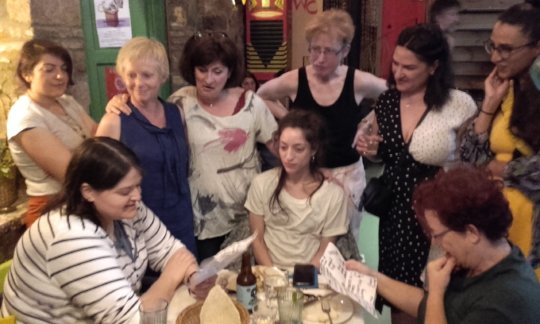 The training week for self-defense instructors on the island of Lesvos has come to an end.
It was an amazingly empowering week with two incredible instructors. We will not easily forget this experience and are looking forward to practicing all learned skills with refugee women in Moria camp.
One of the teachers, Anat Errel wrote a beautiful message to all students. and we would like to put it in our report, because it says exactly what we all felt :
When I want to tell you how was it, at the Empowerment Self Defense Camp in Lesvos, Greece, I find there are no words to describe how really in awe we all were, how stunned we felt from all that went there, and how life-changing it was and so full of joy.
Thirteen women, some in their twenties, and already activists, opinionated and full of beliefs and a strong will to change and influence the world. With a strong yearning for more knowledge. Some older, in their fifties, that had already done stuff, and are still open to taking what we have to give them and with it, change the communities they live in.
From different languages and cultures, we created a meaningful, fascinating and fruitful discourse. The energy was high, even at the end of a long week, they still got up and happily reviewed the techniques again and again. The curiosity was endless, the questions were many, and the will to understand and be accurate amazing. There were stories that were never told before, and tears, and plenty of compassion, support and hugging arms. We became friends. No, we became a family. And there was so much joy and so much laughter.
And thirteen women that received the ESD message went, to give our tools to many other women and will make our world a better place.