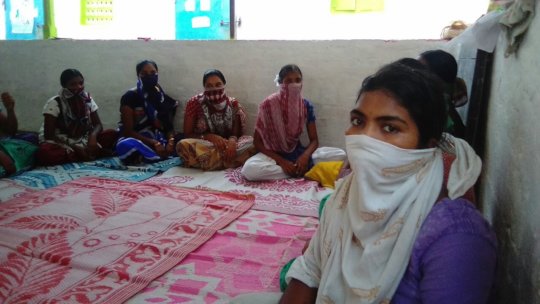 15 year old Ramana (name changed), from a well to do family, eloped withher little known boyfriend from Vizag, who eventually sold her to the flesh trade. She spent almost a year in the 'hell', but was rescued fortunately by the Police. When she came to Asha Sadan (HELP rehabilitation centre), she was a lonely person, utterly depressed had suicidal tendency. It took time, but she turned around with the help of her 'caregivers'. Today she has learnt vocational skills and has become an expert dancer. Her parents are eager to get her back and she is waiting for the judicial orders …….
Chandrika (name changed) was 14 years trafficked from avillage in East Godawari dist, when she was barely in her teens. She was forced into prostitution at Annavarappadu in ONGOLE, when she was 14, by the Madam, whom she was sold to. She was rescued from the inferno, by a dynamic police officer, who is her "godmother" today, when she was 15. Initially, after coming to Asha Sadan, she could not control her emotions and had waged a single handed was against the whole world around her. Gradually, she changed herself. She has done vocational trainings in Bakery & jute bags stitching in our rehabilitation home. She had deposed brilliantly at Court, as a witness and her trafficker was punished…….
15 year old Archana (name changed), was married off to a man triple her age, by her alcoholic father, in lieu of money. The man took her to Vijayawada, abused over a period of time and eventually sold her to the flesh trade. She was rescued one day, during a joint raid conducted by police and HELP, a leading NGO of Andhra Pradesh. Archana came to Asha Sadan with a number of typical mental health hazards. She was aggressive and disobedient. She was exposed to a series of "counseling sessions", which helped her to change back to her own self. Today, she is an active participant in "BAKERY & JUTE BAGS MAKING" trainings and enjoys dance classes enthusiastically. She looks forward to a brighter tomorrow……
Sravani (name changed) belong to Chirala of Prakasam Dist lost her parents six years ago when she was 8 years old. Her mother was sex worker when she alive. She is having two younger brothers. One of her relatives has nourished these children for some time who also a daily wage labour. He couldn't feed them no longer. The girl along with her brothers has been joined in Asha Sadan home through one of the volunteers. Sravani went to local high school and continued her education in English medium. She passed 10th standard with 9.8 grade points. She emotionally balanced and mingled with rest of the children in home and enjoying her education with joy.
Children supported by this project are confident, hope a ray of shiny tomorrow who expressed gratitude to donors GlobalGiving.