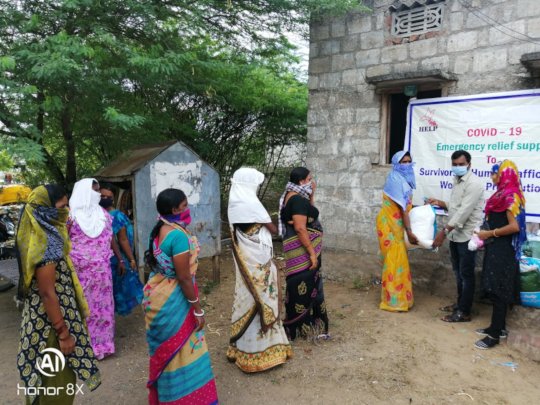 The bitter impact of COVID 19 pandemic outbreak was indeed verse to severe on the lives of Commercial Sex Workers (CSWs) while having distressed the lives of all categories of the marginalized people among many other vulnerable families and communities.
Loss of work during the pandemic saw rampant mass migrations from Red Light Areas(RLAs). In Delhi's GB road where there were many a number of sex workers from Andhra Pradesh, at one point, over 60% of the sex workers had to resort to returning home.But it was completely against to their will and wish due to the deep-rooted stigma and discrimination in and around their families and communities. In this context, HELP undertook a needs assessment study with sex workers in the state of Andhra Pradesh to understand the below issues:
Disruptions caused by COVID in their lives
Awareness, willingness, and past experience with alternative livelihood opportunities
Current levels of access to and agency towards key services to gauge their readiness to initiate a transition
The findingsfrom the study reveals that, there was worsened financial difficulties identified by the sex workers as the foremost challenge posed by COVID as 100% respondents reported a reduction in their monthly earnings, ranging from 33% - 100% fall in income, 62% reported borrowing from informal sources, 88% reported having no alternative source of income and 61% never heard of alternate livelihood opportunities. The novel coronavirus has exacerbated the challenges of sex workers making them even more marginalized and vulnerable today. The sex workers compelled to live on debts with extreme high interest rates which in fact very far beyond their capacities.
Hike in average interest rate from 7% to 12% for recurring debt in red light areas before and after lockdown
Larger loans were given to older and more trusted CSWs which constitute about 45% of the CSWs living in RLAs
While for majors, average earnings are around between INR 7,000/- to 10,000/- p.m., for minors, average earnings were around INR 15,000/-p.m.
In this context of extreme pathetic circumstances of sex workers and their children, HELP has supported them among the 10 red-lights areas (prostitution localities) covering 3 districts (Prakasam, Guntur & Krishna dist.) of AndhraPradesh – India through GlobalGiving support to protect themselves and their children from contracting COVID 19 through creating enough awareness on COVID 19 preventive measures and protocols as well as distributing the hygiene kit including masks,sanitizers, sanitary napkins and soaps and so on.
HELP also involved the community based organisation called VIMUKTHI – collectivization of sex workers and victims of human trafficking for identification of real beneficiaries and distribution of food material in their prostitution localities.
In addition, the project has extended its services to enable the beneciaries to cope-up with the challenges being faced from the trauma and distress conditions. Because, they were unable to access with work and wages tosurvive their families at least with food and basic amenities. Besides, providing thesupport to lead a normal life with food and basic amenities for the women inprostitution, the project has provided psycho-social support services that enabledthem to have mental strength and courage with condence on their further life. Overall, there is a good behavioral change observed among the beneciaries insafeguarding themselves and their children from COVID 19 as a result of thisproject.
The concrete results from the project are as follows:
- The project accomplished that, 125 families of the women in prostitution and their children have been able to face the challenges that they experienced during pre- and post-lock down circumstances.
- Distribution of food materials (Edibles) to 125 families on the occasions of among the women in sex work at 10 Prostitution localities of Prakasam, Guntur and Krishna districts while extending knowledge and guidance to cope up with the challenges of malnutrition for their children.
- We have provide 15 android mobile phones to 15 children of sex workers who are studying 10th and + 2 through online classes for continuing their education purpose.
- The target beneficiaries have been accessed with safety hygiene kit including the masks and sanitizers that helps the women in prostitution and their children to be protected from contracting the virus.
- We have distributed 500 sanitary pads to 125 families.
- We have conducted one to one and one to two counseling sessions to the community people through mental health experts.
- The target beneficiaries of women in prostitution and their children got awareness on preventive measures and protocols of COVID 19 enforced by the Government like hand washing, maintaining physical distance, wearing masks and so on.
- The target beneficiaries who have been participated in awareness programmes in turn shared the learning with many other people among communities who have not been directly participated.
For instance, *Sarada is suffering anemic and vitamin deficiency where she is not in a position to feed her 3 months old baby at least with her motherly milk. She has been provided with good knowledge through this project on effectiveness of possible low-cost nutritious food like green leaf vegetables, jaggery and groundnut, egg and milk and so on. She has built with enough courage and confidence that she could feed her baby better than earlier with improved nutritional values through changed dietary practices.
These services we provided to this sex workers community, and so many children of sex workers, were only possible because of your support. Thank you for giving support to the sex workers and their children and helping them get through this difficult year.
*An alias name and stock photo are being used to protect the security.