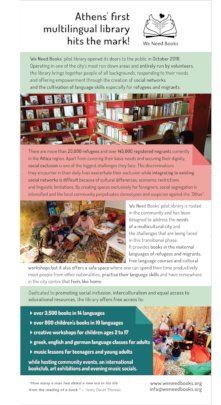 Dear friends,
We are so happy to share with you the latest update about our project!
Every week we see new people visiting the multicultural space we have created in the centre of the city, to read, work or study. In addition to the English language class, we now also have three Greek language classes for beginners and a German language class. There is demand for a fourth Greek class and a French class and we are hoping to start these within the next two weeks. We are still holding workshops for children and adults, which become more popular as we become better known to the public. Our workshops are free and open to everyone and offer a rare opportunity for Greeks to meet and socialise with refugees. As before, all classes and workshops are run by specialized volunteers. We are delighted to have 14 amazing volunteers working with us already and the team is about to grow even more!
The holiday period was very busy and productive, as we held our first ever fundraising event, an arts and crafts bazaar which enabled us to raise over 1,000 euros for buying materials for the classes and the workshops! We also hosted a celebration for Afghan mothers and children, where we played, exchanged ideas and made new friends!
All this time we have also been sending books to camps and shelters outside of Athens, usually in remote areas, were refugees live in isolation from the rest of society and in very harsh conditions. We are now able to do even more, as we have recently started a partnership with the Kalimat Foundation in the UAE, which will allow us to distribute 600 children's books in Arabic to different organisations so that they can also start their own little libraries.
Furthermore, we are organising a panel discussion for March, entitled "Literature and empathy as tools for social integration" to raise awareness on how literature can help the local population to better understand and appreciate the different cultures and history of asylum seekers and migrants, to relate to their plight and to deconstruct previous notions that were built on stereotypes and fear of the "other".
We are only able to carry on with our work because of your generous and continuing support for which we are forever grateful! We are hoping to write to you soon with more exciting news!
In solidarity,

Ioanna Nissiriou

Co-founder of We Need Books