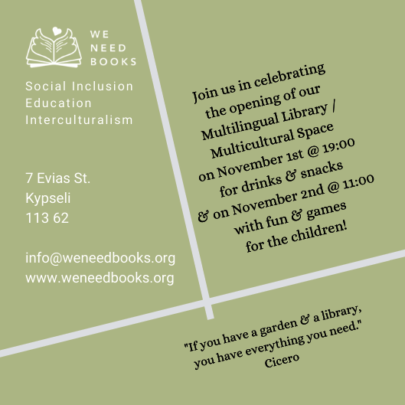 Dear friends!
We are delighted to be celebrating the opening of our multilingual library / multicultural center on November 1st, with drinks and music and on November 2nd with activities for the children!
Finally Athens will have an inclusive cultural center, a place where children can read stories in their maternal languages, where people can meet and exchange ideas, organize events together and learn from each other!
It is your contributions that made this possible and we hope you are as proud as we are that together we have given Athens' First (and only) Multilingual Library a permanent home.
In our new space we are offering free Greek & English language lessons to refugees and migrants, workshops for children and adults and after school support for migrant children. We also do screenings, organize community and networking events and art exhibitions. In our new garden, we plant vegetable with the children and learn how to look after the plants. And we have plenty of space for our large collection of books, a seperate area for the children's library, comfortable seating for reading and two co-working spaces!
We hope that you will remain with us in our efforts to empower refugees to build a new life in Athens and to create a more inclusive society.
With gratitude,
Ioanna & Nadir
Founders of We Need Books
Dear friends,
With your donations and with a fund of $30,000 we received for this project we have been able to provide 24 families with materials to repair sections of their homes that were damaged in the fire of August 2018, and to replace furniture and appliances that were completely destroyed. This relieved a lot of the financial pressure the families were under and allowed them to returned to a sense of normalcy.
It has been a humbling experience working alongside people who experienced the devastating effects of the fire. We would like to thank you for standing by their side during the difficult year that followed.
The time has come to close this project and carry on with our main work, which is providing Athens with a multilingual library.
We wish you and you loved ones all the best,
Ioanna Nisyriou
On behalf of We Need Books Team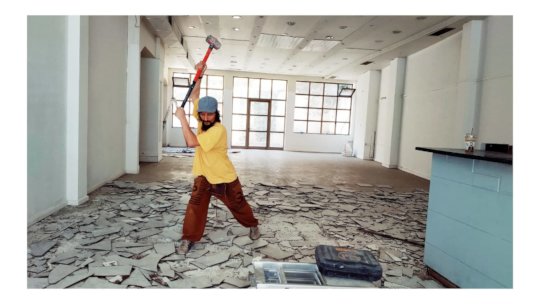 Dear Friends and Supporters!
As we mentioned in our previous report, we have rented a large space for our multicultural center to move to, which we are currently renovating. All building work is expected to be over by August 15th. Then we will be faced with the daunting task of unpacking and putting on shelves all our books, which are stored in 350+ boxes! Meanwhile, all our lessons and activities have been suspended until September.
The new space will have a teaching room, a large area for reading, for socializing, for exhibitions and events, a children's space and a little back garden. Most of the furniture has been donated and a lot of the work is being done by us, former students of ours and local volunteers.
We will leave you with some more good news. Justine Hanna, an Australian librarian we met last year, has managed to source 4 boxes of Arabic books for us and has even managed to raise the funds needed to ship the books to us from Melbourne! So when we open again in September we will have the largest collection of Arabic books in Athens! We are thrilled!
You can listen to the intervew we gave Ms Hanna here:
https://newcardigan.org/cardicast-episode-43-we-need-books-and-echo-refugee-library-greece-interviews/
We wish you a very happy summer,
Ioanna & Nadir
Founders of We Need Books
WARNING: Javascript is currently disabled or is not available in your browser. GlobalGiving makes extensive use of Javascript and will not function properly with Javascript disabled.
Please enable Javascript
and refresh this page.