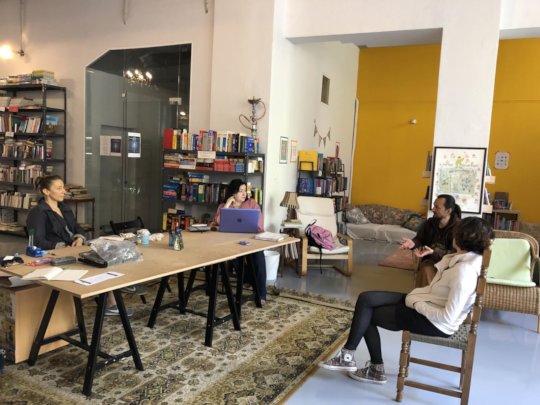 Dear friends,

This has been a difficult time for all of us, and we hope you and your family are managing to stay safe and healthy despite the COVID-19 pandemic.
In the beginning of March, We Need Books' Multilingual Library / Community Centre was full of people and our calendar full of events; three to four language classes a day, our weekly cafe for language practice, school homework support for local children, music workshops, storytelling and people who came just to read books in their own language or have a friendly chat. We had interviews planned for the post of librarian (we received a small grant so we can actually hire one!). We had planned projects aiming to reach more refugees in the community and a list of good ideas that would further improve the Library services.
Then the pandemic made its way into everyone's lives. We stopped everything and went into lockdown. A large number of people who visit the library come from crowded camps or have health issues and almost all are vulnerable. It was our responsibility to keep everyone safe, beneficiaries, staff and volunteers, so we shut immediately, even before the official date.

During the lockdown we tried to stand by our community by sharing reliable information about protection against COVID 19 through our social media, in several languages. We regularly uploaded links to books in Arabic or Farsi that could keep company to our friends in the refugee shelters. We tried our best to keep communication alive between our beneficieries and volunteers, using ways that we were not familiar with. We are all for personal contact, it was very challenging for us to switch to video calls.
It was even more challenging to move the lessons to an online platform. In the end that didn't work at all. Our students are refugees and migrants and not all of them have laptops or reliable internet access or even a quiet place where they live to participate in an online class. Georgia, who is in charge of our educational programmes and also teaches Greek, would email homework to her students and then call them one by one on their mobile phones to go through questions, give feedback and most of all, check that they were ok and make sure they understood the measures imposed by the government.
Effective May 4th the government is gradually lifting the lockdown. Although Greece has fared quite effectively in containing the pandemic crisis the danger is still present.
So where are we now? We got a donation from a private school of masks and antiseptics for the library. We are regularly meeting with other organizations in the area to see how we can support each other and support the communities we serve. We opened the library, staff and volunteers only, to have our meetings and discuss the best ways to move forward. And when we are there, someone will always knock on our door and ask if we are open. We invite them in to read for the duration of our meeting. You cannot say "no" to someone who needs a book and a place to be!
We don't know exactly how we will navigate through these times, but we are cautiously optimistic and doing the best we can to be where we are needed and to keep everyone safe.
Lastly, on behalf of the entire We Need Books team I would like to thank the GlobalGiving team and our donors. We are grateful for the support you have provided us during this challenging times.
We hope you and your loved stay healthy and safe!
Ioanna Nisyriou & Nadir Noori
Founders of We Need Books