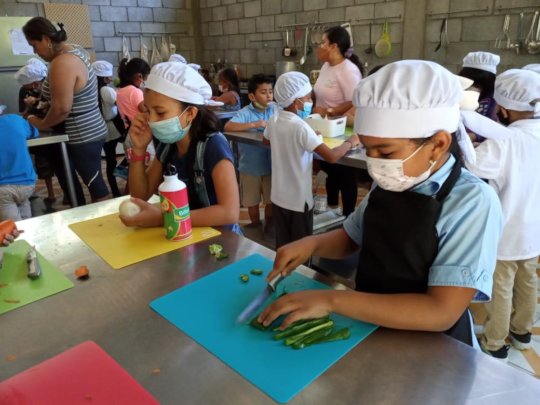 You are what you eat! Have you ever heard that one before?
Eat your vegetables and you'll grow big and strong! How many times growing up were you told that?
What if school taught us what we actually need to learn in life, instead of memorizing old facts and figures?
At Escuela Adelante. we make healthy eating an every day part of life!
From delicious lunches with friends, cooking class with Teacher Martha, to learning about different cultures and places through food: those are a few of our favorite things students are now able to do in our new Learning Kitchen and Cafeteria/Dining Area. Thanks to the generous donations we received in 2020 through GlobalGiving, this project is 90% complete. We are extremely grateful to everyone who has given to make this nutritious dream a reality.
The food and gardening components of our school have evolved into what is now known as Growing Adelante. As board president, Growing Adelante is close to Carrie Valladare's heart. According to Carrie:
"The production, preservation and consumption of food is an experience shared by all human beings. By deeply engaging in every stage of this process, students learn to apply science, math, reading, writing, history and social studies to something they experience every day. They also learn to honor the environment around them, from the smallest micro-organism in the soil, to the giant tree, giving shelter to shade loving plants. At Escuela Adelante, we integrate these concepts into our every day curriculum, at developmentally appropriate levels."
We still have a few finishing touches to add, but our learning kitchen is in use, as is the cafeteria. We are fortunate to be the only local school in San Juan del Sur, Nicaragua with such facilities and course offerings for students. In fact, we are not aware of another school in Nicaragua which offers cooking classes which integrate all subjects and discplines in such an innovative way. So, onward and upward, students of Escuela Adelante! We are always moving forward, one veggie at a time!