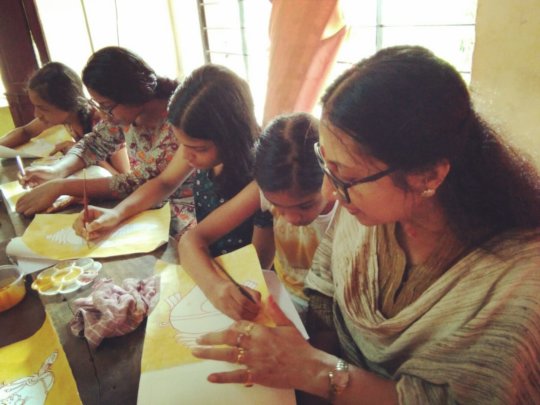 It was a glorious moment for Anupriya – as she completed her first ever work of Mural Painting, guided by her favourite teacher, Ms Usha. She, like all children at ATMA Gurukulam, had an amazing summer vacation, with a host of activities specially planned to refresh and rejuvenate the young minds.
The holiday season kicked off in April, with a movie in one of the plush theatres nearby. This was followed by a trip to the circus, and a special buffet dinner arranged for them at a good restaurant. The children also had their first experience of Live theatre, when they were taken to watch the famous Malayalam play 'Kadamattathu Kathanar' by the renowned Theatre group 'Kalanilayam' , which was being performed in a specially prepared arena in Thrissur town.
The children were also given ample opportunities to explore their creativity – with sessions in fabric painting, mural painting and creative writing, under the guidance of expert teachers.
In April, the children were taken on a 5-day trip to Puttapparthi, to attend a youth camp. The trip involved overnight train journeys to and fro – for many children, it was their first train journey! The children enjoyed every moment of the long travel- partly by train and partly by bus – singing and dancing, sharing snacks, stopping by way-side tea shops for refreshments, waiting in the railway platform, playing games... it was exciting beyond words!
Soon after, it was election time in Kerala! 5 of our 'children' have already grown up into responsible voters – and proudly cast their first vote at Sree Ramakrishna School polling booth at Puranattukara. The run up to the voting day was marked by an avid interest in newspapers, followed by heated discussions on social and political issues. It really was a joy to watch – our little ones grown up now, fully set on the path to responsible citizenship!
In May, the children were given the opportunity to participate in another Individual Development Camp at Saraswathi Vidyanikethan School, Chengamanadu. The camp helped them to introspect, gain new insights on Life, focus on their blessings, and set SMART goals to achieve what they want in life. The camp also had active games sessions, where the children made full use of the large school ground and its sports facilities.
The summer vacation concluded with the announcement of results of all those who had appeared for board/university exams. The children had put up a good show – with excellent performances in their favourite subjects.
With this, ATMA Gurukulam has also reached another milestone – our first college graduate! Amrutha U A has completed her undergraduate programme – getting her degree in Family and Community Science from Vimala College, Thrissur, with an A Grade. She is preparing for the entrance test to do her Masters in Nutrition, and has also joined an internship programme with the Dietitics Department of Daya Hospital, Thrissur.
A special get together was organised at ATMA Gurukulam to felicitate the achievers, and also to inspire the others to put forth their best performance in the coming school year.
On the whole, summer at ATMA Gurukulam has been a season of Joy, Creativity and New Hope – as we look forward to our children growing up into young adults – forging their own paths to success, happiness and service!