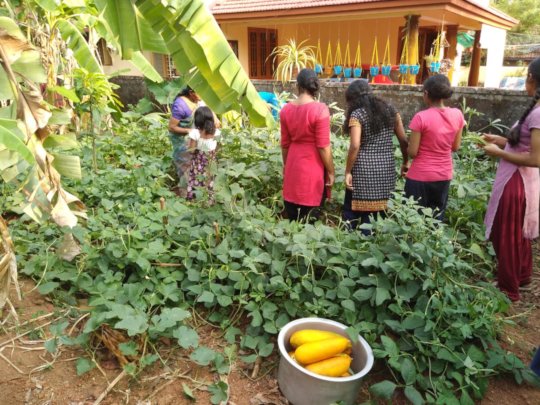 "Please come for lunch on Vishu (a traditional Kerala Festival in April). This year, our 'sadya' (special lunch) will be partly made of vegetables from our own garden!" Seema (name changed to protect privacy) could not contain her excitement, as she invited us over the phone. Of course they knew that the senior volunteers at ATMA would unfailingly be there to celebrate with them, as we do every time. For all festivals, it is a tradition that we all come 'home' to the children, wherever we are. This time was indeed special, because every child had contributed her own love and care to grow the vegetables that would go into making of the traidtional lunch.
The holidays in April and May were indeed spent fruitfully, tending to the new vegetable garden. With covid restrictions still in place, and a worrisome second wave hitting the state very badly, none of the usual holiday pursuits were possible. Visits to and from were strictly limited. It has now been more than a year since the children have been able to go on picnics and outings. For us, keeping their spirits high has been a focus area over the last one year - helping them find joy in small things, keeping them constantly engaged and inspiring them to utilise the time for pesonal grotwth. Even when visits were curtailed by the nearly 2-month long lockdown, ATMA Director C K Suresh and the senior volunteers regularly interacted with the children through online meetings. The children too have gracefully accepted the situation and are enthusiastically taking up whatever activities are available to them in the present scenario.
In early May, the new calf was born, bringing a fresh burst of joy to the Gurukulam Family. The children now have a new playmate! He loves frolicking with them, and promptly reminds them when it is time to play!
The schools re-opened in June, once more in the online mode. Another academic year has begun in earnest, and the children are immersed in their school work.The children in 12th grade have completed their board exams and are awaiting results. Once again, we look forward to a new year of achievement, growth and happiness!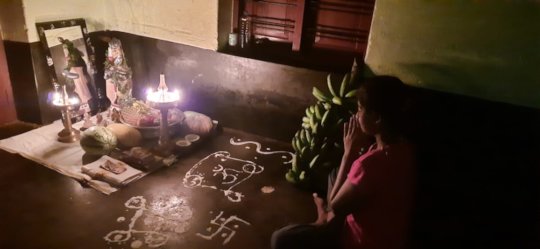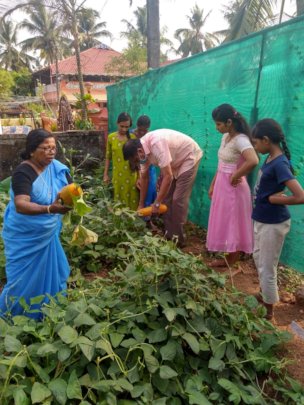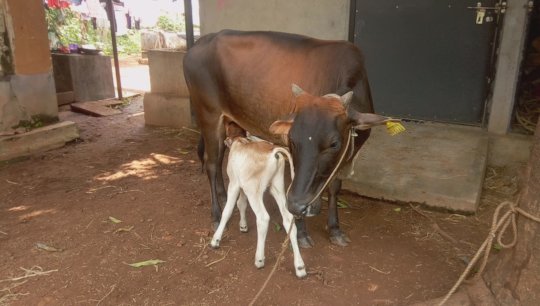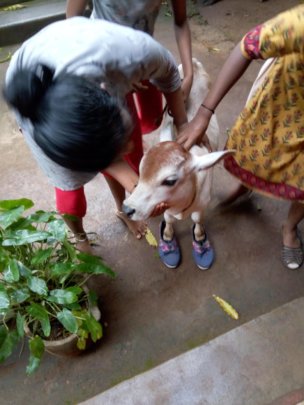 Links: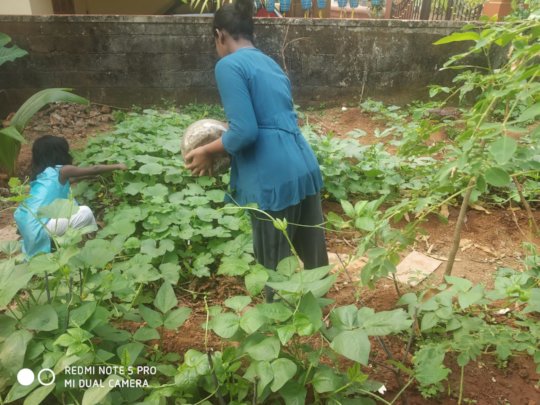 "The okhra seeds have sprouted. Amma (mother) says we should water them everyday. I will definitely do that." 11 year old Deepa (name and age changed) is very excited at the prospect of 'growing things' on her own.
When we asked the children whether they would like to start a vegetable garden, their response was very enthusiastic. They were totally thrilled! They immediately got together with the Ammas (the residential caretakers) and started planning. With the support of our volunteers, and some hired help, the land was tilled, and made suitable for cultivation. The children actively took to planting the seeds and tending the garden.
The patch of land behind the ATMA Gurukulam Gilrs Home building has now come alive with green.
Meanwhile, a well-wisher has donated a cow. The children are very excited about that too! They are showering so much of love and care on 'Sita' as they have chosen to call her. In a short time, Sita has become very much a part of the home and the team!
With a kitchen garden and a cow too, ATMA Gurukulam has really become a grand household. It is very satisfying to see that we have been able to give the children a real home – with love, care and happiness.
Now, we are working towards getting a larger premises and a new building so that we can support more children in need.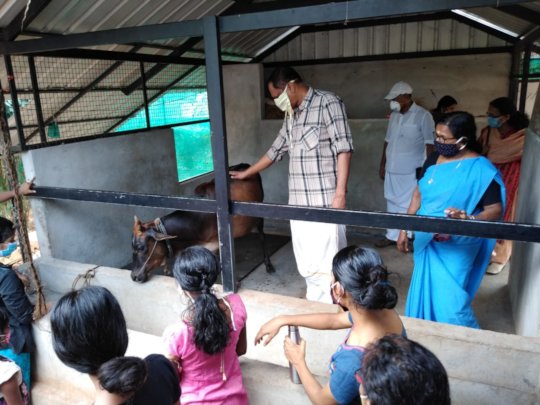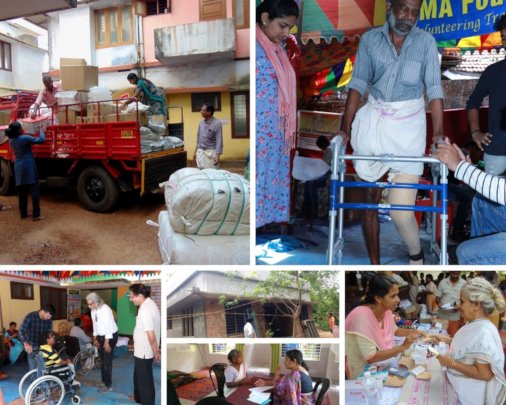 "When we lost everything in the flood, I thought that life was over for us. But now, with the support of so many good people, we have a new home and a regular income. Life has changed for the better", says Meena (name changed), a housewife whose family has been supported by ATMA Foundation after the Kerala floods. Her happiness is echoed by hundreds of others who have been reached by ATMA Foundation through our Flood Relief & Rehabilitation programme.
Over the last two years, ATMA has organised many initiatives to support flood-affected people to rebuild their lives. Rebuilding & repairing homes, rebuilding wells, providing material & medical support, providing mobility aids to persons with disabilities, etc were some of the major programmes undertaken. Innovative programes were also organised to enhance the emotional health of people soon after the flood, especially vulnerable groups like children and elderly. ATMA has also taken up long-term programmes like Digital & Financial Empowerment and Online Education Support to improve the standard of living and financial inclusion of people in rural and underserved areas.
Some of these long-term projects have been held up due to the pandemic. We shall be continuing the work as soon as the situation gets better.
We are now concluding the fund-raising campaign on GlobalGiving. We express our sincere thanks to all donors who have reached out to the people of Kerala in their hour of direst need. We have been honoured to see the smiles on their faces – we dedicate these to you.
We look forward to your continued association with our regular projects.
Once again, A BIG THANK YOU!!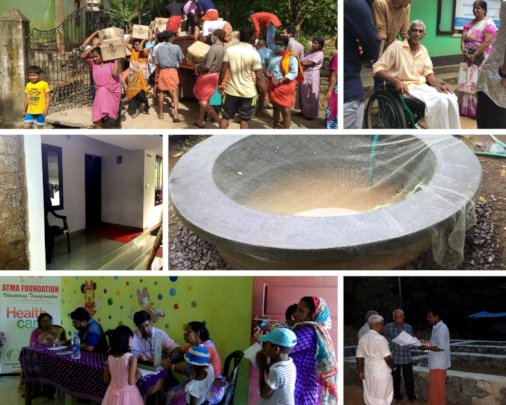 WARNING: Javascript is currently disabled or is not available in your browser. GlobalGiving makes extensive use of Javascript and will not function properly with Javascript disabled.
Please enable Javascript
and refresh this page.