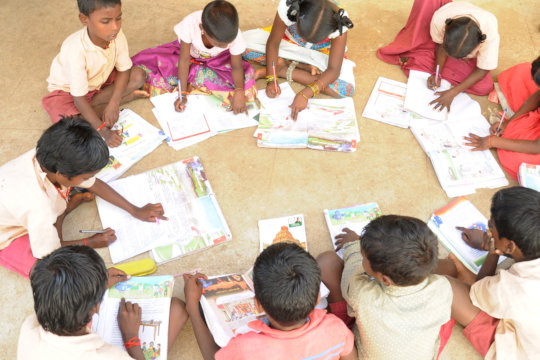 ASSOCIATION FOR RURAL TRIBAL IMPROVEMENT
REPORT OF THE PROJECT: EVENING STUDY CENTERS FOR POOR CHILDREN
VILLAGES : Padagam, Arunageri mangalam
Reporting period of the project : 10th september 2019
ARTI - India Wishes you,
We are glad to share the Great news!! We're very proud to have been Recognized as a '' Super Star, Effective, Top Ranked '' & ''fully Vetted organization ''on GlobalGiving ! Thank you, team GlobalGiving for your Valuable Support & Guidance over the years.
When you donate a partial amount of $20, $25, $30 or $50 for this project, your donation is combined with other donations or sources to make a gift education. Your donations helps, a note book materials or a school uniforms, nutrition foods for a rural & Tribal children. Thus, your donation plays a key role in contributing to educating them so that they can come out of the poverty cycle of their family and work towards whatever they aspire to be in their life.
EDUCATION – POOR RURAL AND TRIBAL CHILDREN IN INDIA
Project objective:
The objective of the project is to provide post school assistance in education to the deprived children of illiterate parents and parent less children to provide good education care and nutritious food to these children in the evening along with necessary medical checkup.
The needs that we have been fulfilled relate to the following:
Every child has equal right to education no matter which class, caste it comes from. Boys and girls both have equal right to education, considering the view; ASSOCIATION FOR RURAL AND TRIBL IMPROVEMENTsociety manages evening study centers in distinct remote villages for educational development of boys and girls. In EVENING STUDY CENTER, poor and deprived boys and girls get quality education absolutely FREE.
The funds have to be raised as early as possible through GlobalGiving to continue this project successfully.
Association for Rural Tribal Improvement & GlobalGiving
As we have tied up with the GlobalGiving and other donors about 86 children are being provided with necessary assistance. We propose to expand our activities by adding additional two centers from coming academic year 2019 – 2020.
Conclusion:
The board members of our Society are very much satisfied as they have received the feed backs from the parents of beneficiaries. We are ready to spend and are spending but due to raising costs it is imperative to raise funds as early as possible. Therefore we are reaching out to global individual donors for the assistance to this project through GlobalGiving.