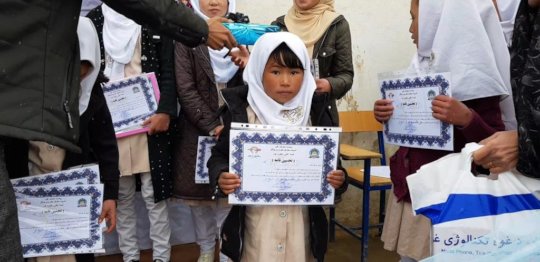 Dear Friends and Supporters,
We thank you for your continued support of Bamyan Foundation, which has helped flourish our relationships with our partner schools in Afghanistan, and increase the impact of our program on the lives of many students in need. As we anticipate the arrival of the new academic year in a little over a month, we are eager to share with you our students' 4th quarter progress report. Additionally, we would like to reassure you that your generous donations this past year resulted in over 50% increase in the number of scholarships we provided to students. To be exact, we supported a total of 164 students at the four schools in 2019 compared to 80 students in 2018, which is a tremendous success!
We continue to receive nothing but positive stories from both students and their parents to share with you in this report. Students generally have expressed their excitement for the opportunity to attend school. Parents have conveyed their appreciation for the financial aid offered to their children, an opportunity that they otherwise are unable to afford. Below we draw your attention to additional details from each school.
Baba High School: All of our students reported outstanding attendance records, and all passed their final exams with the majority earning As and Bs. We would like to highlight a couple stories Ali Sina and Zahra shared with us. Both are among the top performing students in their classes.
Zahra just completed 3rdgrade. She is a highly talented student with a kind and inquisitive personality. She is one of the top students in her class and earned an A in her final exams. She is determined to work harder in the upcoming years and achieve her ultimate goal in the future to become a doctor and offer help to women and girls in her community. In addition to class work, Zahra actively participates in all of the school's social activities designed for students.
Ali Sina successfully completed 2nd grade. He is a super smart student, who also actively participates in the school's morning program. He represents his class in the school's monthly meetings, which shows the potential for leadership in him at an early age. Similar to Zahra, Ali Sina also earned an A in the finals. He appreciates Bamyan's financial aid without which getting an education would have been impossible for him.
Marefat High School: All of our students at Marefat passed their final exams, and the majority earned A and B grades. We are particularly excited to inform you that eight of our students at Marefat just graduated high school, four boys and four girls. We wish Mohammad, Hakima, Rohullah, Nazifa, Ali, Rabiya, Malika, and Abdulatiq all the best with their future endeavors.
We had two students drop out of the program, and one left the school. We requested Marefat to enroll two additional students to replace the two drop-outs. The two newly added students have also passed their final exams and will move onto the next grade.
Mareena, a 10th grade student shared her story. She is a high spirited student who has attended Marefat since early grades and always been one of the top students in her class. She has consistently maintained an average score of 89.78. In addition to class work, Mareena is an active member of Marefat's Student Council. Last year, she was a candidate for the council's presidency, but lost it to a strong rival from another class. Regardless, she maintained her work with the Council. She is also the co-founder of a youth association called "Youth Mirror Association" and the "Association for Friendship and Mercy."
Rahnaward-e Noor High School: All of our students reported exceptional attendance records, and all passed their final exams. This demonstrates the hard work and dedication of both teachers and students at Rahnaward. We highlight three students' stories here.
Roya just completed 2nd grade. Being nine years old, in addition to school work, Roya helps her parents with daily chores. Roya's mother has disabilities, but she has to work with a charity organization in her community to earn an income and support her family. Roya's father is an elderly who is unable to work outside of home. Her father always wanted to enroll Roya in school, but he didn't have the means to afford it before Bamyan Foundation's support. Roya is excited that she has passed the final exams successfully. She earned 2nd place in her class. Roya loves arts and languages. She enjoys her Dari and drawing classes. Roya is determined to try harder next year and earn the first place in her class. Roya's father is grateful for the scholarship her daughter receives from Bamyan Foundation. It has made him hopeful for her daughter's future, and wishes for Roya to live a better life than him.
Zohra, a 3rd grade student, was determined from the beginning of the year to work hard and earn the first place in her class. Her hard work paid off and she did earn the first place in finals. She was also recognized as one the top ten students at the school. Her father is very supportive of Zohra's education. He described Zohra as "an example in every way." Zohra is passionate about learning Dari and Math. She aspires to become a capable teacher in the future.
Mosa is an inspiring 4th grade student at Rahnaward. He bikes 10 kilometers each way to get to school and back daily. This past academic year was Mosa's first year at Rahnaward. He is a hardworking and highly talented student. His final grades were in the 97 percentile. This is a wonderful news because prior to receiving Bamyan's support which enabled him to enroll at Rahnaward, Mosa had attended public school where education standards are very low. He was discouraged from learning and was about to quit school altogether and help his father in farming. Since his enrollment in Rahnaward, Mosa has become fully engaged in learning and has developed hopes for a better future. He received positive feedback from his teachers on all subjects, and he is particularly good at English. He is already able to carry on basic conversations in English. Mosa actively participates in other school activities including the morning program and attends English classes in the afternoon. He described studying at Rahnaward as a dream come true for him because he always wished to be able to attend Rahnaward, but his family was unable to afford it. Mosa's future goal is to become an engineer in the future, and help his country's reconstruction efforts.
Roya Mentorship Program: All of our students at Roya reported nearly perfect attendance records during the 4th quarter. All, but one passed their final exams and will move onto the next grade. Zainab passed most of her final exams, but fell short of passing a few. However, she still has an opportunity to move up to the next grade if she passes in retaking those few exams before the start of next academic year.
We had one student drop out of the program this past year. ROYA has replaced him with a new student and we share his wonderful story below.
Rameen, a 10th grade student, ended the year with a 90% average, among the top in his class. He improved from a B in the first half of the year to an A position in the 2nd half of the year. He had only three absences all year. Rameen has great leadership potential and served as an announcer for more than one celebration at his school. For the winter session, Rameen has decided to focus on improving his English skills. Last year, he collaborated on many projects including science projects about chemistry interactions; saving the environment; the galaxy; and cultural projects such as learning about the multiple cultures in Afghanistan; knowing famous people of Afghanistan; and learning about the Afghan flag. He has also worked on a project regarding using waste material to produce an electric car. Rameen enjoys playing sports, especially football.
Finally, as demonstrated by their stories throughout the year, many of the students Bamyan Foundation supports have suffered from financial, emotional, and sometimes even physical, in the case of child laborers, hardships. We hope that their stories continue to inspire you as much as they inspire us. We also hope that these students' progress and accomplishments in education as a result of our collective efforts inspire your enduring support for our program. We kindly ask you to share these stories with others in your networks. The more support we receive, the more students we can help pull out of various dire circumstances, and make a lasting impact on their lives. Children are the most vulnerable segment of the population anywhere and more so in the conflict driven regions where Afghanistan is undoubtedly a prime location.
The Bamyan Foundation