Greetings Global Giving donors,
Our Children's Garden at Matulani Elementary School in Mtito Andei has been growing and providing vegetables and chicken eggs for so many years that are now able to show measurable, verifiable metrics.
We have proven that parents who have traditionally kept their children at home will return them to school if their children are given a hot lunch.
There is also a direct correlation between the consumption of a hot lunch at school and improved test scores. Please see the attached results.
It is important to point out that children do not miss class to spend time in this garden or chicken house. Many children help out but only in an after-school context.
We pay a stipends to a full time gardener who does all intensive/heavy gardening and to a security guard who protects the assets when school is not in session.
The following report was submitted by our local partner, JNK, the school master at Matulani Elementary in Mtito Andei.
JNK took great initiative to learn more about greenhouse gardening on his own. He is now training our gardeners to know more about the abatement of greenhouse pests and the important subject of germinating media.
Here is JNK's report for the last quarter.
MATRIX FOR MATULANI PRIMARY SCHOOL TERM TWO 2015
We the Matulani fraternity, have the pleasure to pass a word of appreciation for your continuous support through the Global Roots.
This term we have seen an improvement in the academic performance. We have also noted great improvement in extracurricular activities. The health of the learners has also greatly improved.
IDENTIFIED STRENGTHS
1.Improved performance in all classrooms
2.Marked reduction in absenteeism.
3.Improved health of the learners
4.Exposure of learners to agriculture
5.Greenhouse has provided learning resources especially in science.
6.Continuous funding from Global Roots has made our school more child-friendly.
7.Poultry provide eggs to the learners.
8.Many visitors have come to visit the school and inspiring the entire community thus educational officers are encouraging every school in the county to pay a visit and learn a lot from Matulani.
9.Respects to global roots due to the voice heard over transparency and accountability is noted. No corruption is entertained though painful to maintain the standard but God has enabled us to overcome trials and temptations.
10.Learning has improved and I as head teacher I was offered a higher grade by ministry of education due to good work which has attracted field officers.
CHALLENGES
1.Inadequate text books;- Funds provided by MOEST not enough.
2.Prolonged drought affecting most of the parents who are peasant farmers.
3.Urbanization which has affected some of the pupils.
4.Wild animals conflict especially elephants interfering with the crops.
5.National strike for teachers but now is over though knowledge gap was created.
6.El – Nino rains
LEARNER'S PROFILE
1.CK improved by 14 marks. From 370 – 384 position 6 in the zone girls category.
2.CM improved by 2 marks from 365 – 361 fifth position in the zone girls category.
3.MN improved by 4 marks from 321 – 325.
4.MM improved by 14 marks from 300 – 314.
5.MK improved by 54 marks from 262 – 316.
6.MS improved by 35 marks from 265 – 300.
7.PK improved by 36 marks from 287 – 323
(Please see attached PDF for more results)
FINAL REMARKS
1. the school is now child friendly due to provision of basic needs provided by Global Roots.
2. Learning has been enhanced due to a lot of involvement of all parties and good health is realized due to taking balanced diet (hot lunch provided at school)
3. Improved mean scores is now a talk in the entire zone to everyone who knew the state at Matulani initially.
4. Enrollment is improving as per current number of new comers who are joining all classes and this is due to many facilities and good environment which is friendly to education.
5. Thanks to Global Roots for greater heights we are experiencing towards success. May God bless you as you promote lives of desperate pupils who are facing future with courage. God bless you.
Best regards
School Headmaster. JNK
Oversight report from Global Roots in Portland, Oregon
Dear Global Giving Donors.
Corruption is a huge problem in Kenya and any other country where foreign aid represents a major percentage of GNP.
We have implemented a successful anti corruption system that has limited any level of graft inside this program.
This program is managed by a three-tier anti corruption system.
Global Roots management raises funds and transfers them to AK, our Nairobi based transparency manager. AK reports back to GR bookkeeper the amount of funds received.
AK wires funds to Matulani school fund in Mtito Andei. Matulani bookkeeper sends total to GR bookkeeper.
Funds are disbursed for project purposes. Fund disbursement is observed by three different entities and three different reports are sent back to GR bookkeeper. The three entities are 1. the schoolmaster 2. PTA chairperson 3. independent auditor unrelated to Matulani.
Oversight video:
Please watch Schoolmaster JNK talk to the ED of Global Roots three months ago in this short video.
https://www.dropbox.com/sh/5f98v5q6ptap4t0/AABpZ_vvIUbIUUyc8k-s1b0La?dl=0
Please find attached photos of our project and the children we support as well as oversight documentation.
Finally, we would like to thank all Global Giving donors for your ongoing support!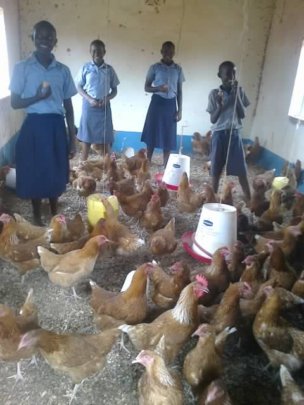 Attachments: