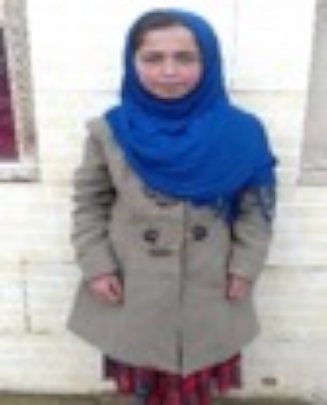 The Baharak Children's Garden (BCG) continues to protect orphaned children in Afghanistan who would mostly likely be abducted and horribly exploited if left to their own devices.
We are pleased to share the real-life story of one of the 90 girls protected by the BCG. Her name is Rabia and she was orphaned two years ago when her father was killed by the Taliban.
We are proud to have won the trust of the local community we work with in Baharak to be allowed and encouraged to share the story of Rabia with you.
Never before has our local partner given us the go ahead to tell the story of an individual child in our program. We accept new children into our "food security" program each year and they all share heart-wrenching stories similar to Rabia's.
Thank you, GlobalGiving donors, for helping us feed children and build local community in war-torn Afghanistan!
The story of Rabia
Rabia is an 11-year-old girl who was born in Ghuchan village of Wardoge district. She was in third grade when the Taliban invaded her village. Rabia's father, Omar, was a local police officer at the time of the invasion who repeatedly told his daughter she must study hard to have a better life.
"If I was educated," Omar told Rabia before his death in 2016, "I would have become a doctor, engineer or something else that could serve the people and you better and get good income to feed you enough."
When the Taliban invaded, Omar collected his daughter at school and fled for Baharak, the site of the BCG. Omar's wife, per an agreed upon emergency plan, left their home, livestock and possessions and took their six-year-old son Mahmud to her brother's house where they planned to hide from the Taliban.
Had Omar stayed, he would have been executed and his daughter would have been sold off as a war bride to foreign mercenaries or brainwashed to become a suicide bomber.
Omar and Soraya hoped that she could remain in hiding until the Taliban continued on their quest to take the major town of Faizabad. With the Taliban gone, they would return to their home, livestock and happy life.
But his wasn't to be.
The Taliban found Soraya and Mahmud. Details are sketchy here but one thing is clear: the Taliban ordered Soraya to turn in Omar "and his gun" by morning or die. Soraya made the only decision she could: she eluded village guards to flee town at night without any possessions, holding only her frightened son Mahmud.
Soraya and Mahmud walked for hours through a war zone to reach Omar in Baharak and the family had a joyous reunion. Omar secured a rental house and a low-paying job as a local police officer. Fortunately, his reputation as an excellent police officer preceded him. Omar's poor but happy family started a new life with no assets and less than 80 USD income per month. They were happy, however, to be alive and free from life under the shadow of the Taliban.
After a peaceful six months in Baharak, tragedy struck again. Violent fighting erupted between the Taliban and a small, tattered police force in a village just two and half kilometers from Baharak. With his family threatened again, Omar was forced to fight. Leading his small band of police officers into action, he was ambushed by a group of well-armed and well-trained "Takistani Taliban." Omar died in a brutal fire fight.
The struggle for the survival of Rabia, Mahmud and Soraya thus began anew. In a land of constant social upheaval, there is no help for a mother like Soraya – especially if she is forced to leave the support of her clan.
Soraya managed to scrounge up enough money from her brother to continue renting the same house they had been living in but she had no money for food or anything else. Word spread across the village about Soraya's dire situation but nobody had any level of abundance to come to her aid. Suffering is the usual state of domestic affairs in modern Afghanistan.
This is when JJ, the manager of the BCG, heard of Soraya's plight. In a rare moment in Afghan history, the fact that Soraya had a daughter meant something! Community representatives, knowing that the BCG was designed to support orphaned girls, reached out to JJ, and he accepted young Rabia into our program.
Rabia immediately received nutrition, educational support, and, perhaps most importantly, a social life that helped take her mind off the loss of her beloved father. She learned how to grow different types of vegetables and the best ways to reap their nutritious benefits. Every two or three days she took bags of vegetables and chicken eggs home to share with her brother and mother. Even to this day, one year later, this is her family's only food source.
Rabia now spends three hours a day with 89 other children, working, studying and playing at the BCG. Her new hope is that Global Roots – and hopefully a future individual donor – will help her stay in school so that she can fulfil her late father's dream.
Currently, the BCG is the only project in this part of Afghanistan that supports young girls like Rabia.
We are also looking for a sponsor for Mahmud. He is still very young and refuses to leave his mother's side.
We are currently protecting 90 children in Baharak and 190 more in Faizabad on an annual local budget of just 20K.
Please keep an eye out for a coming feature on our work in the Asian Wall Street Journal. We will update you in our next report on this as we believe international exposure will help us to take in hundreds of more children who have been orphaned or abandoned by war.
Thank you.
Global Roots and "JJ" -- our local partner in Afghanistan.