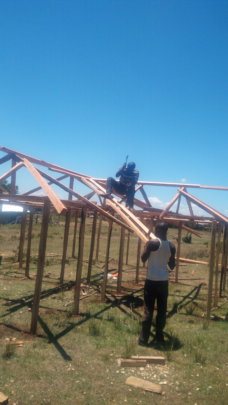 Our dream is upon us: a rescue home for young Maasai girls threatened by female genital cutting.
In 2010, a young Maasai girl named Mary K ran away from her home on the morning after she learned she was to be subjected to female genital cutting and forced marriage. Mary chose to run because she wanted to stay in school. Just 13 years old at the time, Mary didn't know about the lifetime health problems associated with genital cutting -- she just wanted to study.
Mary ran seven hours through a dangerous forest above the Maasai Mara -- the northern reach of the Serengetti -- to the home of a Maasai woman who had bravely come out publically against the brutal act of genital cutting (known more commonly as Female Genital Mutilation or FGM).
Mary tells this story herself in the previous project report. She eventually fled from the woman who took her in and then relied soley on funds sent to her by GlobalRoots.org and Global Giving donors.
I (Rick of Global Roots) met Mary in 2011 and knew immediately that she was special. Now, eight years after she ran away from home, Mary is going into her final year at Teacher's College. Furthermore, she was able to marry her childhood love.
A miracle is in the works
Mary told me when she was just a little girl that she wanted to fight for the rights of young girls like herself one day. That day is already upon us! Mary and her husband Saruni have built a rescue home for threatened Maasai girls on Saruni's father's land and with a few thousand Global Roots and Global Giving donor dollars.
Mary and Saruni have given us something we've never had before: a temporary safehouse for preteen Maasai girls who are on the run from Female Genital Cutting. Global Roots currently pays for the boarding school costs of more than 42 girls across the TransMara region of Kenya but we have never had a decent backup plan should one of our girls suddenly be sent home. Our manager in Nairobi has worked hard to set up an early warning net but we've never had a safehouse to send a threatened schoolgirl to. Now we do!
Saruni and Mary will be contacted whenever one of our girls is sent home from boarding school for any reason. A team will be sent and the young girl will be brought to Mary's home where she will remain for a few days until a Global Roots partner in Kenya can help the rescued student return to school or assist her in finding support.
If we are not there to intercept, the girl will be subjected to Female Genital Cutting and forcibly sold into marriage. She will give birth to a few children and live the rest of her life as a slave making beads for tourists -- slowly dying from the cuts of her youth.
We have attached loads of photos. Like each of our community-led grassroots projects, this one is not expensive. It's hard to believe what you can get done with a few dollars when every one of them is accounted for.
We wired only $1,200 for the construction of the rescue center and we followed the project carefully. Attached are photos that we required of benchmarked construction and on-going lists of expenses.
We spent an additional amount of money on solar power ($310) and beds ($521) on our most recent supply trip (June, 2018). Photos of my time spent with Mary and her team are also attached.
This little rescue house is the talk of the town and it will soon be the talk of the region.
It's past time to end Female Genital Cutting in Kenya and everywhere else it is practiced.
Thank you for your ongoing support!
Rick Montgomery and the Global Roots team in Kenya