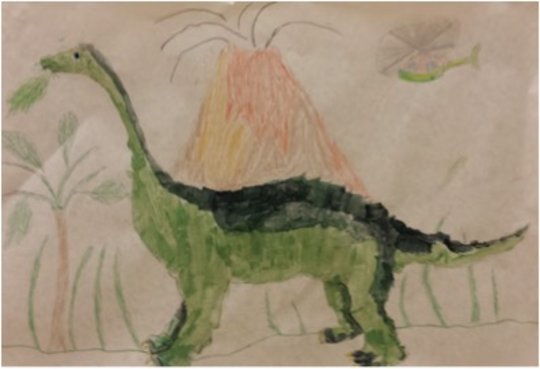 The CHAP hospital team has stitched together a 4-part story for you. This illustrates the fact that we get to have ongoing relationships with patients staying in the hospital for their treatment, and their families. They have the opportunity to work with all 4 of us and try out so many different types of art.
Stitch 1: Mary's Thread
Eddie* is a five-year old with eyes like saucers. He looks so little in his big hospital bed, his mother by his side. It is Friday afternoon. I introduce CHAP and tell them to come join us in the Play Room. Eddie translates the invitation in Spanish to his mother. They do come in and his mother is thrilled and becomes absorbed with the beading. Eddie paints and then we decide to do a clay sculpture. I ask him what he wants to make and he says to me that he wants to make a visitor because he doesn't have any. So we make the most colorful, feathered, cheerful, crazy 'visitor' imaginable and place it right by his bed. I can't get that sad thought out of my head, though - NO visitors!
The next week he is having a procedure and when Friday rolls around and I knock on his door – the room is full of visitors! He seems to have a regular parade of them...at all times. Eddie with the big eyes and a flair for either tall tales or comedy has become a regular on CHAP days and we all treasure our time spent with him and his wild imagination.
Stitch 2: Sharon's Thread
A week or two after Mary worked one-on-one with Eddie to make his clay 'visitor', Eddie joins CHAP again at the art table. His nurse asks if he can be in the Play Room with us while his mom squeezes in this chance to take a quick shower. Eddie starts to build a necklace and is doing quite a nice job when his mother arrives, fresh and clean. He presents the necklace to her and she proudly places it around her neck.
The 2 of them proceed to work side by side. The mother makes a necklace for her son much in the same fashion as Eddie did for her. They are creating things so quietly. Intermittently, they stop for a nose kiss or some other sweet exchange. Their connection is palpable and the love between them is flying back and forth. They produce 5 or 6 pieces of jewelry and leave the Play Room arm-in-arm.
Stitch 3: Maxine's Thread
It is a quiet Tuesday afternoon in the playroom. Only one artist has joined me so far, and she sits happily absorbed in the patient and meticulous creation of the miniature sculptures that have become her expertise.
Then Eddie appears in the doorway, and remembering Mary's story of the "visitors", I was pleased to see that his father accompanied him.
First question that leads to a long string of questions that leads to a painting...
"Eddie, what would you like to do today?"
"Paint."
"Ok."
Eddie chose his paper, paint and brushes, and then we both sat at the little table, art supplies in front of us and observed each other for a few minutes.
"What would you like to paint?"
"I don't know."
Looking around the room I noticed the plastic dinosaurs on the windowsill.
"Do you like dinosaurs?"
"Yes."
Eddie, who has a very discerning eye, takes his time to pick out the dinosaur most suitable to his taste...the one with the really, really, really long neck.
I place the dinosaur on the table for reference and hand Eddie a pencil.
"Would you like to draw an outline first?"
"I don't know how."
Again remembering the "visitors", I sensed that this little guy could use some support here. So I suggested that I draw and he direct. That was fine with Eddie.
So I drew and we talked about visual relationships - where to place the eye on the head, how to make the back legs appear behind the front, how to make shadows with the pencil and then blend and smudge them with his little fingers for added effect.
So now the outline drawing was accomplished and we sat back to give it the Eagle eye.
Eddie keenly observed that the neck didn't appear to be long enough, and placed the plastic dinosaur on top of the drawing to compare. Indeed, the neck was an inch too short!
Erase and redraw to exact specifications.
At this point I was happy to see that Eddie was beginning to thrive as art director.
He boldly pointed out that the dinosaur skin had lines all over it and was not one color but many. We mixed and mixed and mixed until we arrived at the exact shades of green and brown. Eddie practiced and began to use fancy brush strokes to create the texture he wanted.
His ideas at this point were limited only by the size of the paper.... "Leaf trees" and grass for food, a volcano erupting, a big yellow sun, a helicopter flying through the air.
"Ok, I'm done"
"Good job, Papi" said his father proudly.
"Awesome job, Eddie! This was fun."
High five.
Eddie leaves the room proudly clutching his picture, which he adds to the collection of artwork on his door.
Stitch 4: Carolyn's Thread
Eddie was in the playroom as soon as we arrived on Saturday. Quiet, not much energy and couldn't decide what to do, but there and ready! He went right to work with clay. His sister soon arrived and with her arm around his shoulder, he began to talk and perk up a bit as he began to create a variety of food themed friends. He carefully mixed green to get just the right color for his pickle creature. Soon, this usually quiet young fellow was chatting constantly! "What is the order for putting things on a hamburger?" he asked his Mom. Back and forth they talked as he made each of the items out of clay and assembled his hamburger critter, complete with feathers and googly eyes.
Close to four o'clock we marveled and his large collection of food creatures, and their possible need for a place to stay. He agreed saying, "Then they can keep me company when my family is not here." Curious, as I've never seen him without family. I thought perhaps some small structure but no, a large canvas with blue walls and a door in the middle. He knew exactly what he wanted and clearly directed the construction. Almost never ceasing to talk for the entire afternoon, he left delighted with all his critters in their house, to keep him company!
Children's Healing Art Project (CHAP) provides over 9000 unique healing art experiences each year to children like Eddie and their families in medical crisis, working in partnership with community hospitails and organizations.

We invite you to donate on GlobalGiving's Bonus Day today, Wednesday, July 15th, from 6am PST to 9pm PST. Your generous donation during this time will be matched 50% ensuring that CHAP can continue to bring our renowned art programs to children and families in medical crisis - always free of charge.

CHAP thanks you for your continued support!
*Name has been changed to honor confidentiality
Links: