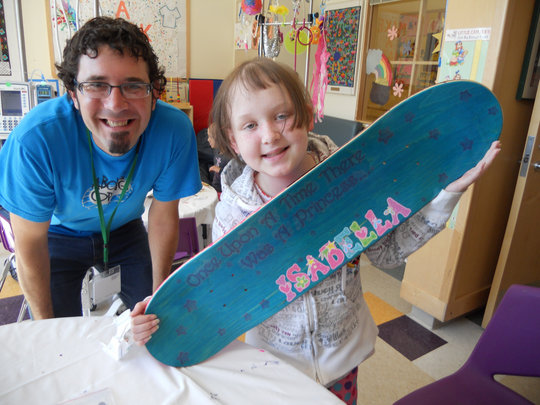 Quality of artistic programming
CHAP's mission: Children's Healing Art Project (CHAP) brings the healing power of art to children in crisis and their families through a mobile team of teaching artists working in partnership with hospitals, community organizations, schools, and local businesses, creating programs through which children are known for their creativity and ingenuity and not by their disease, diagnosis, or disability. At the same time, CHAP meets the community's need for a space where the general public can engage in art and directly experience how the arts contribute to a vibrant, well-rounded life. In these days of reduced support for the arts and because of the struggling economy, many children have limited or no access to art beyond crayons, paper and play dough; there are few places where children and families can explore a wide range of arts mediums to create a form of self expression that is true to their needs, wishes and abilities.
CHAP has two primary methods of service delivery that further our mission. First, CHAP continues to grow and expand its award-winning in-hospital group and individual arts experiences for sick and disabled children and their families and caregivers. Research shows that incorporating art into a child's treatment and family support can have real and lasting impact positive health outcomes, well-being and quality of life for all family members. Animation, sculpting, beading, drawing, sewing, painting, mask-making - the options for creativity are ever-evolving based on the needs and interests of the children and families served. In-hospital programs use art as a mechanism to bring children out of isolation and infuse their lives with hope and creativity, thereby enhancing their overall well-being.
Second, the CHAP Art Factory, located in Portland's Pearl District, is a one-of-a-kind community art space for children and families. The Art Factory is home to CHAP's interactive arts program for children during the second phase of healing (when a patient is healthy enough to go home), during palliative/hospice care, for loved ones after a child dies, and ongoing for children with chronic illnesses or disabilities. As importantly, the Art Factory is open to children and families from the community, providing regular, ongoing arts opportunities, including scheduled free-art time and a variety of clubs and summer camps. In the past year, CHAP has increased access to the arts for children and teens in the community living with chronic illness/disabilities by developing partnerships with organizations that serve them. Likewise, schools and youth programs visit the Art Factory for field trips where they are led in classes and camps by CHAP's trained teaching artists, thereby increasing arts appreciation and exposure among students from the general community. The number of fieldtrips by Head Start preschool classes (serving low-income children, many of whom are at-risk) continues to increase because the Art Factory provides a safe place for self-expression, sensory exploration and language development. At the Art Factory, opportunities for children to create, working side-by-side, strengthen our community as we bring people together through the common language of making art. Children and their families learn to see each other for their creativity and not what makes them different.
CHAP determines the quality of its programs through the accomplishment of specific, predetermined programmatic outcomes and metrics (see evaluation section) as well as survey feedback and anecdotal evidence from children, families and partners. CHAP is based on a philosophy of choice, enabling us to follow the needs of the children and families we serve and evolve existing programming to guarantee that it is always engaging, encouraging and inspiring. Our goal is not for each child to create a masterpiece of artwork, but to develop a love of the arts and an ongoing interest in artistic expression through participation. To this end, we measure quality by the wide variety of artistic endeavors in which children engage in a regular and ongoing basis and our ability to evolve to meet their specific needs and wishes. Quality towards this goal is demonstrated through their excitement to return time after time for a new arts adventure. For sick and disabled children, CHAP believes quality is best represented by the ongoing creative explorations of children and their family members, for it is through these times that they increase their understanding of art as a powerful tool for enhancing quality of life despite the terrible situations they face. Here, quality is clearly evident in the powerful images created by children: Lesly's HappySuns, Gage's Heaven Worrior, Austin's Bacon Boy, Luke's Sinister Sauce or the Pillinator, Nasti Needler and Barf Boy. The healing power of art is a personal experience—we believe quality is best shown in the individualized, unique ways CHAP is able to open up the imagination of children's lives through the healing power of art.
Outreach/Access
CHAP's in-hospital programs reach children and families through deep, enduring partnerships with the hospitals themselves, through which CHAP teaching artists have direct access to patients and their families. Hospital staff refer children directly to CHAP teaching artists and CHAP programs. When a child is to be released from the hospital (or into hospice at home) CHAP teaching artists work with the families to ensure they continue their art support at the Art Factory. CHAP follows up with these families regularly through our VIP Art Club activities.
The Art Factory is the center of our community outreach and youth engagement strategies beyond our hospital and community partnerships (listed above). It is also our gallery, retail showcase and home to Art Club (for chronically ill/disabled children).The Art Factory provides CHAP a significant opportunity for audience development on a daily basis as we embrace the passion of those who walk in our doors and who continue to return and bring their friends, families and coworkers to CHAP. The Art Factory is host to many events, including celebrations, Nurses Nite Out. Child Peace Montessori, Washington School for the Blind, PPS Headstart programs, church youth groups, middle school students and retired moms all come to the Art Factory for workshops and art time. Even still, 30% of the people walking through the door are new to the Art Factory.
Evaluation
CHAP has implemented several upgrades to our evaluation system. Evaluation components now include: (1) Ongoing in-hospital and Art Factory program evaluation, measuring program/ organizational effectiveness through satisfaction surveys and participant tallies. Information is tracked daily, tabulated monthly, overseen by Lead Teaching Artist. (2) Project audits, measuring progress toward specific project-related benchmarks, conducted at six month intervals by the ED, supported by the AD, and overseen by the board chair. (3) Board-reviewed financial statements (bi-monthly) and annual financial audit (beginning FY 2010). CHAP uses these tools to measure progress toward established outputs and outcomes, which include: 8,000, critically/chronically ill children/teens and their family members served; 75% of participants (or their caregivers) will report improvements in mood; 75% will report improved quality of life; 75% will report improved hospital experience. Directors meet with the board bimonthly to review progress toward goals and discuss growth initiatives/course corrections as necessary.