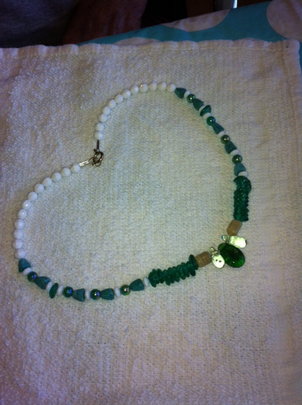 For the past year, CHAP has been working with the Adolescent & Young Adult (AYA) oncology program at Knight Cancer Institute. The AYA patients are between the ages of 15 - 39.
The coordinator mentioned that a young man and his mother were both struggling with a recent diagnosis. I went to that patient's door and introduced myself. He was alone. As I do with all patients, I listed the range of options I could bring to his bedside: watercolors, coloring mandalas, clay or jewelry-making. I could tell by his body language that he was going to accept something. He was on Day 6 of his stay. I think he was ready for some diversion.
Within a minute, he requested some beads. "I'll make something for my sister." Then he quickly followed with, "I should make something for my mom, too. Can I make 2 necklaces?" I gave him a resounding "Yes!" and scurried upstairs to gather the supplies.
He selected violet beads for his mom and green beads for his sister. He told me their first names so he could customize the pieces with alphabet letter beads. When I came back to his room, he was sitting up and ready to work. I asked him if he had done any beading in recent years. He said, "Not since I was a kid."
With the first necklace, he let me do the layout of the beads and he threaded them onto the string. By the second piece, he was in the driver's seat. He did the entire layout, with impressive attention to symmetry. We chatted a little bit and at other moments it was quiet. He mentioned at 2 different points that he was in excruciating back pain - but he never winced or groaned. He said it very matter-of-factly and then went back to the business at hand. For his third piece, he made himself a keychain.
By this point, we had been working together for well over an hour. A connection had been formed. He said to me, "Did you think I would say no?" Meaning - did I think he'd reject the opportunity to make art? I kind of chuckled. I said to him, "In the 4 1/2 years I have been doing this job with CHAP, I've learned to not make assumptions. You can't judge a book by its cover." I see this over & over again. The most rugged-looking cowboy from central Oregon will sit in the hospital and make beautiful beaded bracelets for his wife back at home. It's always a pleasure to see. I've stopped being surprised.
There was one person in his life he still wanted to make something for - his aunt. Well, not technically his aunt, but rather a close family friend. She had been helping out with his hospitalization. She seemed an important player in his care-giving. I said, "Of course, you can make something for her. It sounds like she has been a great support to you." This woman recently had to return home, which was out-of-state. He said he would send it to her. He decided on red and clear crystal beads for his aunt and we put her name on it, too. He said that she was a source of steadiness, whereas his own mother was still reeling from the diagnosis. The aunt was both comfortable in the hospital setting and in her role advocating for him. She was calm and ready to do what needed to be done. She had that "one day at a time" attitude that CHAP hears so much about at the hospital. He appreciated this. He was clearly grateful to be buoyed up by his honorary aunt.
Towards the end of my shift, I went back to the patient's room to see if he had finished his final piece. Guess who was in the room? His mom and his sister - and they greeted me wearing their new necklaces. They were cheerful and delighted to receive their gifts. The mom was interested to hear about our AYA Bedside Art program. The patient was quiet now that his family was there. But I know he enjoyed it. I know he was glad he had said - 'Yes'.