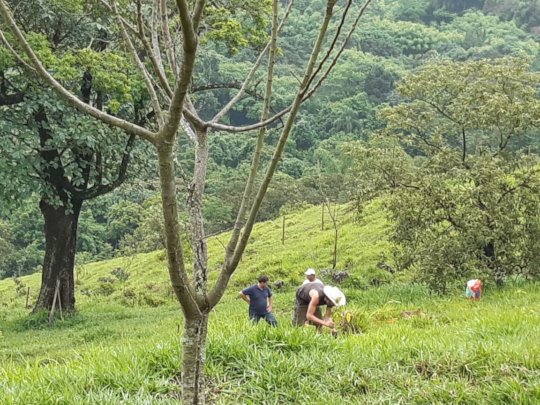 The rains have begun, and that means the seedlings we prepared back in August are ready to be planted. As we are focusing on a reforestation area that we begun last year protecting a spring that has returned, we have been monitoring its health over the past months and are enriching it with our 600 native species seedlings. Additional to last year's 800.
Designed under our permaculture zoning efforts, this process has given us insight as to low-cost and efficient ways to bring back the forest and keep the soil healthy. It has helped us understand priority setting in our interventions, use hydrogel, and the main threats to regeneration in this area.
Next year we will continue to monitor the trees and make few interventions to help them grow. This is our second low-cost reforestation prototype, along with our Natural Assisted Regeneration area, which involves minimal interventions to support an area that is regenerating on its own.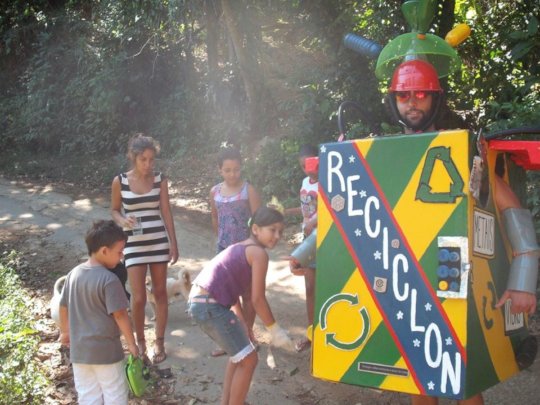 October 12th is Children's Day in Brazil, and as every year since SINAL's inception, we will host children from the local community as well as from the Julio Otoni Community Center, a partner organization in a favela in Rio. This coming Friday 11th, we will receive 30 children and are preparing the environmental learning journey! including an educational trail to a spring, a home-sourced desserts workshop with our ecochef, and a wildlife animal protection activity with a partner biodiversity protection NGO!
As we have had presence for 8 years in the valley, we and our partners have been able to see several indicators of biodiversity coming back. We are very happy and conscious that it is now time to double our efforts offering a safe, fun and educational approach to nature to the children that we hope will grow up to be its stewards.
We will post photos and videos of the event, so stay tuned to our social media @sinaldovale! In the meantime, we cannot be more grateful for the support of our donors, you continue to enable us to show in a fun way, how it is important to care for nature as she cares for us!
Here is a photo of a previous learning journey with our friend Recyclon!
Smokey is by far one of the friendliest, loving cats of SINAL. She has built up her own fame since her hangout spot is by the main entrance, and she immediately approaches people when they pass by, looking for some love. She is our greeter!
If you want to concentrate on work, it is better to keep away from her, or she will climb on top of you and purr and rub against you until you stop what you are doing and pet her - She is so furry it is quite the temptation to give in and take a 5 minute break to play with her.
As opposed to many other cats, Smokey was born here when her mother arrived here pregnant. She was brought up here and neutered with her siblings. Because she grew up here, she has always been very well integrated with her surroundings and the rest of the multi-species community, as seen pictured here with her friend Calu in the background!
A big thank you to our donors that help us keep Smokey and her friends healthy, safe and happy. Stay toon for more stories about the cats in our community!
WARNING: Javascript is currently disabled or is not available in your browser. GlobalGiving makes extensive use of Javascript and will not function properly with Javascript disabled.
Please enable Javascript
and refresh this page.