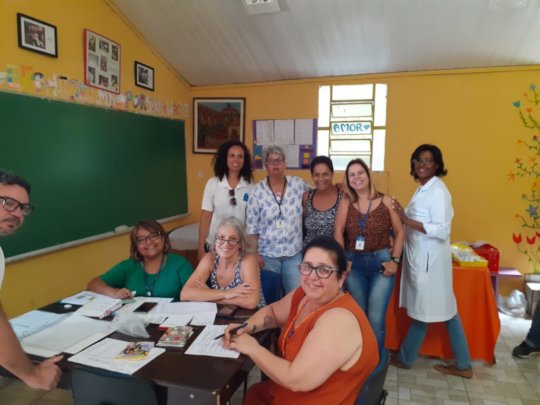 We just wrapped up our summer camp activities in the Center, which included English lessons and games with the help of our international volunteers. Now that carnaval has passed, we are back in the regular school calendar rythm, and are tutoring in after-school programs.
This month we ran a measles vaccination campaign in the community center in partnership with the health secretariat of the municipality of Rio de Janeiro. The community center is not only a place for children to get tutoring and come together to play, but also an important focal point of community welfare. Vaccination campaigns and other health-related events are often part of our activities.
A big thank you to our donors who help us provide a safe space in the Julio Otoni favela - stay tuned for more stories of our community center!
Since the end of 2018, we have been focusing our reforestation efforts in the area around a spring in our property that had dried out and is coming back. While we planted more than a thousand trees, it is common for some of them to die from exposure to the elements. This is why, every couple of months, we make rounds to check the general health and tree count.
We began the year with the native seedlings that had been growing in the nursery ready to go, so after a monitoring session, we planted another 200 trees to substitute the ones that didn't make it. The good news is, the original seedlings that survived are bigger and can provide shade and protection to the new ones.
Since there are only a couple of months left of heavy rainfall, we also applied hydrogel activated with our own organic biofertilizer to the "nest" of each new seedling, so they will have better chances os survival!
Thank you to our all donors who not only help us to plant trees, but also to expand our research on cost-effective techniques to bring back the Atlantic Forest.
Here are some photos!
Time for another cat udpate!
This time we are showcasing Cinza, which means grey in portuguese. Cinza has been around since she was a baby - she prefers staying away from us humans, but is very very close to her feline friends as evidenced by her picture, cozying up to Branca.
Cinza is by bar our biggest cat - even though we try to keep her on a healthy diet and she excercises a lot. Despite that, she has never had a health problem! Because she likes to stay away from the humans, getting her to take her preventive treatments when other cats are ill is quite a challenge... luckily she never passes on a meal!
A big thank you to our donors who help us keep Cinza and her friends healthy! Stay tuned for more stories of our feline community.
WARNING: Javascript is currently disabled or is not available in your browser. GlobalGiving makes extensive use of Javascript and will not function properly with Javascript disabled.
Please enable Javascript
and refresh this page.