Earlier this month we began preparing seedlings to begin reforestation work when the rains come next month. We made 600 native species seedlings that are pioneer species, and will receive another 400 seedlings as donation from the State Institute of Environmental Education, a long time partner of ours.
Focusing on the periphery of our springs, we continue to enrich the 50 meter radius around one of the springs that is coming back in a previously depleted area.
Like every year, we will recruit students and volunteers that come through SINAL, from the local community, Rio and internationally, to help us plant the trees. Having done the first intervention last year, it is a good example to show our guests how the transition from a depleted soil to a restored ecosystem takes time and care!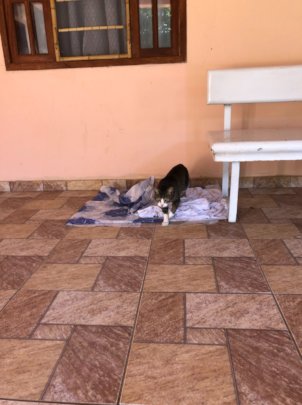 Here at SINAL we have entered the winter! Winter in Brazil means that we have temperatures around ten degrees at night and twenty during the day. Although our winters aren't as cold as the ones in Europe or the US, the humidity in the air chills the property. But unlike us, our forty cats spend most of their life outside. They walk around outside, play, and most importantly they sleep outside.

So with ten degrees at night, they got a little cold. You could see them cuddle themselves together on chairs and benches to stay off of the ground. So we decided to create "hot spots" for our 40 cats . We chose areas where they like to gather at night. We chose two verandas in front and underneath our houses, the favorite spots of approximately 30 cats. We laid out thick cotton blankets, and are happy to report the cats were very excited about claiming them immediately! Now when we walk around SINAL property we can see them day and night laying on their favorite blanket.

Additionally, we want to inform you about the July bonus day - Donations over 100US$ made on July 18th will be matched by GlobalGiving! So bring some friends together and help us maintain a safe and comfy home for our 40 cats.
Links: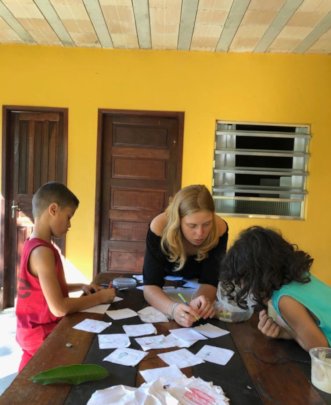 With our last report we introduced Patricia, the pedagogue teaching the children at SINAL. She is still working every Monday afternoon with the children on topics following the United Nations' Sustainable Development Goals SDGs.

A few weeks ago they started to talk about children and animal rights. She asked the pupils what they thought could be the rights of children. Each of them drew what they thought were their rights. The one right all of them drew in common, was the right to play! How lucky they always get a fifteen minute break where Patricia plays with them. Afterwards they started a discussion, because the kids, who are seven to ten-year-olds, realized there are children who are not able to pursue their rights. "This really got to me", Patricia says," when the children heard about the right of having enough food and they looked up at me and said:' But there are children who don't have any food!' Bringing to their after school session what they had learned in class." Another discussion was started when they learned about the right of having animals but that they had to respect the rights of the animals, too. "It was the first time they heard about animal rights."

From the animal rights the classes went on to the topic of animals in English. Together with Vivian, the intern at SINAL and their English teacher, they created a memory game drawing the cards themselves and then writing the animals' or plants' names in English on one of the pairs of cards and in Portuguese on the other. After these two hours of first SDG-based learning and then the nature based English lessons both teachers and students enjoy a healthy snack. Since winter has started to arrive at SINAL these snacks have shifted from banana ice cream to granola with milk from our own cows! Afterwards, they all clean up the space they used and walk home.

Additionally, we want to inform you about the July bonus day - Donations over 100US$ made on July 18th

will be matched by GlobalGiving! So bring some friends together and help us provide a space for children where they can learn about and reconnect to nature.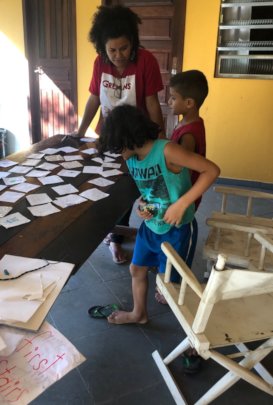 Links:
WARNING: Javascript is currently disabled or is not available in your browser. GlobalGiving makes extensive use of Javascript and will not function properly with Javascript disabled.
Please enable Javascript
and refresh this page.