Investing in education is the best decision we can make, that makes the difference and forms good people in a society.
We all have the right to learn, and on this occasion we have granted the benefit of school supplies to children with disabilities who study at CAM Suenos school. It is a Special Education Public School where children who belong to poor families come and learn.
We admire the teachers who work in this school because even though they do not have enough materials and tools to teach they look for the way because they do it from the heart and they want these children to be independent and to be included in society.
They have a transport where the teachers pay for the gasoline to be able to pick up the children at home so that they attend the school many times the parents do not have money to pay for transportation.
Thanks to all the donors for making this possible, we all have the right to the same opportunities to study no matter if you have a disability or not.
200 students received backpacks and school supplies for this school year 2018 - 2019 thanks to you!! It was beautiful and blessed to see the smiles on their faces when they received their things, how their faces change and how they were so greatful.
All these students belong to low income families that received a salary of 50 dollars per week and with this salary they need to pay for food, clothing, services, it is almost impossible for them to buy for their children all the school supplies that they need for all their subjects. When we gave to them the complete package they were telling us beautiful words of thanks, one said "Thank you for giving me this backpack and school supplies, now my mom will buy food instead of spend the only money she has on my school supplies" other said "Thank you very much for giving me this things now my mom will be able to get my brother's medication, she didn't have enough money to get both things" other one said "Thank you is the first time that I have a new backpack", these are the most satisfying words and we know that we are doing the right thing, we are blessed to bless other and this would not be possible without your help.
Thank you so much, we will be doing some other projects to help more people in our community, thank you for help us to help.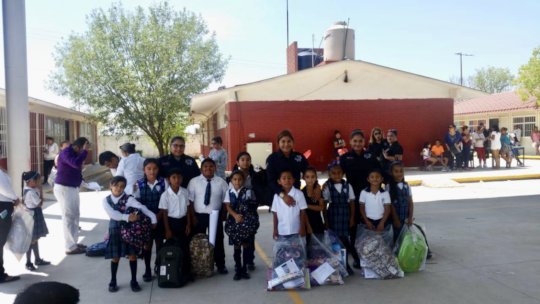 WARNING: Javascript is currently disabled or is not available in your browser. GlobalGiving makes extensive use of Javascript and will not function properly with Javascript disabled.
Please enable Javascript
and refresh this page.