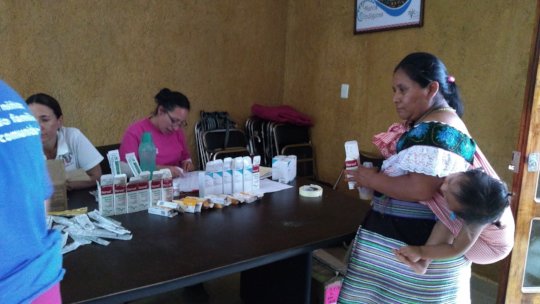 Ixim, A.C.
La jornada de nutrición se realizo en el mes de agosto de 2019, se reforzó la campana medica con la presentacion de la obra de teatro "Viven en mi", realizada por la organización aliada a IXIM, Nutre a un Niño, AC, enfocada en la mejora de habitos de higiene como parte del programa educativo para la salud. Dicha obra de teatro pretende mediante el juego que los asistentes logren comprender la importancia del lavado de manos, asi como mantener limpias sus pertenencias y hervir el agua para evitar enfermedades. También se reforzó el contenido de la obra de teatro con la tecnica de lavado de manos y dibujos con respecto a la tematica presentada. Este tema se reforzó en ninos y adultos para que recuerden el ciclo de enfermedad y desnutricion, ya que los malos habitos repercuten en su nutricion. Se involucraron a las madres para hacer compromisos de mejora de habitos en el hogar.
The nutrition day was held in August 2019, the medical campaign was reinforced with the presentation of the play "Live in me", made by the organization allied to IXIM, Nutre a Niño, AC, focused on the improvement of hygiene habits as part of the educational program for health. This play is intended through the game that attendees understand the importance of hand washing, as well as keeping their belongings clean and boiling water to prevent diseases. The content of the play was also reinforced with the technique of handwashing and drawings regarding the thematic presented. This issue was reinforced in children and adults to remember the cycle of disease and malnutrition, since bad habits have an impact on their nutrition. Mothers were involved to make commitments to improve household habits.
Se distribuyó medicamento para el tratamiento de anemia ferropénica a las familias que les correspondía, de conformidad con los resultados de anemia obtenidos en la 1ª jornada de nutrición.
Medication for the treatment of anemia (iron deficiency) was distributed to their families, in accordance with the results of it, obtained on the 1st day of nutrition campaign.
Se contó por primera vez con la participación voluntaria de un médico pediatra, la Dra. Paola Esteva que asistió a las comunidades para revisión de nuestras comunidades infantiles indígenas.
For the first time, there was the voluntary participation of a pediatrician, MD. Paola Esteva, who attended our indigenous children's communities for a nutrition check up.
Observaciones por comunidad:
Observations by community:
San Pedro: Es importante mencionar que en la escuela primaria no cuentan con agua potable, por lo que realizar la actividad de lavado de manos fue complicado. Esta circunstancia dificulta que los ninos puedan lavarse constantemente, ya que, si contaran con agua, mejorarían los habitos de higiene. En esta comunidad el apoyo de la maestra permitió realizar las actividades programadas. Los padres de familia se mostraron interesados en la salud de sus hijos. Se entregó el tratamiento para anemia y se reforzó la informacion sobre la salud, la higiene y la nutricion. Al finalizar la sesion pactamos compromisos para mantener las reglas de higiene y las recomendaciones del tratamiento para la anemia, así como las dosis del mismo para cada infante.
San Pedro: It is important to mention that in elementary school they do not have access to drinking water, so doing the handwashing activity was complicated. This circumstance makes it difficult for children to wash themselves constantly, since if they had access to clean water, they would improve hygiene habits. In this community the support of the only teacher, allowed us to carry out the programmed activities. Parents are interested in the health of their children. The treatment for anemia was delivered and information on health, hygiene and nutrition was reinforced. At the end of the session, we agreed to maintain the hygiene rules and recommendations for the treatment of anemia, as well as the doses for each infant.
San Jeronimo: Es una comunidad grande y con muy buena respuesta, las representantes son muy importantes y se han mostrado en todo momento dispuestas y comprometidas, esto es importante para dar seguimiento a lo aprendido. Los ninos saben que son las bacterias y como esto puede enfermarlos. El cine y los videos es una herramienta que nos permitió brindar conocimiento sobre nutricion.
San Jerónimo: It is a large community with a very good response, the representatives are very important and have been willing and committed at all times, this is important for our follow up on what has been learned. Children know what bacterias are and how this can make them sick. Cinema and videos is a tool that allowed us to provide knowledge about nutrition.
Capulin: Es una comunidad con la que ya hemos trabajado anteriormente y en cuanto a habitos de higiene hemos creado una conciencia importante, el lavado de manos se realizo correctamente, madres y padres de familia participaron en esta actividad, los juegos de mesa funcionaron muy bien, los adultos y adolescentes se sintieron integrados en esta jornada. De acuerdo con las actividades que ya realizan en esta comunidad, consideramos que continuar con las recetas de cocina brindaran mas herramientas par seguir trabajando por la nutricion de sus hijos. Es una comunidad en donde esperan tener mas recursos para mejorar la salud de su comunidad, por tanto, recomendamos trabajar con recetas para la nutricion en futuras jornadas.
Capulín: Is a community in which we have worked hard previously and in terms of hygiene habits we have created an important conscience, hand washing was done correctly, mothers and fathers participated in this activity, the board games worked very well , adults and adolescents felt integrated into this day. In accordance with the activities already carried out in this community, we believe that continuing with cooking recipes will provide more tools to continue working for the nutrition of all the children. It is a community where they hope to have more resources to improve the health of their community, therefore, we recommend working with recipes for nutrition in future workshops.
Guaquitepec: La atencion a la comunidad se da a través del Centro de la mujer Indigena, por lo que no tenemos información de primera mano del panorama general de la higiene en las casas. Sin embargo, percibimos que los ninos asisten limpios y sin mayores indicios de mala higiene. Los ninos que asisten son pequenos por lo que los juegos y canciones funcionan muy bien para nuestro taller. Con respecto al espacio con el que contamos, creemos que podemos abordar recetas y brindar mayores elementos sobre la nutricion con talleres practicos en la cocina. En esta sesion se dedico mucho mas tiempo a identificar los casos especiales en cuanto a atencion medica.
Guaquitepec: The attention to the community is given through the Indigenous Women's Center, so we do not have first-hand information on the general panorama of household hygiene. However, we perceive that children attended clean and without major evidence of poor hygiene. The children who attended liked the games and songs. Regarding the space we had, we believe that we can address recipes and provide greater elements on nutrition, with practical workshops in the kitchen. In this session we identified special cases in terms of medical care.
Pinabetal: Es una comunidad con mucha participacion e inquietud por parte de las madres de familia, en la jornada anterior detectamos problemas en la piel de los ninos, originados por falta de higiene, en esta ocasion los casos detectados se encontraban sanos y sin lesiones. Pinabetal es una comunidad sin acceso a agua y esto se ve reflejado en la salud de sus habitantes. Se retomaron los temas de habitos de higiene y como limpiar el agua pluvial, cuando la tienen. Ixim trabaja para que en 2020 se instalen sistemas de captación de agua.
Pinabetal: It is a community with a lot of mother's participation and restlessness. In previous days we detected skin problems on children, originated by lack of hygiene. Pinabetal is a community without access to water and this is reflected in the health all the families. Our workshops work hard to address the importance of keeping rain water and how to clean it up for human consumption. Ixim is going to provide rainwater collection systems on 2020.
Con base en la recomendacion de la Dra. Paola Esteva es importante reforzar y tomar en cuenta que se obtenga adicionalmente, un activo que logre acabar tambien con amibas, el activo recomendado es Nitozuxamida. (nombre comercial Paramix, Daxon, en suspension). Ixim trabaja para obtener los recursos necesarios para obtener este mediamento para el año 2020.
Based on MD. Paola Esteva's recommendation, it is important to give all the children an asset that also ends up with amoebas, she recommendes Nitozuxamide. (trade name Paramix, Daxon). Ixim is working hard to obtained the resources to purchase it for next 2020.
Los resultados de los 227 niños atendidos son muy positivos ya que se redujo el total de anemia ferropénica en 23.8%, es decir, el 26.4% de la población atendida, mejoró su estado de anemia. Esto nos indica que se ha llevado el adecuado tratamiento por parte de las madres de familia.
The results of the 227 children who attended were very positive since the total iron deficiency anemia was reduced by 23.8%, that is, 26.4% of the population improved their anemia status. This indicates that adequate treatment has been carried out by mothers.
Para finales del mes de enero se llevará a cabo la jornada de detección de anemia por parte de Nutre a un niño, por lo que se verán con mayor claridad los resultados del programa.
By the end of January 2020 our allied organization, Nutre a un Niño, will carry out the campaign for the detection of anemia, so the results of this program will be seen more clearly with it.
Es importante destacar, que al igual que el problema de la anemia, los índices de desnutrición también se han reducido, logrando que el 5.3% de la población atendida mejorara su estado nutricio.
It is important to note that, like anemia, malnutrition rates have also been reduced, 5.3% of the population served improved their nutritional status.
Este trabajo con los niños, se ha reforzado con las prácticas de cultivo de huertos familiares, la implementación de filtros de agua en las comunidades de Fortuna y Capulín, Talleres de la importancia del agua y el cuidado del medio ambiente, reflexionando con los grupos de madres, sobre la importancia de la buena alimentación y las consecuencias sobre la salud, el ambiente y la economía del consumo de alimentos no saludables.
This work with children has been reinforced with the practices of cultivation of family orchards, water filters implementation in Fortuna and Capulín communities. Workshops on water importance and environmental care. Mother's reflexion about the importance of good nutrition and the consequences on health, also environment and the economy implications of eating unhealthy foods.