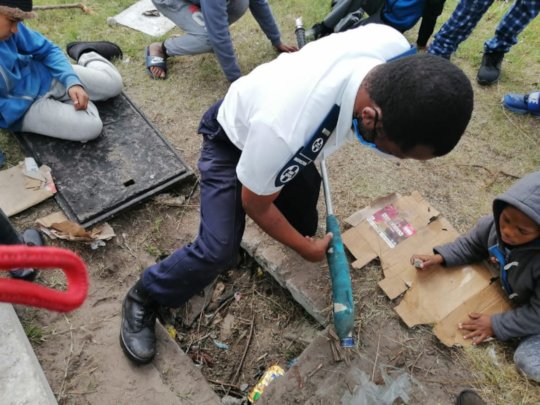 You've helped us sterilise 25 animals with your donations so far, making a very real impact on the lives of each and every one of them! That's 25 animals who are no longer either breeding machines or at risk of harm wandering the streets in search of a mate.
With just one unsterilised female dog and her unsterilised offspring producing as many as 67 000 puppies in a six year period and one unsterilised female cat and her unsterilised offspring producing a very scary 370 000 kittens in just seven years - you've helped prevent cruelty to animals before it even starts!
Essentially, sterilisation is the only proactive tool we have at our disposal in the fight against animal cruelty.
One of the dogs who benefited from your kindess was Nina.
Nina dumped on a field and abandoned by those she loved – Nina's only crime was being pregnant. In her desperation to find a sheltered place to give birth, she forced her way into an impossible situation: she safely delivered her nine puppies but was trapped in a drain with no way out. Thank goodness her cries were heard from underground and thank goodness they fell on compassionate ears.
Inspector Siyabonga Mbukutshe rescued Nina first. Her pups were in quite a tight spot and it took a long time before Inspector Siyabonga finally had all nine tiny puppies safely above ground. Nina checked each one over as they were handed to her, then washed and nursed them throughout their journey to the SPCA. There was no doubt about it – Nina loved her puppies, but we wondered who else would? Had Nina been sterilised, we would've had only one loving home to find, now we had 10.
Back at the SPCA, Nina and her pups were examined by our Vets and found to be surprisingly unscathed by their near death experience. Nina was given a warm, safe whelping box and a nutritious diet to ensure that her small body could provide all the nourishment her puppies needed to thrive. With so many puppies to feed, staff supervision was essential because the puppies had to be constantly weighed and rotated to ensure they were all getting their fair share of mother's milk.
We have to admit, we were in our element kissing tiny heads and indulging ourselves in that sweet puppy breath smell – we had our own little piece of heaven right here at the SPCA! And Nina, Noni, Nico, Nomsa, Nelly, Norris, Nora, Noah, Nino and Nunu could all be given a little piece of heaven too. With her pups placed in loving homes, Nina now patiently awaits her own forever family, and given all she has been through, she certainly deserves one.
Nina has now been sterilised and she will never have to face an ordeal like that again thanks to you!
Thank you so much for helping to ensure that we have 25 less "Nina's" to worry about and 1000's less to find loving homes for! Thank you for being such an integral part of our prevention of cruelty to animals team. It is only with your help that we are able to make a differnce in the lives of animals born to suffer.
May your 2021 be bright, may your worries be few and your joys be many and most of all may you be safe and protected at this time.
Warm Regards
Belinda