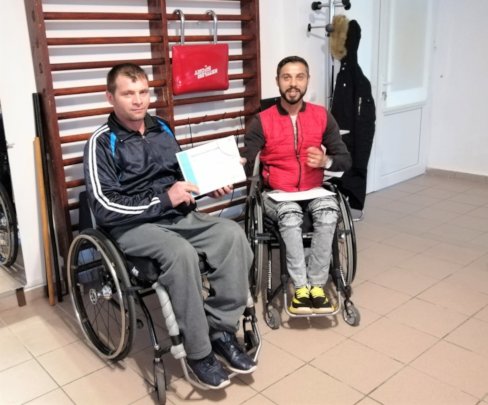 Hello,
Thank you for being a friend of wheelchair users in Romania, as a donor to the 2019 Wheelchair Fund initiated by Motivation Romania Foundation.
This message brings an end to our 2019 project and starts a new journey. I see this letter as an occasion to share with you our achievements and to invite you to continue walking with us on the journey to give back mobility to Romanians with disabilities in 2020 through the Wheelchair Fund.
But first, let me tell you about our achievements in 2019. This year, Motivation donated 560 wheelchairs to date, including 99 funded by your generous support and that of other Motivation Romania friends in the US and globally.
Each story I share with you illustrates the different ways appropriate wheelchairs can change lives for the better. This time, the wheelchair received by Costel, 33, started a process of learning that will continue for a while. Just five months after falling from a cart and becoming a wheelchair user, Motivation gave Costel an appropriate wheelchair and showed him how to use it to be more independent. Now he is proud that he can wait for his wife with a good coffee when she brings the children back from school. He also knows he still needs to practice his wheelchair skills, to be able to help his wife and raise his kids. Costel`s journey continues, but is now filled with hope.
With your help, Motivation Romania can continue to give back hope and mobility to wheelchair users in our country. Please join Motivation by donating to our 2020 appeal, and invite your friends and family to do the same!
Together with all of you, our project will change more lives for the better in 2020! Stay tuned for the start of GivingTuesday on Global Giving. Give to our project on December 3rd to help us reach our goal for the Wheelchair Fund 2020. Donations made on that day can leverage more funds from GlobalGiving on #GivingTuesday.
Follow Motivation Romania`s facebook page for photos and news from our programs.
Thank you!
Anca
Links: