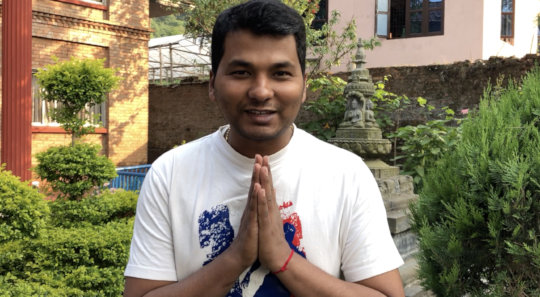 Meet Suresh.

I first met Suresh in 2015, when he attended our trauma healing workshop as a school teacher in Nepal.

Today, Suresh serves as the country manager of Gratitude Alliance Nepal.

Here is his story, as only he can tell it.
* * * * * *
Namaste!

I am Suresh from the Himalayan country Nepal.

I have survived a traumatic childhood, multiple experiences of sexual abuse, poverty, malnutrition, disease, and bullying because of my skin color.

I was less compassionate and less kind. I rarely used to cry. I was hurting myself and hurting people close to me.

Eventually, I opened a school to help many children… but I could not find peace because I still had to make peace with my past.

Then in 2015, I got this amazing trauma healing training from Gratitude Alliance, which completely shook my being, and my perspective towards life was changed. For the first time in life, I began to find the keys to happiness for myself, I became mindful of my life, and I truly started to feel myself.

I also became a youth mentor of Gratitude Alliance's Life Skills & Leadership Program. The students are now more empathetic, they know how to heal their sad emotions, they share their stories, they listen to each other, and they act with love.

The program also grew in me. I am now more compassionate, I can feel the pain and happiness of others, I know what I am feeling and why, and what I need to do to make myself happy, so I can help others too.

I want to bring this training to communities all over Nepal, to help children, leaders, adults, parents, and each and every person to be a better person. To find healing and to stop abuse, like I experienced as a young boy.
Suresh recently shared his story as a survivor of sexual abuse on Facebook - a profoundly courageous move to break the stigma of trauma in his country.

He's starting a Nepali podcast to share stories of healing. And, he's now teaching leaders all over the country to heal themselves and their communities.

Suresh is living proof that it only takes one person to spark a ripple of healing for thousands of survivors.
Because when you invest in revolutionary leaders like Suresh, you're helping to heal cycles of trauma and harm for hundreds of leaders like him, who impact thousands of survivors in their communities.
Thank you for your generosity, support, and advocacy for survivors.
With gratitude,
Gratitude Alliance