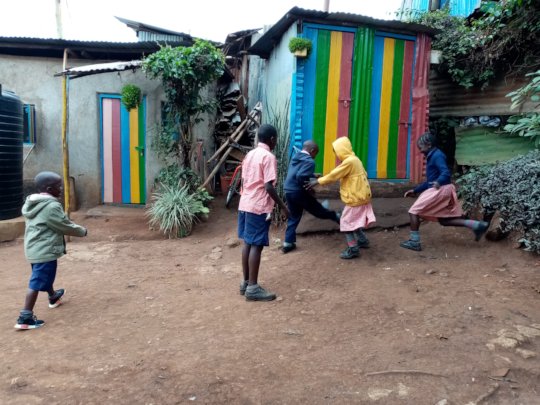 Imagine having to watch your peers go to school every morning and listen to them sharing stories of their day in the evening yet you have spent your day fetching water for people because your guardian cannot afford to take you to school. It's not an easy picture to paint yet this was the life of Leo for two years before he joined the transition program.
Leo is a quiet 15 year old boy who stands a head taller than all his classmates and loves football. He is the son of a single mother and lives in a single room with his auntie and five other children in Kibera. It's been a good year for Leo because he finally joins his peers every morning and comes to school and though he had to go back three grades due to being out of school for so long he is learning and catching up.
As the school year comes to an end, we celebrate the strides that our students have made this year despite the many challenges they face out of school. We are excited to see them join formal primary school next year and continue to grow in every way.
Since its inception, the transition program has prepared more than 400 out-of-school transition to primary school and in 2020 we plan to grow our impact by increasing our admission to 50 students per year. We hope that you will continue supporting us as we give children like Leo the gift of education.
On 14th July, 2019 we had the opportunity to host some of Turning Point Trust's beneficiaries at one of the Centres. The group varied from our first group of beneficiaries to some who completed high school last year. They had the opportunity to serve the students their meals, share memories with each other and some were even brave enough to share their life stories with the entire primary school.
One by one they spoke of how their lives had transformed either because of opportunities taken or missed. They spoke of their time in Turning Point and one thing everyone mentioned apart from the development of infrastructure is how the feeding program was important to them as some joined the education program because of the simple assurance that they will be served of a cup of white porridge every morning. This assurance led them to stay and receive educational support that changed the trajectory of their lives.
These stories carried with them laughter , encouragment, hope and the reminder of how much the feeding program is a part of our story and identity.
Facilitator: "Does anyone want to share how they've put to practice any of the teachings we've learnt the past 8 weeks?"
Carol: "I want to share how I applied the teachings from last week's class on reconciliation. I had a falling out with a friend who sells groceries and because of anger I told a few more friends to stop buying groceries from her kibanda (small stall) because she wasn't observing hygiene. Last week after class, I visited her, asked for forgiveness, started buying groceries from her and even went back to some of my friends and clarified the issue. I feel relieved."
This was a part of a conversation we had as we finished our 8 week parenting course. One of our values as Turning Point is "Relational"; we strongly believe that positive relationships fuel positive change. Our parenting course is driven by this value and also our vision of not only serving the children but the families they come from.
We only spend a few hours with the children in our education centres and a majority of their time is spent at home so we work to support parents as they create nurturing and positive environments at home. In addition, by equipping a parent with tools to create a thriving environment at home we impact more children than the ones we have contact with.
"Families can be the greatest source of support for children but also – under unfortunate circumstances – the greatest source of harm. Children's well-being is therefore inextricably linked to parental well-being…" UNICEF
We are committed to working with our parents and the community to ensure that we create an enabling environment for children, in and out of school, so that they can develop their full God given potential in the hope that they will not only overcome the challenges that living in Kibera presents them but they will also come back and change their community.
The support you give to us has a beautiful ripple effect. Asante Sana!
WARNING: Javascript is currently disabled or is not available in your browser. GlobalGiving makes extensive use of Javascript and will not function properly with Javascript disabled.
Please enable Javascript
and refresh this page.