Facilitator: "Does anyone want to share how they've put to practice any of the teachings we've learnt the past 8 weeks?"
Carol: "I want to share how I applied the teachings from last week's class on reconciliation. I had a falling out with a friend who sells groceries and because of anger I told a few more friends to stop buying groceries from her kibanda (small stall) because she wasn't observing hygiene. Last week after class, I visited her, asked for forgiveness, started buying groceries from her and even went back to some of my friends and clarified the issue. I feel relieved."
This was a part of a conversation we had as we finished our 8 week parenting course. One of our values as Turning Point is "Relational"; we strongly believe that positive relationships fuel positive change. Our parenting course is driven by this value and also our vision of not only serving the children but the families they come from.
We only spend a few hours with the children in our education centres and a majority of their time is spent at home so we work to support parents as they create nurturing and positive environments at home. In addition, by equipping a parent with tools to create a thriving environment at home we impact more children than the ones we have contact with.
"Families can be the greatest source of support for children but also – under unfortunate circumstances – the greatest source of harm. Children's well-being is therefore inextricably linked to parental well-being…" UNICEF
We are committed to working with our parents and the community to ensure that we create an enabling environment for children, in and out of school, so that they can develop their full God given potential in the hope that they will not only overcome the challenges that living in Kibera presents them but they will also come back and change their community.
The support you give to us has a beautiful ripple effect. Asante Sana!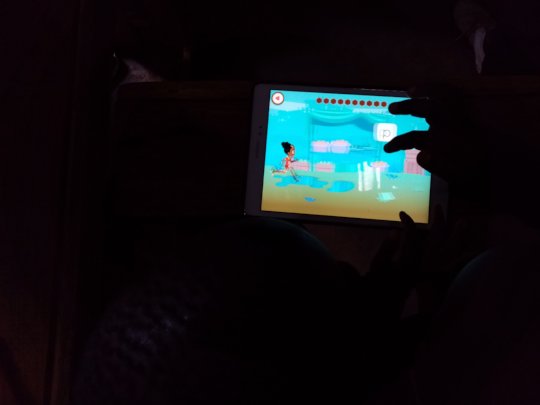 Tuesday's and Wednesday's afternoon have become an exciting time for children at our transition programme. Every class gets to engage in fun learning activities with young and energetic volunteers from our partners, Vitabu Vyetu. Vitabu Vyetu works towards improving literacy levels for children aged 3-13 from urban slums in Kenya through tailor made reading clubs program.
The sessions carry on the fun spirit already alive in the school. In one class you hear children singing; in another the sound of giggles and when you peek at another you see children engaging their creative side as they learn. When it couldn't get any more exciting, our newest partners, Kukua, who we met through Vitabu Vyetu, Introduced technology into the sessions.
Kukua is an organisation that combines technology and entertainment as a means of advancing learning for children. They have a number of products and we got to try Sema Run and Sema Trace; literacy games that target children between the age of 3-6 and help the children learn the alphabet sounds and how to write them. Our kids had the first go during last week's session and the excitement on their faces could not be contained. The joy of getting through a level was crowned by taking selfies with the phones and tablets provided by Kukua and jazzing them up with stickers.
We can only imagine the stories they told their family and friends that evening and the sense of accomplishment they felt after every level. We are grateful for the opportunity to expose our students to the benefits of technology and how it can make learning fun. We hope that this is a lesson they can carry through their lives.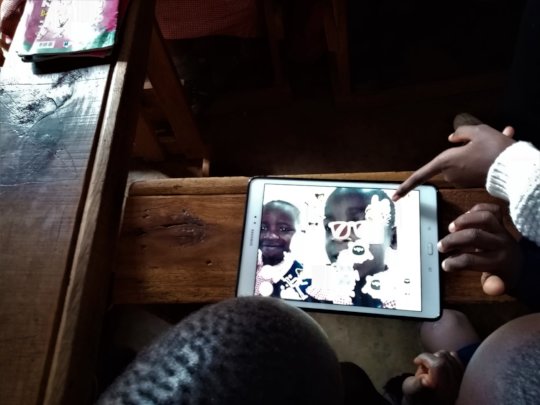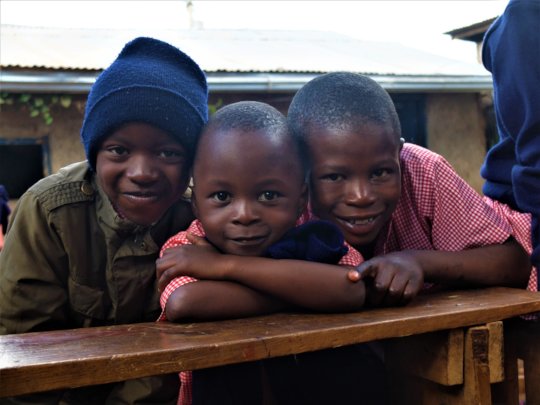 Peter joined our transition class in 2018. Unfortunately, he was coming from a school that had not paid attention to his performance and he therefore wasn't able to perform in the class he was admitted in and had to go back three grades. This was definitely a setback for him and he therefore took time to settle in and open up.
At the end of the year, the teachers recommended that he is retained in the same class in 2019 because if he transitioned to the primary school he would have a hard time catching up with his peers. This was yet another "setback"for him but in the new year as his classmates moved on, he reported back to transition class and the teachers have taken their time to take him through lessons he ought to have learnt in his early schooling years.
95%! 95% is what Peter scored in Maths exams at the end of the first term. He has truly showed remarkable improvements not only in class but also as he socializes with other students. We are proud of his achievements and his determined spirit. He had an option of checking out when he was retained in the same class but he stayed on and is doing his best to catch up.
This is the spirit we hope to embody as we work with vulnerable children an their families, to remind them to keep going even when the conditions are not favourable.
As the feeding program, we have kept going even at a time when the food prices rose due to delayed rains in the country. The children have not missed a meal and their portions have not grown smaller.
Your support continues to be a great encouragement to us and we hope that we can continue to count on your support as we keep going.
WARNING: Javascript is currently disabled or is not available in your browser. GlobalGiving makes extensive use of Javascript and will not function properly with Javascript disabled.
Please enable Javascript
and refresh this page.