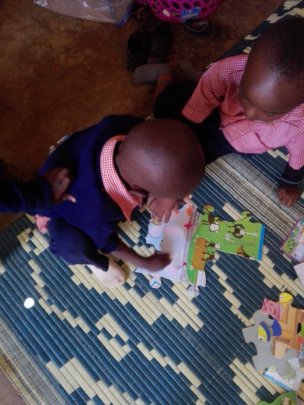 I remember my kindergarten days filled with such fun times. I learnt in a class full of colour and light, every time I looked up on the walls I would see bits of my art work and get so excited when we worked on a new project because maybe this new piece would be put up too. Our classrooms moved from being a class, to an art gallery, to a music studio and to a playground in such a seamless way. I learnt and grew even during moments that I never knew were part of learning.
I don't know about your experience but I suspect it was similar to mine or better and if it wasn't I am sure you would want your children to be introduced to the academic world with experiences that inspires them to be creative, explore their strengths, be problem solvers and to have every one of their senses stimulated.
Unfortunately, due to a lot of factors that undermine the quality of education in informal settlements, a lot of children in these areas rarely get to have such experiences. Many kindergarten classes in Kibera are under resourced in terms of teaching materials, teachers, the size of classrooms are small and this leaves little room for children to even learn and be fully prepared to join primary school.
We envisioned that despite our environment we can give our students the kind of experience I had and even better and that is part of our plan this year. Our teachers are constantly creating fun learning experiences for the children and when you now walk into their classrooms their art work is up. In the corner of one of the classrooms there's a carpet that has puzzles, flash cards and other items that children use to learn and sometimes, some pick puzzles over outdoor play, especially now that the temperatures are high.
We want to give these children an opportunity to develop holistically and we believe by having such experiences in their early years of learning they will grow being more confident in their abilities and flourish as individuals.
Thank you for supporting our work; you are part of life changing work.
"I want to share my grandson's uniform with the students who can't afford their own"
Salima's grandson finished at the Fountains of Hope School last year, he was the school president for the year and always kept his uniform perfectly neat. He didn't need them any more and they were still in great condition, so she decided to bring them to our centre to be passed on to younger students who couldn't afford the uniform.
Salima's grandson benefitted from our feeding programme which is a huge help to parents who are struggling to put 3 meals on the table.The programme provides 2 meals every day for the children in our primary school and our School Transition Programme where children are getting ready to join school.
We were so touched by this generous act by a family who lives in Kibera and has many struggles of their own. The uniform was shared out between three new kids at our School Transition Programme. What a great way to pay it forward.
Thank you for your support for our feeding programme, be encouraged that your gift has inspired others to also give.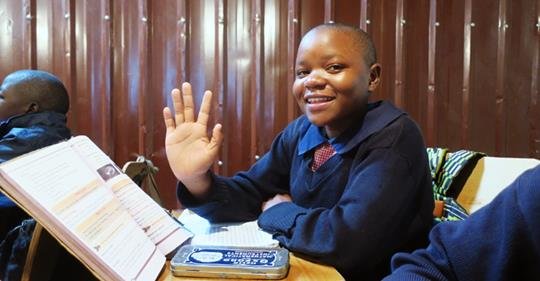 The last year ended on a high note at Fountain of Hope Primary School. Over the the past four years we have been supporting our students in different schools as they sit for their final primary school exam but last year we had our first class sitting the exam at the school.
Out of the 20 candidates who sat the exam, 90% of the students attained above 250 points out of the possible 500 points with our highest score being 352/500. This was truly commendable and we are excited that all the students received admission letters to different secondary schools and we cannot wait to see them learn new things and grow in this new phase of their lives.
We are also excited that two of our students who went through our education program and received support during their secondary school education achieved grades that will guarantee them placement at a public University. We hope that their success will encourage those who have just joined secondary school to pursue their very best.
These stories of achievement have truly stirred us up to not only continue doing our best but to also find new ways to become better and inspire our students to achieve more in this new school year.
Thank you for continually being part of our community and we hope that you too will have stories of achievement to celebrate with your community this new year.
WARNING: Javascript is currently disabled or is not available in your browser. GlobalGiving makes extensive use of Javascript and will not function properly with Javascript disabled.
Please enable Javascript
and refresh this page.