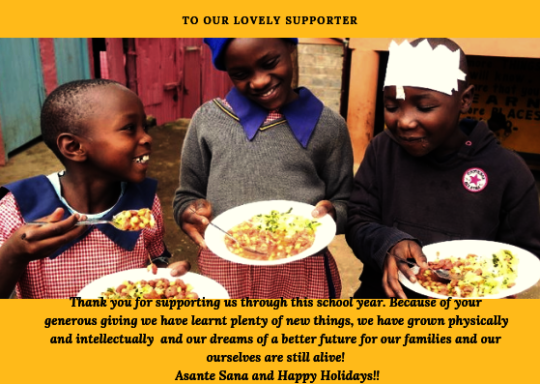 Stanely just did his primary national exam and he awaits the results to find out which high school he'll have the opportunity to attend. A firstborn in his family, Stanely has beaten many odds to get to where he is. His mother runs a small business selling sugar cane and is in most instances the sole bread winner. This means that her earnings are not sufficient to feed her small family three proper meals a day butshe can always count on Stanely receiving two meals in school as she gives the younger ones the little she gets mostly at the end of the day.
Stanely's story represents the story of many of the hundred and seventy children who benefited from the feeding program this year. Once in a while you will see some children dividing their lunch portions into lunch boxes in order to take some food home to their younger siblings who are either not yet in school or attend schools that lack a feeding program.
The impact of this program goes further than what our eyes can see and we are constantly grateful for your continued giving.School is out for the year and as we prepare for another 38 weeks of school in 2019, we encourage you to share our story with your loved ones by buying a gift card for them in support of our program.
Asante Sana and Happy Holidays.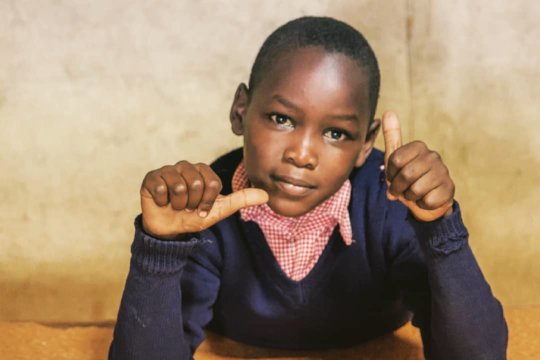 Have you ever imagined where the children who attend Fountains of Hope live? I know there's plenty of information on the internet on Kibera and together with some of the photo's we have shared you can vaguely answer the question I posed.
Every year, our social workers take the time to visit the home of every child and get to know where they live and touch base with the parents. I got to join them and visit a few homes and I would like to share some of the lessons and inspirations I picked during that hot dusty day.
One,I never imagined the distance that some of our kids had to walk to come to school. It was a hot day and that made the distance seem longer but I imagined how much harder it is to jump over some alleys when it rains and the paths are not only filled with mud but dirty water. This to me represented children who were determined to gain an education and turn their lives around despite their environment.
The joy we were received with by most parents made it easy for us to feel at ease as we had conversation and filled out our forms. The conversations we had with the parents formed the basis of the second and third lessons I picked that day. Most of the children left their previous schools and sought admission in Fountains of Hope due to their parents' inability to pay fees and their parents are grateful for the support they receive because their income cannot allow them to educate all their children. Thirdly, the donations you give towards the education of these children has far reaching effects. The fact that a parent doesn't have to worry about the tuition fee for one or two children means that they can educate a third child or put a third meal on the table or be able to treat their drinking water and this impacts the entire household.
You may never get the opportunity to visits these homes or meet the families of the children you support but this is to remind you yet again that your support translates to so much more and on behalf of these children and their families are grateful for your continued support. We have 20 children sitting their final primary school exams in a few weeks and we envision them transitioning to Secondary school next year. Thank you for walking this journey with them.
The World observed the International Youth Day on 12th August 2018. This day is meant to celebrate the contribution of young people in development and draw attention to the challenges and problems facing the youth.
"Safe spaces for Youth" was this year's theme and as an organization, we strongly believe that for holistic development for our children to take place, safe spaces are important. These spaces not only enables the children to feel safe but also allows them to freely voice their thoughts and take part in recreational activities without fear.
Our Kianda centre that hosts the transitional and preparation class embodies this belief. Children who have never been to school despite being of age or are returning to school after long periods are often insecure about their capabilities and sometimes identity. Our teachers therefore have the task of helping them prepare to join formal schooling and to do so in an environment that protects their dignity, an environment that children can speak up and a space that is free from bullying even as young and much older children share common space.
We recognise that we have the responsibility to create a safe space in the midst of a community that is rife with various forms of violence against children and we are continually finding ways to keep our children safe in school and out of school by encouraging our parents to do the same at home during our annual parenting course.
You are a big part of this work and we celebrate you for continuously supporting us as we educate the children in an environment that strengthens and empowers them to be change makers.
WARNING: Javascript is currently disabled or is not available in your browser. GlobalGiving makes extensive use of Javascript and will not function properly with Javascript disabled.
Please enable Javascript
and refresh this page.