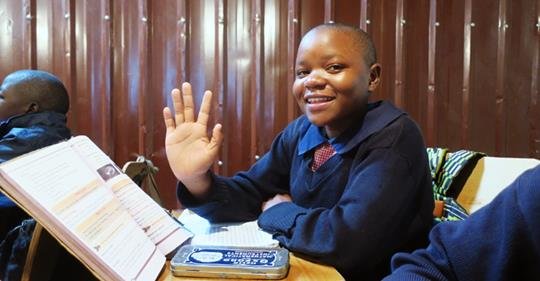 The last year ended on a high note at Fountain of Hope Primary School. Over the the past four years we have been supporting our students in different schools as they sit for their final primary school exam but last year we had our first class sitting the exam at the school.
Out of the 20 candidates who sat the exam, 90% of the students attained above 250 points out of the possible 500 points with our highest score being 352/500. This was truly commendable and we are excited that all the students received admission letters to different secondary schools and we cannot wait to see them learn new things and grow in this new phase of their lives.
We are also excited that two of our students who went through our education program and received support during their secondary school education achieved grades that will guarantee them placement at a public University. We hope that their success will encourage those who have just joined secondary school to pursue their very best.
These stories of achievement have truly stirred us up to not only continue doing our best but to also find new ways to become better and inspire our students to achieve more in this new school year.
Thank you for continually being part of our community and we hope that you too will have stories of achievement to celebrate with your community this new year.
We've reached the end of the school year in Kenya, and another group of children have completed their time in the School Transition Programme and will join our free Fountains of Hope Primary School in January. It is a moment to celebrate how far they have come.
Meanwhile, our first ever group of Class 8 children have successfully completed their end of primary school exams and have performed so well. The average marks were a full 20 points higher than last year's results when we were supporting children in other schools.
So Class 8 will move on to secondary school and make room for the new children entering the school from our School Transition Programme. This in turn makes space for new children to join the School Transition Programme, the admissions process will begin in January.
As we have evaluated the project at the end of the year, we've identified some areas that need improvement and we'll be trying out some new things in the new year as we strive to ensure each child gets the best care and opportunities.
For example, we've learned that when we admit children towards the end of the year, they don't have enough time to catch up on the education they have missed fast enough to join school the following January, but remaining in Transition for another year can be demotivating. For this reason, we'll start admitting more children earlier in the year in the hope that the whole group will move on to school together.
We want to put a special focus on raising literacy levels too as many children really struggle with their reading and this holds them back in every subject. We want to start as early as possible to work on improving literacy and we're excited about the plans we have to achieve this.
Thank you so much for supporting our work this year!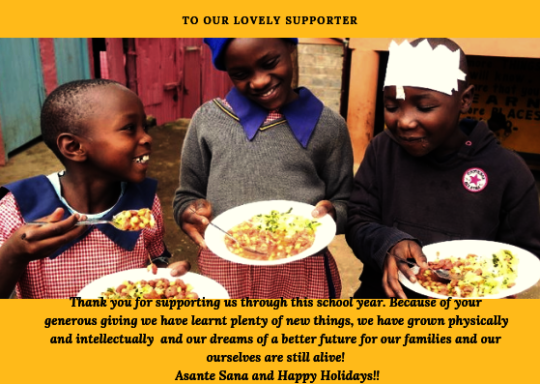 Stanely just did his primary national exam and he awaits the results to find out which high school he'll have the opportunity to attend. A firstborn in his family, Stanely has beaten many odds to get to where he is. His mother runs a small business selling sugar cane and is in most instances the sole bread winner. This means that her earnings are not sufficient to feed her small family three proper meals a day butshe can always count on Stanely receiving two meals in school as she gives the younger ones the little she gets mostly at the end of the day.
Stanely's story represents the story of many of the hundred and seventy children who benefited from the feeding program this year. Once in a while you will see some children dividing their lunch portions into lunch boxes in order to take some food home to their younger siblings who are either not yet in school or attend schools that lack a feeding program.
The impact of this program goes further than what our eyes can see and we are constantly grateful for your continued giving.School is out for the year and as we prepare for another 38 weeks of school in 2019, we encourage you to share our story with your loved ones by buying a gift card for them in support of our program.
Asante Sana and Happy Holidays.
WARNING: Javascript is currently disabled or is not available in your browser. GlobalGiving makes extensive use of Javascript and will not function properly with Javascript disabled.
Please enable Javascript
and refresh this page.