Yesterday was the first day of April school holidays in Kenya. For many children all over the world school holidays are eagerly awaited and kids enjoy some time out of the classroom. For children in Kibera, it often means a couple of weeks going hungry. During the term time, children receive school lunches that are subsidised by the government. The only fee is to cover the salary of the school cooks. Many parents in Kibera can't afford even this small fee and so Turning Point helps to pay the cost. This helps our kids concentrate in class and prevents them from turning to the streets to look for food.
During the holidays, however, our kids don't get those school lunches. Instead, we host a holiday club where kids come each day for games and activities as well as receiving a nutritious lunch. They go home having laughed, having had fun and with a full stomach.
Ombisa is currently undertaking three months of ward visits, during this time the students take a break from classroom lessons to gain some vital hands-on experience on the wards. Ombisa says he is enjoying the experience though some of the matrons can be tough on the trainee nurses. This is an important time for Ombisa to put his learnt knowledge to practice and learn by doing. It is time to develop his skills and grow in confidence, Ombisa can at times be shy so we hope this challenge will push him out of his comfort zone and surprise himself with what he is able to achieve. It is during this stage that Ombisa gains a taste of what life as a nurse will really be like. So far, Ombisa has shown himself to be a disciplined and focussed student and has risen to each challenge.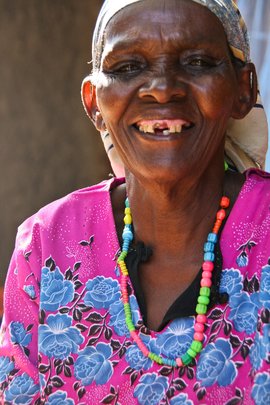 The BBC recently reported that up to 50% of four billion tonnes of food produced around the world is wasted each year. You can read the report here.There is plenty of food in the world, the problem is distribution.
In Kibera, kids are not going hungry because there is a lack of food in Nairobi, but because their parents or guardians lack access to adequate resouces to produce or purchase food. At Turning Point, we not only feed our kids a nutritious lunch everyday but we also give out small loans to parents as part of our microfinance project so they can start small businesses giving them the capital to purchase food for themselves and their children. Beatrice is one of our microfinance beneficiaries and her business helps her to feed her children. This is her story:
Me, I have a business selling woven material that I make myself using a loom. It takes me 2 weeks to make a set of 14 pieces of woven material and then I can sell each set for maybe 2,500/= (around £22) if I'm lucky. I've had my business for 2 years now and I'm very happy for it. It really helps me because I have four children who are always hungry and I always have to give them food. Last year was very difficult because they decided to increase the cost of food. I think it was because of the drought. I found it very difficult and it is still hard. Sometimes I cannot feed my family, and if my business does not sell then my children cannot eat. I am very careful with my money and it becomes very difficult when food becomes expensive. But the little I get I use to push. God will watch us.
WARNING: Javascript is currently disabled or is not available in your browser. GlobalGiving makes extensive use of Javascript and will not function properly with Javascript disabled.
Please enable Javascript
and refresh this page.