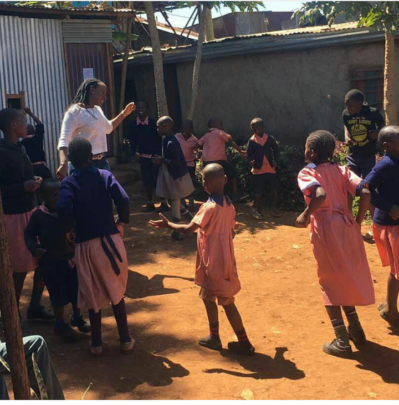 It's a sunny Friday Morning,mid- morning to be exact. The kids at the Transitional Class are excited, for this morning we host our first creative class of the term and as usual our volunteers from Colour My World Kenya are full of energy and excitement.
The first task is getting to know each other, and the kids are asked to write their names, age, favorite colour and career on a piece of paper. It is exciting to see some of the younger kids in Prep class show off their new acquired skills, writing their names, while others still struggle to remember and turn to the volunteers for help while some remeber that Teacher Lilly had written it on their books and so they run and find their books.
One little boy, George, struggled to catch up with the rest but even this coudn't stop him from shouting out his dream. His deskmate, a little older than him offers some help and his name is finally written. The class is slowly coming to an end so the volunteers ask the children to raise their hands and share their dreams/careers.
"Doctor"! "Pilot"! "Teacher"! Those were the common responses and every child's future dream was celebrated. George kept his hand up and he shouted "Carpenter", a few giggles were heard but he was unmoved as he went on to explain what a carpenter does.
The system of education in our Country has for long encouraged the pursuing of formal jobs and little attention is paid to the children's artistic side or dreams that do not fit the white collar jobs criteria. We at Turning Point acknowledge that the dreams of our children are varied and we strive to go the extra mile to encourage our children to not only dream big dreams but to say it out loud.
As we help children like George return to school, we hope that the care, support and the delivery of our classes will help them not only refine their dreams but also know that despite where they come from, their dreams are valid.